Your credit score and credit report can have greater effects on your life than you might anticipate. By checking them frequently for anything out of the ordinary, you can prevent potentially costly mistakes, both innocent and malicious.

Identity theft and other forms of fraud are running rampant. Chances are if you haven't been made a victim, someone you know has been. By checking your reports frequently, you can catch scammers early in the act and prevent any lasting damage. Our sponsors' credit monitoring services make it easy for you by keeping an eye on your credit and alerting you to any changes.


CREDIT/FICO SCORE SUCCESS
The Donnelly's improved their credit/FICO scores and so can you.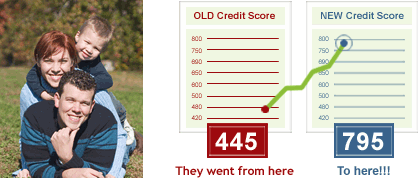 CREDIT MONITORING ARTICLES
Selecting a credit repair company to help you improve your credit score is a big decision. Choosing the right credit repair company may be one of the best things you... Read More
If you have ever applied for credit, you already know how much your credit score affects your finances. The amount of money you qualify for and the interest you will... Read More
For starters, let's put aside the idea that the credit bureaus exist to ensure the safe keeping of your private financial data. The credit bureaus are not official government... Read More