CreditRepair.com & you
We don't want to sound like a motivational cat poster, but frankly, we believe in you. You have the power to repair your credit, and we can help. Here are some key features that we've designed to make the credit repair process as seamless and simple as possible.
Three credit reports
Not only do we pull reports from all three bureaus for CreditRepair.com members, we rework the mundane legalese into something a human can actually understand.
Electronic challenges
Pen and paper is fine, but we send most of our challenges and disputes electronically. Not only does this lead to faster response times, but it saves some tress in the process too.
Creditor interventions
Talking to the bureaus is important, but we also get in touch with your creditors. Sometimes it's just easier to address a problem right at its source.
FICO® Score
Considering your FICO® Score is used in something like 90% of all lending decisions, we figured you'd want to know where you stand.
Score tracker
Beyond just a number, we help you track your credit score month-over-month, making it easy to monitor your progress.
Signup is easy
I know what you're thinking, "wow, that's just what I'm looking for." Well, you're in luck-getting started has never been easier.
Call: 1-

855-255-0263
Our Product
Remember, credit repair is not a 'one-size-fits-all' product. You provide direction, we'll provide results.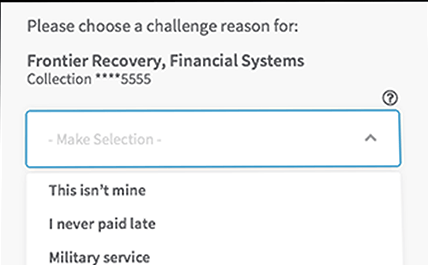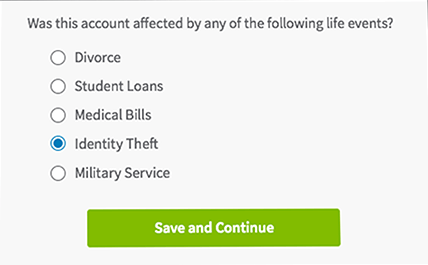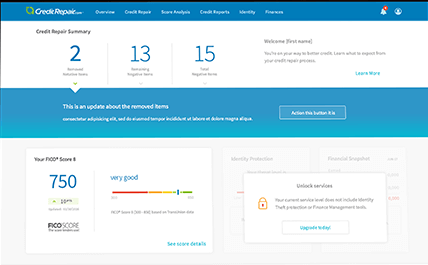 Game Plan
Before we can start working on your credit, we need to understand what happened. After you sign up, we'll filter through your credit reports and pull out all your negative items for you to examine. Then you'll help us determine which challenge reason code (yep, it's a mouthful) we should use for each of your negative items.
Focus Tracks
Focus Tracks let you to tell us about any life-changing events —divorce, student loans, military service, medical bills or identify theft —that are associated with your negative items. This helps us be more efficient as we work to repair your credit.
Dashboard
After all that, we get to work. In the meantime, you can focus on other aspects of your credit, like paying your bills on time, for example. Be sure to check in regularly to track changes in your credit report.