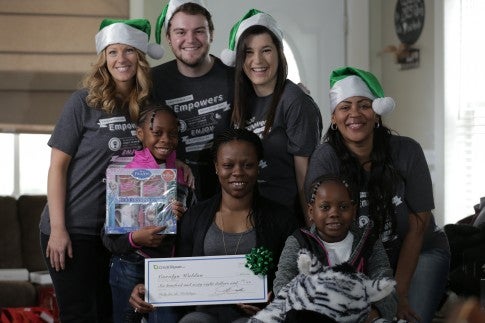 This holiday season we selected three members who have been with our service for longer than a year, to visit them in their homes as part of our CreditRepair.com Gives Back program.
A team of CreditRepair.com employees from the Salt Lake City and Phoenix offices, and a film crew, flew out to visit each member to get personal updates regarding their credit repair experience and progress.
Each member expected the film crew to arrive at their home for a video interview updating us on their credit progress — but little did the members know we had a very special holiday surprise in store for each of them.
Before the scheduled interviews, the four CreditRepair.com employees shopped for gifts for the members and their families. Then, during each member's interview, the doorbells rang and on the other side of the door were the CreditRepair.com employees, bearing Christmas gifts for the member and their family.
The CreditRepair.com Gives Back Holiday video can be watch here.
Below are the four CreditRepair.com employees' perspectives about their experience meeting those members, and having the opportunity to give back.
Angela Hess: Team Lead from Salt Lake City office
"I can't even begin to explain the amazing opportunity in Indianapolis for CreditRepair.com Gives Back. To get a firsthand experience of what our members go through, to hear their story, and help celebrate a Christmas with them … I'm at a lack of words to describe how incredible it was to share that experience. 
I'm so grateful to know that I'm a part of a company that has benefited so many people in so many ways. The stories from our members about how they've never been able to get a house and they were just able to purchase their first home — and have a refinance opportunity from 17% to 2% — that doesn't happen every day!! We were part of that change!! You're heart really goes out to these people that stayed focused on their goal and they have been able to achieve it. Dreams Happen!"
Sarah Dunn, Credit Advisor from Salt Lake City office 
"I have the pleasure to be able to talk to our members, learn about their dream and then provide them with options to obtaining a second chance to have good credit. When I was asked if I would like to go meet some of our members I was so excited to be able to meet those people in person that have now used our service and to see the impact that this has made for them as well as their family.  CreditRepair.com went a step further and they wanted to give a little holiday cheer and a thank you for being a part of our family by surprising them and their family with $1000 worth of gifts and a check in the amount of their credit score. It was so much fun to run through WalMart and pick out fun gifts for these families. It was so awesome to see their excited faces when we arrived at their doorstep with all of the gifts. This was such an amazing experience and I feel so grateful to be able to work for a company that gives back. I thoroughly love my job and the experiences they provide for their employees as well as their members."
Kolby King: Credit Advisor from Phoenix Office  
"I would like to start by saying that I truly love what I do on a daily basis. Being able to be a part of changing someone's life is just awesome. This was one of the best experiences that I have had in 2015. Here at CreditRepair.com, we do truly care about the members we speak to and we will continue to work very hard, so that in the future our members will be able to get the things that they have been working so hard for."
Cody Adams: Team Lead from Salt Lake City office  
"The opportunity to meet the families whose lives have been changed because of CreditRepair.com was the greatest thing I have done this entire year. Even though the freezing, humid air cut through every layer of clothing as we tried to wrap presents on the sidewalk, we were kept warm by our excitement and anticipation of the chance to give back so much to these families who truly deserved this Christmas to remember.
I will never forget the look on each of their faces as they opened the door to see us on their front steps, surrounded by presents and carrying a giant check. It was a special treat to get to tell them, "We want to present you this check in the amount of the credit score you have been working so hard to improve." The excitement of the kids and the tears of the parents will be something I will never forget and will be eternally grateful for the opportunity I had to be a part of not only a company that gives back, but also to be there, to give, and to share in those moments of joy during such a special part of the year."
Learn how it works