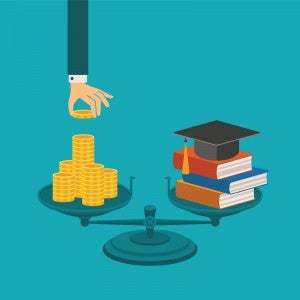 Credit is an essential part of life, a long-term opportunity to excel and achieve financial security. Unfortunately, the majority of young Americans are missing the mark. The average score for adults ages 18 to 24 is 630, earning them a label of sub-prime at best. Why so low? There are a few contributing factors, including:
Time. A long and positive credit history promotes a higher credit score. According to a CreditKarma survey, there is a strong correlation between older accounts and credit health. Consumers with accounts open:

1-2 years have an average credit score of 622.
2-5 years have an average credit score of 638.
5-8 years have an average credit score of 661.
8+ years have an average credit score of 675.
As credit newbies, 20-somethings are still working to establish themselves, a goal that takes time.
Debt. Consumers in their late teens and early 20s are faced with unique financial challenges:

Paying for school. Whether it's private high school or a four-year university, students need funds for education. When cost exceeds budget, many turn to credit cards or high-interest private loans for help. The result is decades of debt and credit damage.
Tackling firsts. Entering the adult world means tackling a long list of firsts, including renting an apartment, financing a car and applying for a credit card. Although these rites of passage are exciting, confronting them with poor credit means unfavorable contract terms, higher prices and inflated interest rates.
Compounding debt can overwhelm a young credit score, causing greater damage and long-term struggles.
Education. Education is a commodity, but few realize its importance within a financial context. Thirty-five percent of Americans have never checked their credit, and even fewer understand the factors of scoring, including the majority of students. Only 17 U.S. states mandate financial literacy courses in high school as a graduation requirement, and only 6 of those states require testing. This blunder leaves many post-grads—74 percent—unaware of their credit scores and vulnerable to financial mistakes.
When good credit is imperative, what's the solution? CreditRepair.com's Student's Guide to Credit is a roadmap to early financial health. Readers will learn:
Credit basics, including scoring factors
Strategies to build and maintain credit
How to spot financial pitfalls aimed at students
Skills to achieve personal independence
The bottom line: Creditworthiness is essential in today's marketplace. Begin with the right tools by downloading your free e-book here.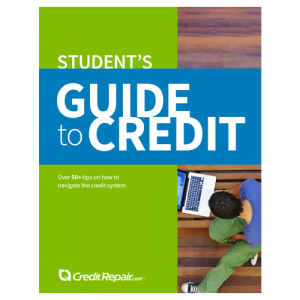 Learn how it works