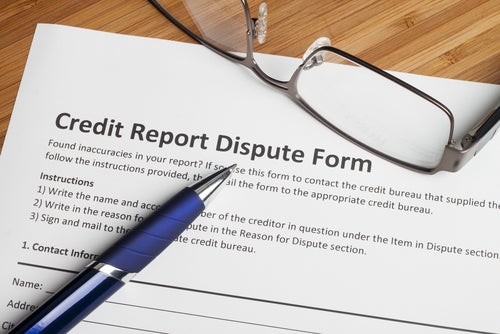 What are Credit Disputes?
For your credit report and credit score to be an accurate and fair representation of you as a consumer, the information in your credit report must be correct. Inaccurate or unfair information can negatively impact your credit report and credit score, damaging your ability to qualify for credit at lower interest rates.
Unfortunately, incorrect information frequently shows up on credit reports. It could be due to clerical error, identity theft, or outdated information. It could also come in many forms – debts you don't owe, payments you never missed, or accounts you didn't open – but despite its inaccuracy, it still affects your credit and should be removed from your credit report.
This is where credit disputes come in. Disputing inaccurate information involves contacting both the credit bureaus and the lenders or debt collectors involved to get the false information removed from your report.
By law, lenders must have records to back up the information they've submitted to the credit bureaus – if the information is inaccurate, or they can't back it up, disputing the item in question can get it removed from your credit report.
Dispute Mills
Some credit repair companies don't take the time to identify what information on your credit report should be disputed. Instead, they cast a wide net and dispute anything and everything that may negatively impact your credit – regardless of its validity.
Using this approach, these dispute mills hope to hit enough incorrect information to have a reasonable success rate, while also jamming up the credit bureaus, which can result in temporarily getting some items lifted from your report.
The problem? If those items are valid, they can land right back on your report in a short time, most likely after the dispute mill has already collected your money and parted ways with you.
CreditRepair.com's Process
By contrast, CreditRepair.com takes a selective approach. We work directly with the lenders and creditors to make sure they are fulfilling their obligations and providing accurate and timely information to the credit bureaus. We go through each item on your credit report to make sure it is accurate, fair, and backed up by evidence.
Only after a thorough analysis do we dispute the appropriate items. In addition, we provide ongoing reporting so you can see the results of our efforts to scrub your credit report from inaccurate or unverifiable information.
Want to know how to spot an unethical credit repair company? Check out this blog post where I lay out the warning signs.
Related Articles: 
Avoiding Illegitimate and Unethical Credit Repair Companies
New Year's Resolution: Credit Repair Differences Between DIY Repair and Using a Company
2016 New Year's Resolution: First Steps for Repairing Your Credit
Learn how it works