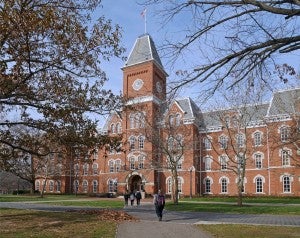 Heading off to college is one of the biggest life transitions most people make, but how many young men and women are actually prepared to handle their own finances?
Financial tips for college students
Some financial advice for college students may seem like basic common sense, but you'd be surprised at how many young people don't act on these simple, basic steps for ensuring that they have an adequate cash flow while they're getting an education.
Understand exactly what kinds of financial aid are available to you.
Unless you're independently wealthy, or come from a rich family, you'll likely need some kind of financial aid. So this should be your first stop on the Internet: the Federal Student Aid page on the U.S. Department of Education web site.
Apply for Loans and Grants. College students today have a wide range of options for securing additional funds for their educations. Depending on your grades, the organizations your parents belong to, being the offspring of a veteran, being a "legacy", or child of a former alumnus, your ethnicity, tribal affiliation or gender, there may be many scholarships, grants, and work-study programs available to pay some or all of your college costs. Be sure to explore the options offered by your chosen educational institution, your state, county, or even local civic groups like Lions' Clubs, the Optimists, or The Kiwanis Club. This is one area where doing your research can really pay off. Your prosperous future self will thank you for not racking up huge student loan debts that will take years to pay off.
Budgeting Tips For College Students
The next best piece of financial advice for college students is to learn how to set up a budget and, next: stick to it!
Figure out how much money you have coming in. Take into consideration the financial aid you will be getting, any allowance from parents and any jobs you are doing.
Establish what you need month to month for the basics like rent, utilities, gas, groceries, car insurance, cell phone, Internet, school fees, and so on. As another budgeting tip for college students: you can use one of the spreadsheet programs like Excel®, an online program like Mint.com or just write it down.
Track your expenses. It helps to keep it posted somewhere prominent to remind you of what your expenses are. You don't have to track absolutely every penny, but have at least a general idea of what you need for your various categories of expenses.
You Need To Establish Credit, But Avoid Getting Too Many Credit Cards
Another important financial tip for college students is to prepare financially for the future by establishing good credit now. Everybody needs to establish good credit, but many college students fail to do this because they accrue too much student loan debt, and borrow too much with their credit cards. While it's important to have one or two credit cards for emergencies, don't use them to fund a lavish lifestyle that you can't really afford. If you can get more than one card, you might want to apply for a card and then cut it up when it arrives, but keep the account open. Use your other card to make payments on things like your utility bill or Internet service. If you set it up for auto-pay, then you'll always be paying those bills on time and establishing a positive credit history.
Here's some simple financial advice for college students that can work for anyone as long as they're disciplined and don't cheat on their rules:
Practice frugality. Think before you make any purchase. Find out where the thrift stores are in your neighborhood for things like clothes, dishes, pots and pans, and small appliances. Make use of the media available to you at the school's library and other facilities. For some very cool ways to be frugal (and have a good time doing it, check out this blog page from CreditRepair.com.
Avoid eating out, or using the school's student meal plan. Learn how to cook, and take brown bag lunches to school. Get a coffee maker and take a thermos with you instead of buying Starbuck's at the student union. If you work in a restaurant, try to eat as many of your meals there as you can.
Be moderate about going out with friends. You don't have to buy rounds for all your friends. That's a sure way to run up the balance on your credit card without even thinking about it. If you're going out for beers with your friends, bring only cash, and when you've spent your money, stop drinking, or better still, go home.
Take Full Advantage Of Your Student Discounts
College is supposed to be one of the best times of your life, but that doesn't mean it's a nonstop party. Businesses in college towns frequently offer special discounts to students on things like restaurant meals, movies, copying services, but that's only the tip of the iceberg. As another budgeting tip for college students, go online at sites like Gift Card Granny for discounts on everything from car insurance, to phones, Eurail passes, oil changes, an International student ID card, ballet and/or symphony tickets, magazines, clothes, meals at various chain restaurants, and just about any other product or service that you might need, and probably plenty that you don't need or shouldn't be wasting your money on. Don't worry about seeming cheap when you pull out your student ID for a discount. After all, you paid for that card, so get the maximum use out of it that you can.
Find The Best Banking Options Available
Whether you wind up leaving your hometown to attend college or go to the community college a few miles from your house, it's important to have the right banking services. Many banks love college students because they can slam them with a variety of fees for things like a low balance, overdrafts, and so on. If you're going with a bank, find one that offers services like reimbursing you for out-of-network ATM charges, a low fee for your minimum daily balance, online bill paying, mobile remote capture of any deposits, like paychecks, student loan disbursements, etc.
Don't Ignore Banking Through A Credit Union
As a final financial tips for college students, sign up with a credit union if you can. Credit union membership isn't open to anyone, but if your dad was a veteran, or your mom is a teacher, you can join his or her credit union. Find out the rules for your local credit union and start banking with them. They're usually much more customer-friendly than banks, with fewer fees, better perks, and better customer service. NerdWallet compared banks to credit unions and found that 88% of time, credit unions were a better deal, with many offering no-fee ATMs, having branches conveniently located on university campuses, and lower fees for using out-of-network cash machines.
Learn how it works