Credit lending standards across a number of loan types have been broadening for a number of months, and that trend continued in July, though to a lesser extent than in the past.
The overall lending market didn't change very much in July as banks continued to keep standards on nearly all lines of credit somewhat loose, though certain types, including business loans and auto financing, became somewhat easier to obtain, according to the latest Senior Loan Officer Opinion Survey on Bank Lending Practices issued quarterly by the Federal Reserve Board. Lending restrictions were beefed up significantly during the recent economic downturn as a result of a significant increase in instances of both consumer delinquency and default on many loan types, but that has changed over the last year or so.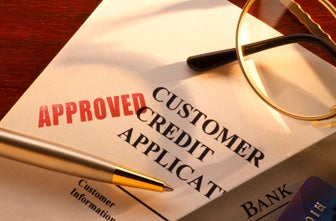 Perhaps the largest increase in eased lending restrictions came for business loans, the report said. Of the 63 banks surveyed, standards for lending to businesses of large and medium size (those with sales of $50 million or more) slackened for six and held steady for the other 57, meaning that 9.5 percent of lenders saw looser business lending standards. Smaller companies enjoyed similar benefits, as three of 61 banks broadened their qualification standards, accounting for 4.9 percent of institutions.
Consumers reaping benefits of continued bill payments
Meanwhile, many kinds of consumer lending continued to become broader as borrowers made more routine payments into most types of loans, the report said. Other statistics have shown that instances of delinquency and default continue to fall for many types of consumer credit, and banks have therefore been more receptive to increased lending.
Auto loans, which have seen continual drops in late payments perhaps more than any other type of consumer credit, also saw a commensurate positive change in qualifications standards, the report said. Of the 57 banks surveyed, one (1.8 percent) said it eased lending standards for auto financing considerably, while 12 (21.1 percent) said they eased somewhat. The other 44 (77.2 percent) said their standards were unchanged.
One particular area where auto loans changed somewhat was in the size of down payments required to obtain this type of financing, the report said. Though 50 of 56 (89.3 percent) kept their standards the same in this regard, the other six (10.7 percent) reduced the amount required.
Further, when it comes to standard installment loans extended to consumers, only one bank out of 60 (1.7 percent) said it was much less willing to extend financing, the report said. On the other hand, 14 (23.3 percent) were somewhat more willing, and 45 percent said their attitudes toward this type of lending were unchanged.
And when it comes to credit cards, which have recently seen some fluctuations in delinquency and default but have generally been improving for more than a year and are currently near record lows, only a few banks changed their standards at all, the report said. In all, just five of 46 (10.9 percent) altered their policies, and all of them said they eased somewhat.
At the same time, though, the size of credit limits extended to new borrowers was more of a mixed bag, the report said. While 34 of 43 (79.1 percent) said they kept limits the same, six said they made them larger, with five (11.6 percent) increasing them somewhat and one (2.3 percent) making them considerably larger. All of those changes were made by what the Fed considers large banks. However, at the same time, three (7 percent) said their credit limits shrank somewhat.
During the second quarter, the extension of credit to those who fell outside qualification standards remained almost entirely the same, as just one of 43 banks surveyed (2.3 percent) said it eased standards for what it considered lending to those with diminished credit scores.
Consumers have generally been far more conscientious about making efforts to change their borrowing habits for the better since the end of the recession and that has been reflected in both increased credit quality for nearly all loan types, as well as in a reduced demand for financing of most types. Both have led banks to broaden standards as a means of increasing the size of their customer base and also because they now believe consumers are better equipped to handle these accounts responsibly.
To qualify for the best possible terms on all lines of credit, you will need to make sure your credit score is as good as possible. In some instances, there may be unfair markings on your credit report that can have a severe negative impact on your overall standing. Taking steps to raise your credit score, including disputing these markings with the help of a credit repair agency, can be extremely beneficial.
Learn how it works