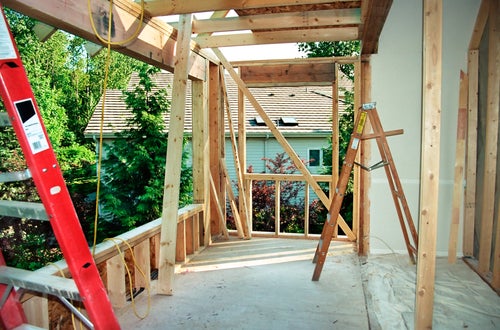 Home renovations can be a necessary part of life, whether you're adding space or simply rewiring a room. Getting started can be a daunting process filled with questions. Who should I call for help? Can I afford to do this? How will it affect my savings and credit repair efforts? Keep the following absolutes in mind before you begin. The result will save you time and money.
Always:
Consider the do-it-yourself route. Not every project requires the help of an expert. Lowe's, Home Depot and Youtube are filled with helpful tutorial videos for just about every project you can think of, from installing hardwood floors to hand-painting a bannister. The DIY route is the perfect option if you are trying to improve your home's value on a tight budget. For example:Mary and Marshall want to install 1,500 square feet of cherry oak hardwood in their home. The price is a reasonable $3.29 a square foot, totaling $4,935 before taxes and supplies. During checkout, the flooring expert asks whether they'd like a professional to help with installation. "Our services start at $4.00 a square foot, plus materials," he says. Although Mary and Marshall are nervous about installing the floors alone, they aren't willing to add $6,000 to their bottom line. They successfully complete the project in five months, improving their home's value and saving more than 50 percent of the suggested installation cost.
A little research and self-confidence can save thousands over time. Don't dismiss the notion of rolling up your sleeves.
Do your research. There's a big difference between a general contractor and a handyman. If you are hiring someone to do specific and complicated work, it's vital to check their credentials and references before beginning the project. Consult the Better Business Bureau and your state's business licensing website to verify their company's status (tip: all contractors must be bonded and insured to perform renovation work). It's also important to investigate work ethic and friendliness. Rely on your fellow customers' opinions by browsing Yelp or Angie's List for reviews. These resources will provide a collective overview of every potential contractor. Compare three or four candidates in your area before making a final choice.
Negotiate a fair contract. Depending on its contents, a contractor agreement can be a shield or a sword. A fair agreement has the power to protect you from overspending and unforeseen accidents. On the other hand, a one-sided agreement has the power to slice through your sanity and your budget. Ensure your contract is fair by:

Drafting a timeline. A disorganized contractor can be a huge threat to your bank account. For example, suppose you're hiring a team to sand and paint your kitchen cabinets. The job should only take 5 days, but your contractor is dragging his feet and the timeline balloons to 10. He's also late to work most mornings, forcing you to wait for him and sacrifice your own job's stability. Not only are you forced to suffer through yet another take-out meal, your boss is beginning to notice your absences.Avoid these problems by asking for a specific timeline. A schedule is crucial.
Asking for a "maximum" clause. A price estimate is exactly what it seems…an estimate. If you don't want a surprising bill, ask your contractor to add a maximum amount clause to your contract. For example, "We estimate the cost to be $6,400. The maximum amount will not exceed $8,000."
Never:
Break your own agreement. A savvy contractor will help you see the potential in your space, but he's also likely to help you spend more money. A common strategy sounds something like this:"We're almost finished with your house, but you know, I think those walls could use some paint and crown moulding. It's not part of the project, but it wouldn't cost much. What do you think?"Of course you want your home to look nice. Of course you want fresh paint and crown moulding. These assertions are beside the point. It's easy to get sucked into the vortex of home improvement, but a little money here and there can add up to a shockingly high bill. Handle this conversation as follows:

Refer back to the do-it-yourself route. Can you save money solo?
If you are interested in the project, ask for the same measures in your original agreement, e.g., time frame, cost and maximum clause.
Ask your contractor to draft a new agreement with the project included. Don't begin until both parties have signed.
Lose sight of your budget. The best thing about homeownership is longevity. A 30-year mortgage may seem like a burden, but it's also filled with the gift of time. Keep your budget in check by renovating your home carefully and deliberately. This strategy will allow you to focus on budget health and maintain your financial goals. A longer timeline means you won't need to sacrifice the important things like savings, debt reduction and overall credit repair. Life is long; don't renovate yours too quickly. 
Learn how it works