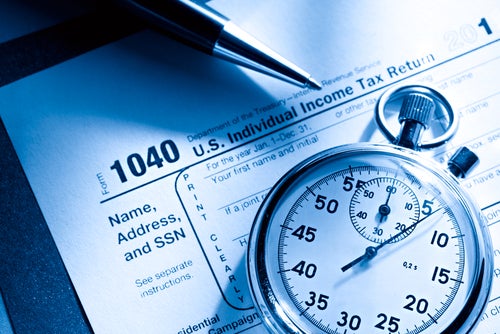 The new tax reform was passed and signed into law on December 22, 2017, and changes have already begun taking shape. Although the new tax bill will have no impact on the income taxes Americans file this April, many may begin to see a difference in their paychecks as soon as February.
For many, this will be a positive change, as the tax brackets impacting many Americans have been lowered. For example, single taxpayers who are earning between $38,701 and $82,500 will reduce their tax liability from 25 percent to 22 percent. Meantime, those joint filers earning between $165,001 and $233,350 will see their tax liability go from 28 percent down to 24 percent.
These changes will yield significantly lower tax liabilities for those in the examples above, and for five additional tax brackets, where there will be reductions of 3 percent or more. In the example of the family earning $233,350 the changes would result in a tax liability that is more than $9,000 lower than in previous years.
For many single filers and families, this means freeing up money that can be put towards other things. For example, those funds could be allocated to making larger principal payments on credit liabilities such as mortgages, auto loans, or high-interest credit cards. Paying down debts or expediting the payoff of larger loans can yield big savings on loan interest. Allocating tax savings to these kinds of liabilities can also provide many Americans with a much-needed credit score boost.
The impact of reform on student loan debt
There are also slight changes to tax exclusions for employee-sponsored tuition and tuition waivers in the new tax bill. An earlier version of the tax bill had called for imposing tax on student loan money as income, however, that did not become part of the final legislation that passed at the end of the year.
Under the final tax bill, student loan recipients can deduct up to $2,500 of the interest they paid on their student loans directly from their taxable income. That leaves more money in the pockets of current and former students with loan liabilities, which could potentially be put back towards the principal of those loans to pay them off faster.
Paying off student loans can offer a big boost to credit scores considering that many graduates are saddled with student loan debt that negatively impacts their debt-to-income ratio for a decade or more after they've completed school.
Allocating the money that is freed up from the tax savings that the majority of Americans will see as a result of this new legislation is a great way to pay off debt, bring delinquent accounts current, and improve credit scores overall. If your credit score isn't where you want it to be, or you are in need of credit repair assistance, we can help.
CreditRepair.com offers a free personalized credit consultation and credit report summary, a credit score evaluation, and recommended solutions for those with poor credit. Contact us today and talk with a professional about using your forthcoming tax savings to boost your credit score.
Carry on the conversation on our social media platforms. Like and follow us on Facebook and leave us a tweet on Twitter.
Learn how it works