Credit is an elusive thing. While some people feel confident in understanding their credit, it can leave others feeling like they are standing alone in dark room. Whether the latter or the former is how you would describe your credit situation, you are not alone. CreditRepair.com conducted an online survey that included 1,611 adults of various ages and backgrounds to see how people felt about their credit situation. Come with us as we shed some light on the topic.
Where does your credit score fall?
Credit scores range from a poor score of 300 to an excellent score of 850. The national average FICO credit score as of August 2015 is 695.
18% of the population has an excellent Credit Score within the range of 800 – 850
47% of the population has a Good Credit Score within the range of 650 – 799
22% of the population has a Fair Credit Score within the range of 550-649
13% of the population has a Bad Credit Score within the range of 300-549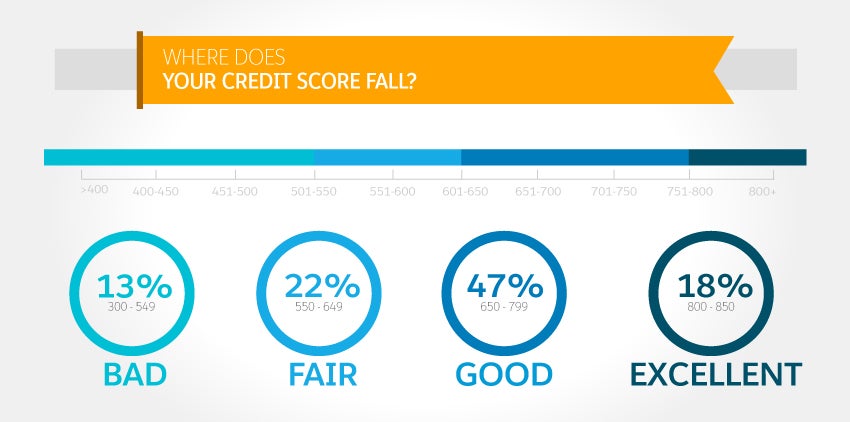 When it comes to your finances, what is your current focus and priority?
It may come as no surprise to you, because you may also be concerned about these things, that saving, general money management and paying off debt are the top three concerns most Americans have when it comes to their financial priorities. Paying off Medical bills and/or student loans rounded out the list.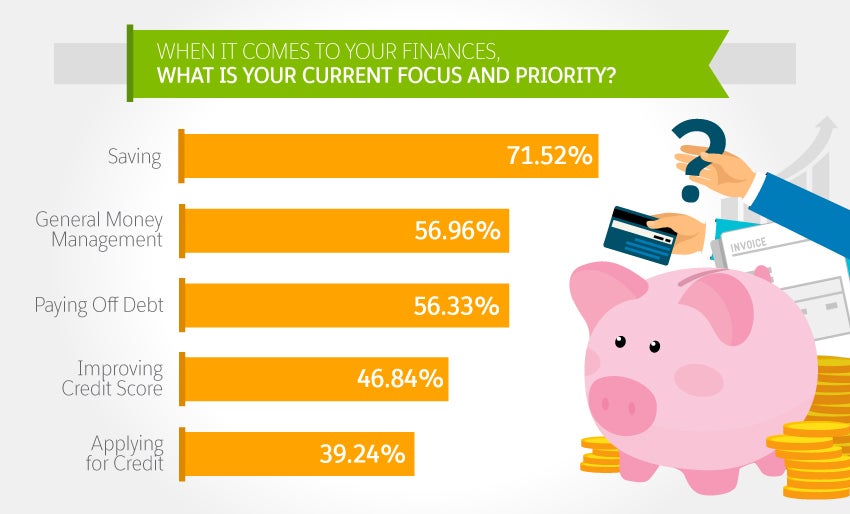 Did you know that a divorce or death of a spouse could sometimes affect your credit score? Other events include, but are not limited to: making poor financial decisions in the past, job loss or unemployment, illness or injury, bankruptcy, identity theft or fraud, foreclosures or short-sales and even military deployment.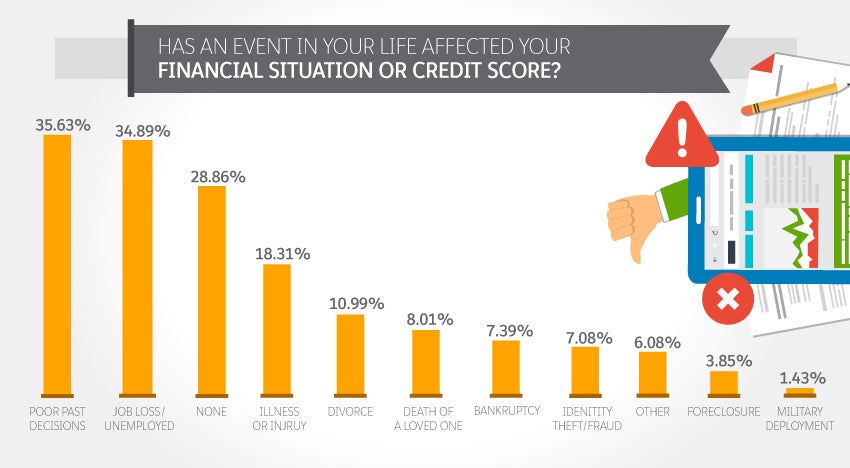 How often do you check your credit report or score?
Some people have a handle on their credit and others not so much. Whatever level a person knows their credit, there are easy ways to access this information. Federal law requires each of the three reporting bureaus, Equifax, Experian, and TransUnion; provide those who request a credit report with one free of charge every 12 months.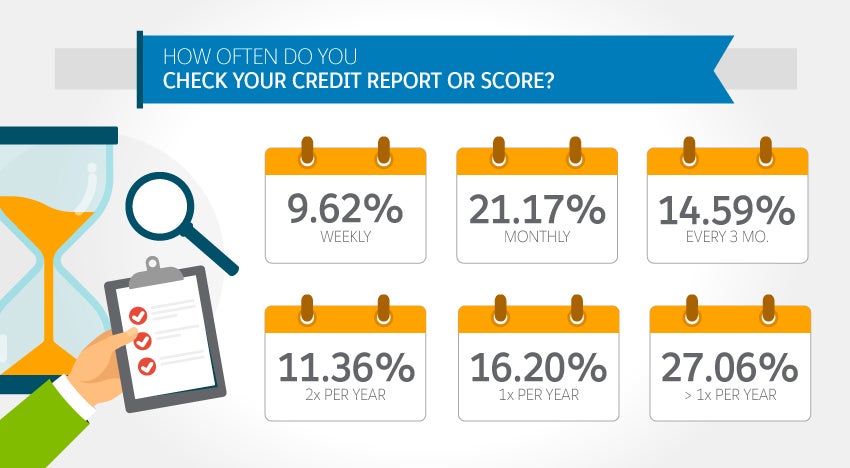 Which of the following has been included on your credit report in the last 7 years?
There are several things that can affect your credit report. Late payments, bankruptcies, foreclosures, collections and criminal records are just a few items that can negatively impact your credit score for up to seven years. When polled the following items were the most common hits on a person's credit score.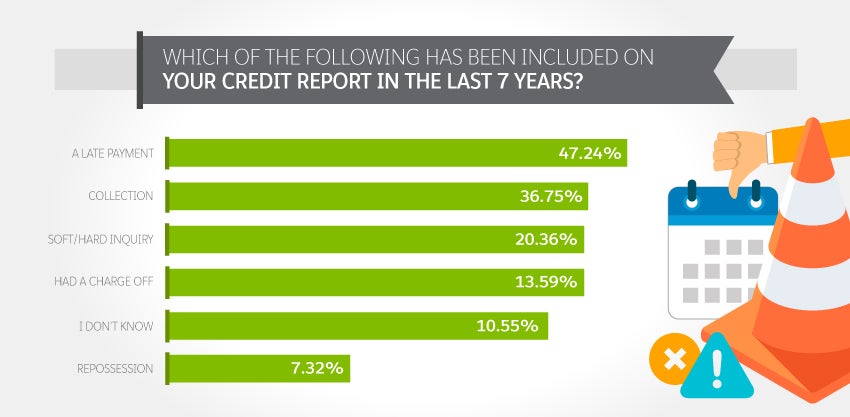 Are there any items listed on your credit report that you feel are in error, unfair, or don't belong to you?
Errors on your credit report can have a significant impact on your credit score and your ability to obtain credit. In a FTC Study, Five Percent of Consumers Had Errors on Their Credit Reports. The ECOA, Equal Credit Opportunity Act, is a federal law that prevents creditors from discriminating against any credit applicant due to: Race, Religion, Gender, Criminal Records, Driving Records, National Origin, Marital Status and Previous Disputes.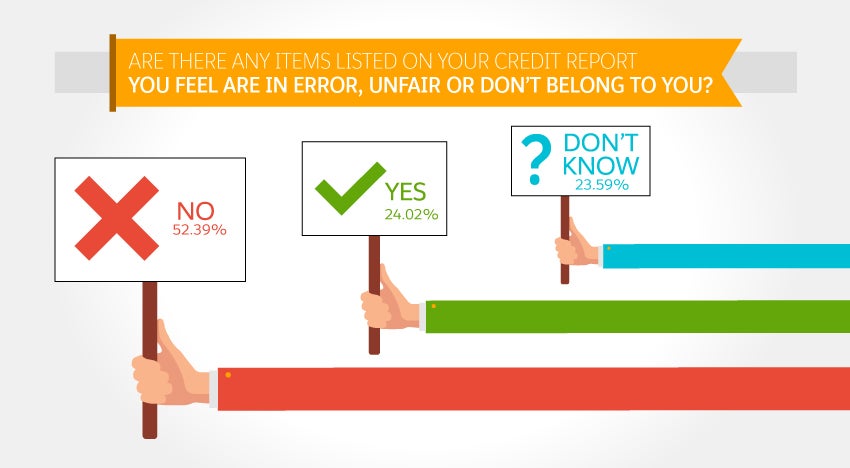 Have you ever been denied when applying for credit because of a low credit score?
Credit is an important key to many life milestones. From buying a car to buying a house, credit can help or hinder the process to building a better life.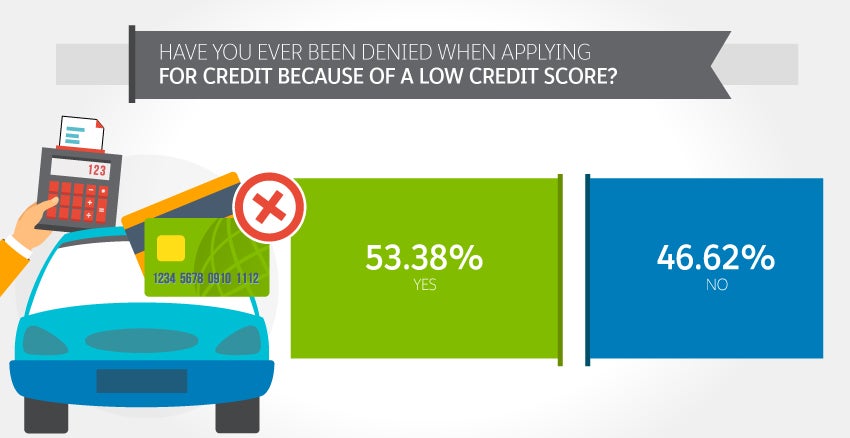 What were you denied for?
So now that you know that credit score plays a critical role in many purchasing decisions, here are some common items people are denied for due to poor or lack of credit.
Home Loans
Auto Loans
Credit Card
Line of Credit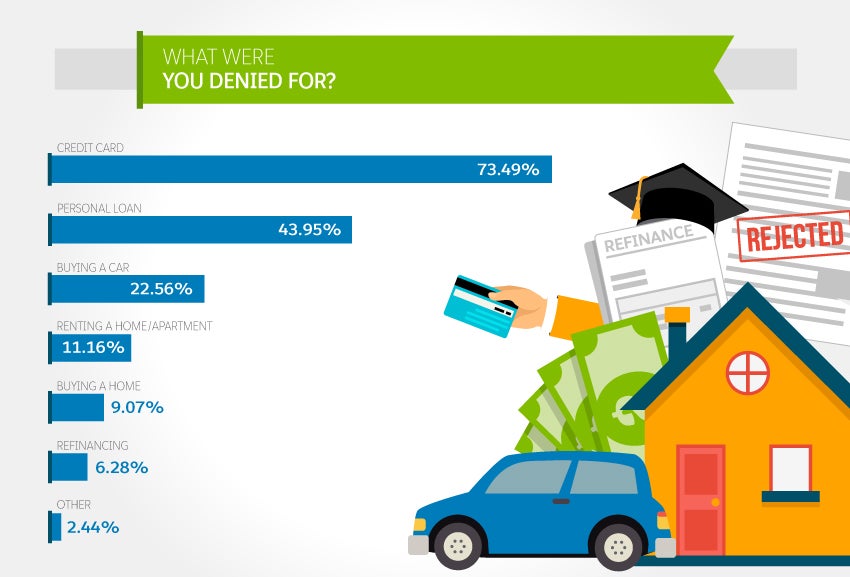 Are you delaying any life event because of your credit?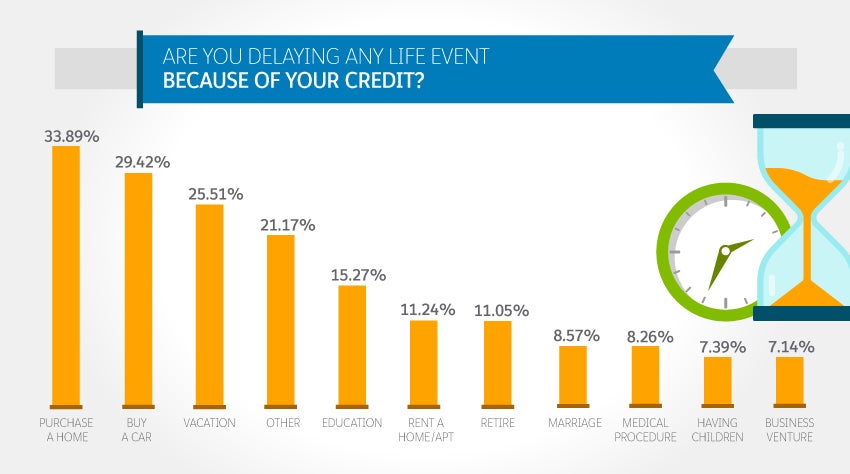 The biggest takeaway we found from this survey is that credit is a powerful thing that can be impacted by so many different factors. Credit is a tricky and important topic to become familiar with, as it will have a substantial impact on a person's life. If your looking to get your credit back on track call creditrepair.com today for a free consultation.