Disclosure regarding our editorial content standards.
A good credit score can save you money and open the door to new financial opportunities. However, building up your credit can sometimes be challenging. If you're currently renting and making timely full payments, you could benefit from reporting your rent to the credit bureaus.
Do rent payments show up on your credit report?
Usually, no. This is particularly frustrating because mortgage payments do show up on credit reports. This can feel very unfair to renters who are often working to build up their credit to one day get a mortgage.
Luckily, the credit bureaus recognized this gap and came up with rent-reporting services.
Rent-reporting services fall under the "alternative credit data" category. Alternative credit data refers to data that's not typically collected by traditional credit reports. Individuals with poor or thin credit reports might turn to alternative credit data, such as rent reporting, to boost their credit.
Are rent payments reflected in your credit score?
Only some versions of credit scoring systems take rent payments into account once they're on a credit report. All three major credit bureaus (Equifax, Experian and TransUnion) will accept rent payment data if they receive it.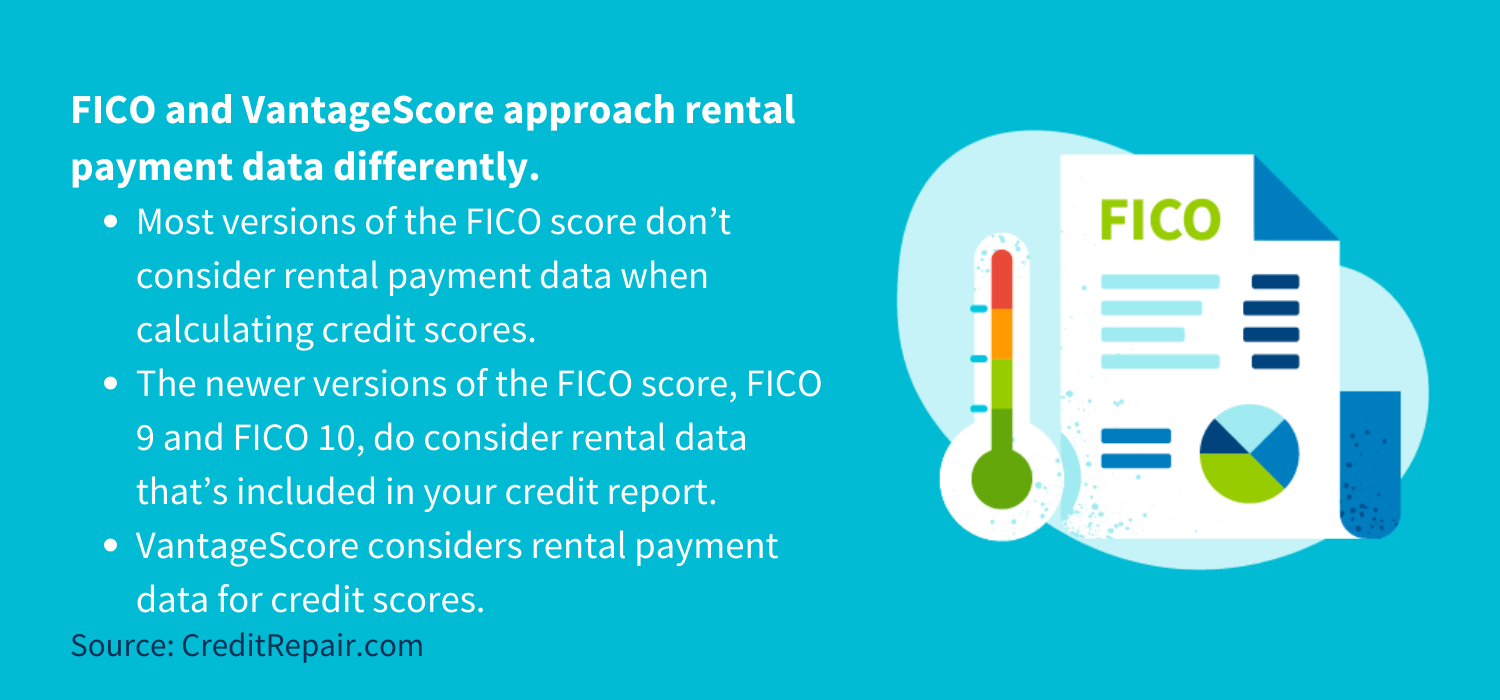 The two major credit scoring companies—FICO and VantageScore—approach rental payment data differently. For example:
Most versions of the FICO score don't consider rental payment data when calculating credit scores.
The newer versions of the FICO score, FICO 9 and FICO 10, do consider rental data that's included in your credit report.
VantageScore considers rental payment data for credit scores.
Ultimately, when you apply for a financial product and have your credit score checked, you don't know which score the lender will use. You can't be sure if they'll use FICO or VantageScore or even which model of each of these they might use. This means your rental payment data can help in some situations, but not others.
How can reporting rent help your credit?
Rent reporting, if positive, can potentially help a person by creating another positive line of credit on a credit report.
Credit reports are a representation of a person's track record with credit. The credit bureaus collect information from different financial institutions and lenders on a person's payments, debts owed, available credit and more. Credit scoring systems then assign consumers a score based on their credit report data.
Someone who makes payments on time and in full will receive a higher credit score as they have a track record of paying back their lenders. In fact, 35 percent of your credit score is based on your payment history.
Not everyone needs the boost that rent reporting can give their credit. However, for those who aren't quite happy with their credit, rent reporting is a fantastic solution.
The people who can benefit most from rent reporting are people who are credit invisible, people who want to build more credit and people who want to improve their credit.
Skipping rent payments is a bad idea for your credit
Even though rent reporting doesn't always help your credit, skipping payments can have a big impact on it and give a bad impression to property management companies you might rent from in the future. Even one skipped rental payment can result in a negative item on your credit report—one that stays for years and decreases your credit score. Additionally, it can put you on the path toward eviction.
What are rent reporting services?
There are rent reporting companies that will report your rent payments to the credit bureaus on your behalf. Most rent reporting services charge a fee, but there are free options available. Note that your landlord will likely have to verify your rent to the rent reporting service before reporting can occur.
Some of the most popular rent reporting services are:
Rental Kharma: Rental Kharma will add up to six months of your previous rental payments to your credit report. There's a $50 one-time start-up fee and an ongoing monthly fee of $8.95. You don't sign a contract, and you can cancel at any time.
CreditMyRent: CreditMyRent starts with reporting one previous rental payment and then each additional month's rental payment moving forward. There's no start-up fee, and the monthly cost is $14.95. There are more expensive packages available if you want to include more months of previous rent.
Rock the Score: Rock the Score requires a one-time setup fee of $48 and then charges $6.95 per month for monthly reporting of rent payments. Individuals can choose to pay $65 for up to two years of previous rental payments to be reported.
Level Credit: Level Credit offers rent reporting services for as little as $6.95 a month. Individuals can pay a one-time fee to include reporting on the past two years of rental payments.
Esusu: Esusu is free for tenants who have a landlord using the platform.
Are you looking to report your rent but hoping for a free option? If you can convince your landlord to implement rent reporting, the fees will be paid by them. You can argue that the cost is worth it to most property managers because it reduces missed and late rent payments.
What rent-reporting service should you choose?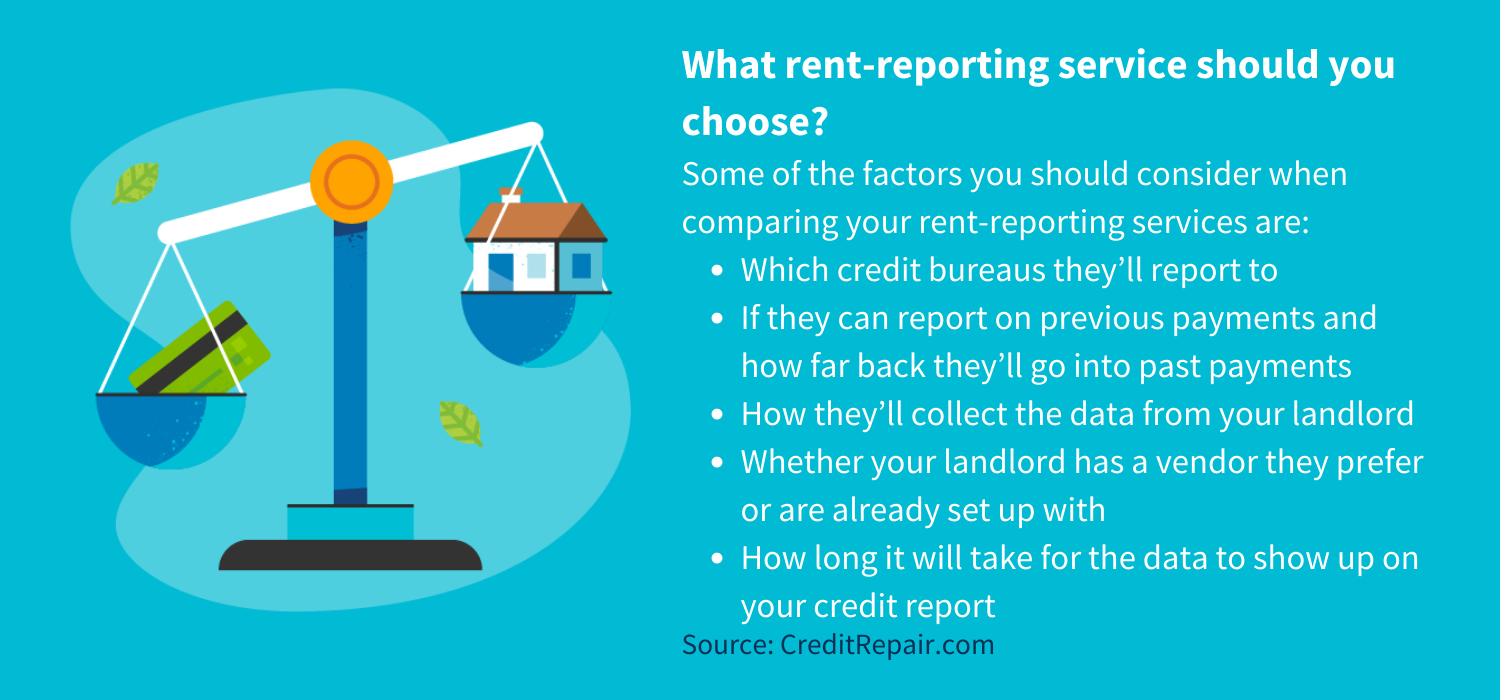 There are many rent-reporting providers out there, and the right fit for you will depend on your preferences. Some of the factors you should consider when comparing your options are:
The cost
Which credit bureaus they'll report to
If they can report on previous payments and how far back they'll go into past payments
How they'll collect the data from your landlord
Whether your landlord has a vendor they prefer or are already set up with
If the rent-reporting service has measures in place to protect your information
How long it will take for the data to show up on your credit report
The cancellation policy
How to get started with rent reporting
The first step is to talk to your landlord. They may have a rent reporting process already set up, and you'll simply have to enroll. If they don't have one, you can try convincing them to implement a rent reporting system.
Even if your landlord doesn't want to take on rent reporting, you'll want to make sure they're willing to respond to a rent reporting company's request for rent payment verification. Many rent reporting services require proof directly from the property manager.
Remember that all of your rent payments are going to be reported, including late and missed payments. If you don't make on-time and full payments, the reporting will actually hurt your score.
After you've implemented rent reporting, check your credit reports to see what shows up. For example, if you ordered the past year's rent payments to be included, you'll want to make sure all of them are actually reported. Next, monitor your credit score to watch for improvement.
What can help you build credit
You can't always build credit by reporting rent to credit bureaus. The good news is that there are other ways to build your credit. Some alternative credit-building steps you can take are:
Avoid late or missed payments by setting up auto payments where possible and reminders for all bills.
Pay your bills in full every month, if you can.
Pay down debt to improve your debt-to-income ratio.
Keep your credit use below 30 percent.
Keep your oldest credit accounts open, even if you don't use them.
You should also thoroughly review your credit report regularly and dispute any errors or mistakes you find on your report. You can get a free online credit evaluation, along with other recommendations to improve your credit, at CreditRepair.com.
---
Note: The information provided on CreditRepair.com does not, and is not intended to, act as legal, financial or credit advice; instead, it is for general informational purposes only.
Learn how it works