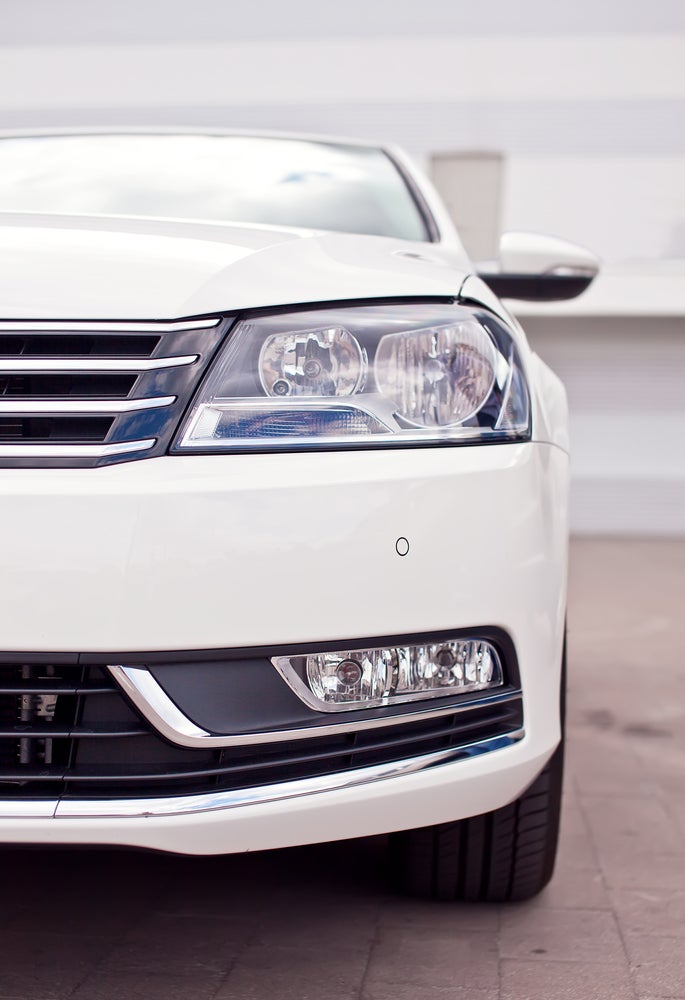 Buying a new car is exciting, but how much can you afford? One school of thought suggests that a car payment should cost 20 percent or less of your net monthly income. Let's take that assumption for a test drive:
Peter is a successful real estate agent who earns a net average of $6,500 a month. Using an online calculator, Peter decides he can afford to spend $1,300 on a car payment—or 20 percent of his income. Since he is accustomed to providing client transportation during work hours, he wants a flashy car to exude an air of success. He opts to finance a 2014 Mercedes-Benz E350 Sedan with a base model price of $52,825.
Where did Peter go wrong? As he will soon learn, financing a car is about more than monthly payments. Costs and risks include:
Down-payment. While car dealerships make their own rules regarding down-payments, it's safe to assume that you'll need some cash to close the deal. In order to secure a monthly payment of $1,300, Peter forks over $9,000 as a down-payment. Unless you possess unlimited funds, approach your own down-payment with caution. Sacrificing too much will hurt your savings, placing you at risk for credit damage.
Higher insurance premiums. Luxury cars come with higher price tags in every area, including insurance rates. Peter will spend nearly $2,000 a year in coverage for his car, resulting in another monthly bill of $167.
Gasoline. Peter's new sedan has a combined fuel economy of 22 miles per gallon (20 mpg, city; 27 mpg, highway). It also requires premium gasoline. One thing is clear: Peter won't be winning any environmental or mathematics awards. At 20,000 miles per year, he'll spend at least $4,000 on gas alone. Take a lesson from his poor decision by factoring fuel into your budget. How much can you afford to spend each month? How does the added expense affect your overall car budget? Financial stability requires an understanding of basic math. Dust off your calculator and start adding.
Money lost. Money spent is money lost, period. Sure, Peter can technically afford to spend $1,300 a month, he could also use that cash to:

Save for retirement
Build an emergency fund
Invest in real estate
Save for his son's college fund
You get the idea. Why spend $10 when $5 will do? Prioritize savings before luxury.
Fewer credit options. An auto loan affects debt-to-income ratio (DTI), a defining factor when securing new credit. An ideal DTI is 36 percent or less. An extravagant car loan is sure to increase your DTI, affecting your ability to secure new consumer credit, buy a house and finance other purchases.
Vulnerability. Peter's job comes with a degree of uncertainty. While he usually earns $6,500 a month, there are no guarantees. The same principle applies for full-time employees. You may have job security today, what about tomorrow? In the face of lost income, how will you make ends meet? How will overdue bills affect your credit score? The solution to these problems is restraint. Allow your emergency fund to stretch further by lowering expenses today. Why expose yourself to costly (and unnecessary) vulnerability?
Let's take a final look at Peter's purchase on a monthly basis:
Payment: $1,299
Gas allowance: $333
Insurance coverage: $167

Total: $1,799
Poor planning will cost Peter 27.6 percent of his net monthly income, a huge blow to an already shaky budget. The bottom line: Value and affordability are relative, but credit health is not. Don't allow wants to overshadow needs. Stick with a common sense car purchase. It could make all the difference.
Learn how it works