Written by Alayna Okerlund, Content Management Specialist for BestCompany.com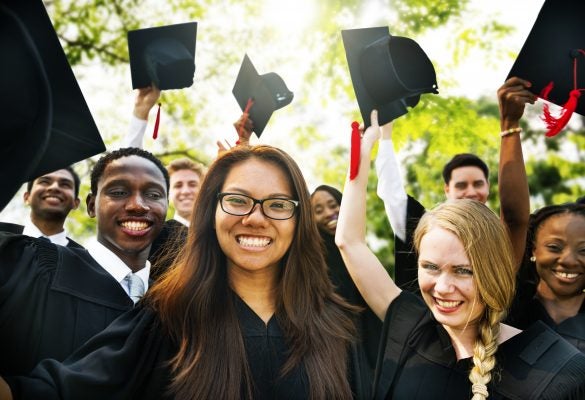 Graduation is a major personal milestone. It proves you received an education and that you are ready to take the next steps in life.
Your next life steps could be starting a new job, moving to a new city, or beginning a journey to find what you are passionate about. It's no surprise if you are excited by the very thought of post-graduation life.
Although it's normal to get excited about the possibilities of your future, don't forget life's realities like your financial responsibilities. Finances might not be the first thing you want to think about when it comes to planning your post-graduation lifestyle, but you'll realize sooner than later that they will likely play a key part in your life plan.
Consider taking these three important financial post-graduation steps before you start making your dreams a reality to ensure you're starting your new path the right way:
Perform Your Own Financial Audit
The first step you should take after graduation is to perform your own financial audit. Auditing your finances can help you not only figure out where you currently stand but also help you determine what future financial steps you should take.
You can perform your own personal financial audit in a few ways. There isn't one perfect way to conduct a personal financial audit, but if you are having a difficult time knowing where to begin, start here:
Take note of exactly how much debt you currently have. Include student debt, auto debt, credit card debt, etc.
Calculate all of your current expenses. Include rent, food, gas and other daily expenses.
Check your savings account(s) to see how much you have and to figure out how much you regularly add to that account.
Look at your credit score and copies of your credit reports.
Review the current budget plan you follow.
To make your personal financial audit count, be as specific as you can. Don't hesitate to go more in-depth with your audit and add to the bulleted list mentioned above.
Create a Strong Budget
Creating a new budget after you graduate should make sense. After all, you are most likely starting a new job or changing your life in a way that calls for a new budget.
When creating a new budget, ask yourself the following questions:
Did I have a budget before I graduated? What was it like?
If I had a budget in college, did I successfully follow it? If so, how long?
What are my current financial goals? Will a budget help me achieve them?
How often did I make unexpected purchases in the past year/few months? How much did I usually spend on these unexpected purchases?
How much do I want to be putting into my savings account right now?
Are there any investments I want to make at this time? How can I create my new budget to help with that?
Is there a budget I want to model my new budget on?
Are there any budgeting apps that can help me?
What do my current expenses look like? Where does the majority of my money go?
The questions listed above aren't the only questions you should be asking yourself when you're in the process of creating a new budget. If you have completed your personal financial audit (step one), you likely have more specific questions you can ask yourself, and therefore, can create a budget that better fits your specific needs. Asking yourself questions like the ones mentioned above can help you make sure you don't forget anything when you create your new post-graduation budget.
The goal is to create a realistic yet effective budget that you can follow right after graduation. Although you can use this new budget as a foundation for your future budgeting efforts, you should be regularly adjusting and reviewing your budget to make sure you stay on the right financial track.
Get Familiar with Your Credit Situation
Credit might not be on the top of your list of financial priorities, but it should be. Although credit may not have had a major effect on your life while you were in college, it's almost a guarantee that it will affect your post-graduation lifestyle. It can affect what type of car you drive, what type of apartment you can rent, what home you can buy, and much more. Therefore, it's important to get familiar with your credit situation as soon as possible. If you've put your credit on the back burner until now, you definitely should focus on it before you start making major life decisions.
Here are a few things you can do to get more familiar with your credit situation and good credit practices:
Check your credit score and review your credit reports.
Know what can affect your credit and avoid things (like late payments) that can hurt your credit.
Review your credit cards and their credit limits and bills.
Educate yourself on how to build and maintain good credit.
Look into credit repair services if your credit is suffering. Repairing your credit now can help you with post-graduation finances.
Make a note of what you have done wrong with credit in the past and learn from those mistakes.
In regards to credit, the more you know, the better. Credit can be intimidating, but if you face it head-on now and learn how to maintain a good credit score, you won't have to worry about being overwhelmed in the future. Not to mention, you will be able to take full advantage of all that good credit has to offer.
The Bottom Line
Graduation is an exciting part of life. It's the time to celebrate and prepare for your future. To create the type of future you've always dreamed of, you need to have control of your finances. Following the three steps above and doing what you can to add to your financial knowledge will help you have an easier time adapting to your new post-grad life.
Whether it's following a debt repayment plan or repairing your credit, consistently taking steps to work on improving your financial situation can play a big part in the creation of your bright financial future.
Learn how it works