Disclosure regarding our editorial content standards.
Aside from the United States, countries that use credit scores include Canada, Germany, Australia, China and the United Kingdom. However, keep in mind that each credit system works a little differently so your credit score doesn't apply internationally.
In the United States, a good credit score can help you qualify for more credit, get better interest rates on loans and, in some cases, play a role in whether or not you land a job. A strong credit score opens the door to more financial opportunities while a poor score may close doors. When you have bad credit, you might be denied a cell phone plan, an auto loan, a rental lease, a mortgage or even a job.
When you move abroad, you have to consider the new country's credit process, as you can't take your credit score and history with you.
If you're planning an international move soon, you might be wondering: What do other countries do about credit? Will you need to build up a new credit score from scratch, or will you have to adjust to a new system? Continue reading to find out what countries use credit scores and how each system works.
How does credit work in the United States?
Although there was a credit scoring system in the United States years before it was formalized, the Fair Credit Reporting Act (FCRA) changed the game by introducing official rules. The FCRA, passed in 1970, detailed regulations on how consumer data would be collected, what would be reported and how individuals could get copies of their credit reports.
In 1989, the first formal credit score—named the Fair Isaac Corporation® (FICO®) score—was created. Another popular credit scoring system, VantageScore®, was then introduced in 2006.
In the United States, each consumer's credit history goes on their credit report. Whenever you have a loan or credit with a lender, the lender often reports the data to one or all of the three credit bureaus—Equifax®, Experian® and TransUnion®. Your lenders report information like your total loan amount and if you missed or made late payments.
The credit bureaus then use a credit scoring system—the most popular being FICO or VantageScore—to analyze this credit history information and assign you a score meant to reflect your creditworthiness. Lenders use your credit score with their internal underwriting standards to determine how much of a credit risk you are, if you should receive credit and your specific loan terms.
Individuals who are responsible with their lenders are rewarded with a higher credit score that gets them access to more credit, lower interest rates and better terms.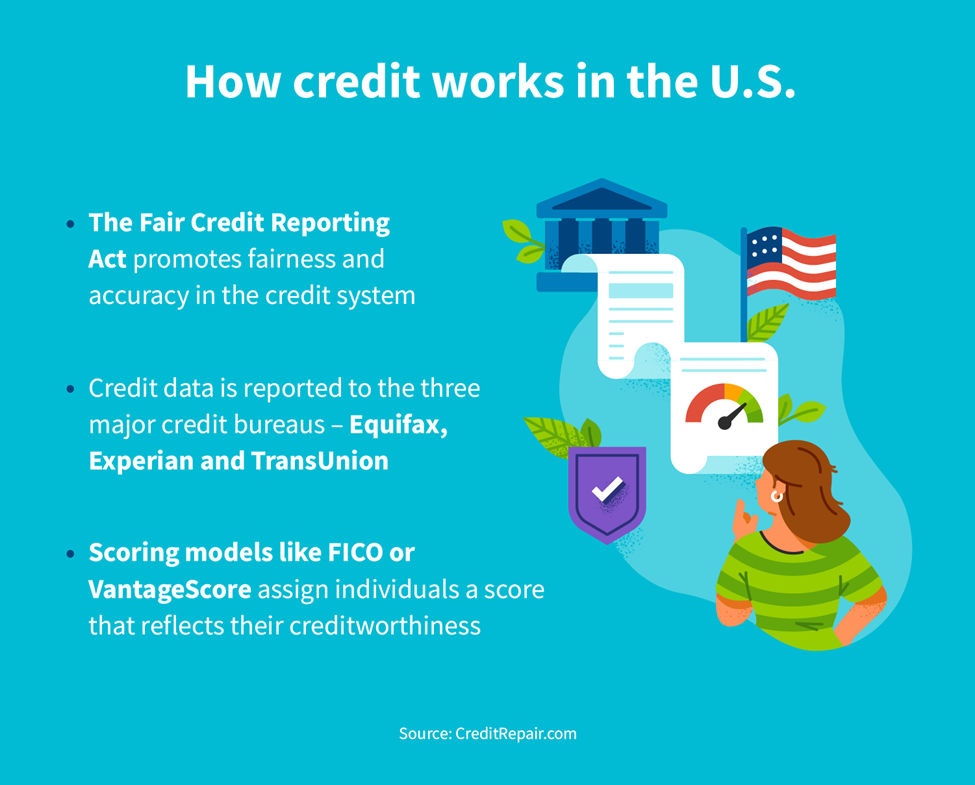 Do other countries have credit scores?
Since most countries have their own systems of determining credit, other countries will most likely have credit scores. However, that doesn't necessarily mean that your U.S. credit score will translate to other systems. Even though all the major credit bureaus in the United States have an international presence, that doesn't mean all countries choose to use them (or any credit bureau) to determine their scores. Each country has its own unique methodology of calculating credit scores.
What countries have credit scores?
Here are some examples of how other countries assess credit:
Canada
Like the United States, Canada has credit bureaus, credit reports and credit scores. Both Canada and the United States have credit score ranges that start at 300, but Canada's highest score goes up to 900 (America's system only goes up to 850).
Experian discontinued its services in Canada in 2009, so the two major credit bureaus in the country are Equifax® and TransUnion®. As in the U.S, Canada's credit scoring system is based on on-time bill payments, types of credit accounts, number of credit accounts, length of credit history, outstanding debts and records of delinquencies, foreclosures and bankruptcies.
According to Equifax Canada®, a "good" credit score is anything 660 and up. 
Spain
Spain doesn't use credit scores—instead, the country focuses on a consumer's credit history. Spain has a credit register called the Risk Management Centre (CIR) that tracks all credit and loan activity from financial institutions.
However, unlike in the United States, Spain focuses on negative items. Rather than being rewarded for good borrowing behavior, credit files specifically track any negative marks on your record. Consumers can be "blacklisted" when they have too many negative items on their report. Once consumers get added to the blacklist, they can stay on it for up to six years or until they pay off their debt.
Germany
The system in Germany is comparable to the United States'. Germany's credit bureau, SCHUFA, tracks all credit information (loans, balances, payments, etc.) and generates a score based on this data. A consumer's score dictates what loans and credit they qualify for and at what interest rates.
Every person in Germany starts with a credit score of 100 and the score lowers as the consumer borrows money. Anything above 90 is considered a good score in Germany.
China
China is in the process of expanding its "social credit system." The system was initially announced in 2014 and has already enrolled millions (on a voluntary basis), with plans to roll it out to all citizens soon. Compared to how most countries approach credit, this credit scoring system is extreme and has consequences that reach far beyond financial barriers.
The Chinese government tracks consumer credit data from criminal records, government records, financial records and more. They compile all this data to give a "good" or "bad" credit rating. Bad credit ratings can result in being put on a "credit blacklist," among other punishments.
For example, individuals with bad credit ratings may have restrictions on their plane and train travel, the ability to get into good schools and even who they can match with on online dating sites. Additionally, nonfinancial data—like bad driving records or smoking in non-smoking areas—can lower your score.
This scoring model will eventually apply to both individuals and companies. Organizations will see benefits (such as tax rebates) or consequences (removal of subsidies) based on their corporate scores.
China implements this model to keep its citizens trustworthy and responsible. However, the model has been criticized by the international community for being domineering and imposing harsh punishments.
Australia
Australia has three main credit bureaus: Experian, Equifax, and illion®.
In 2017, Australia's credit scoring system went through a significant change. Before, the country's credit report only took into account negative items, such as late payments, defaults and more. An individual would have a higher credit score the emptier their credit report was. However, the government chose to update the process with comprehensive credit reporting so credit reports could now include positive information, like on-time mortgage payments, student loan payments and so on.
This mix of positive and negative credit data is more in line with the United States' system. It also allows lenders to make a more informed decision as they can see the likelihood of a consumer paying back debts based on existing balances and their history of payments.
Japan
Japan doesn't have a formal, nationwide credit system. Instead, creditworthiness is typically determined by each bank based on its relationship with a consumer. The financial institution will look at factors like the person's salary, length of employment and current debts and determine their level of risk. As long as a person maintains a good relationship with their bank, they should be able to access the credit they need.
United Kingdom
Like the United States, the United Kingdom also uses Equifax, Experian and TransUnion as their credit agencies. However, unlike the U.S., the ranges of these scores differ between each agency: TransUnion ranges from 0-710, Experian ranges from 0-999, and Equifax ranges from 0-1,000. So, it's hard to say exactly what is a "good" score in the U.K., since it will depend on which credit agencies range you are referencing. According to Experian U.K.®, a "good" credit score starts at 881.
Another aspect that sets the U.K. apart is that registering to vote can improve your credit score, according to Experian U.K.. Other factors credit bureaus include your payment history and how much debt you owe.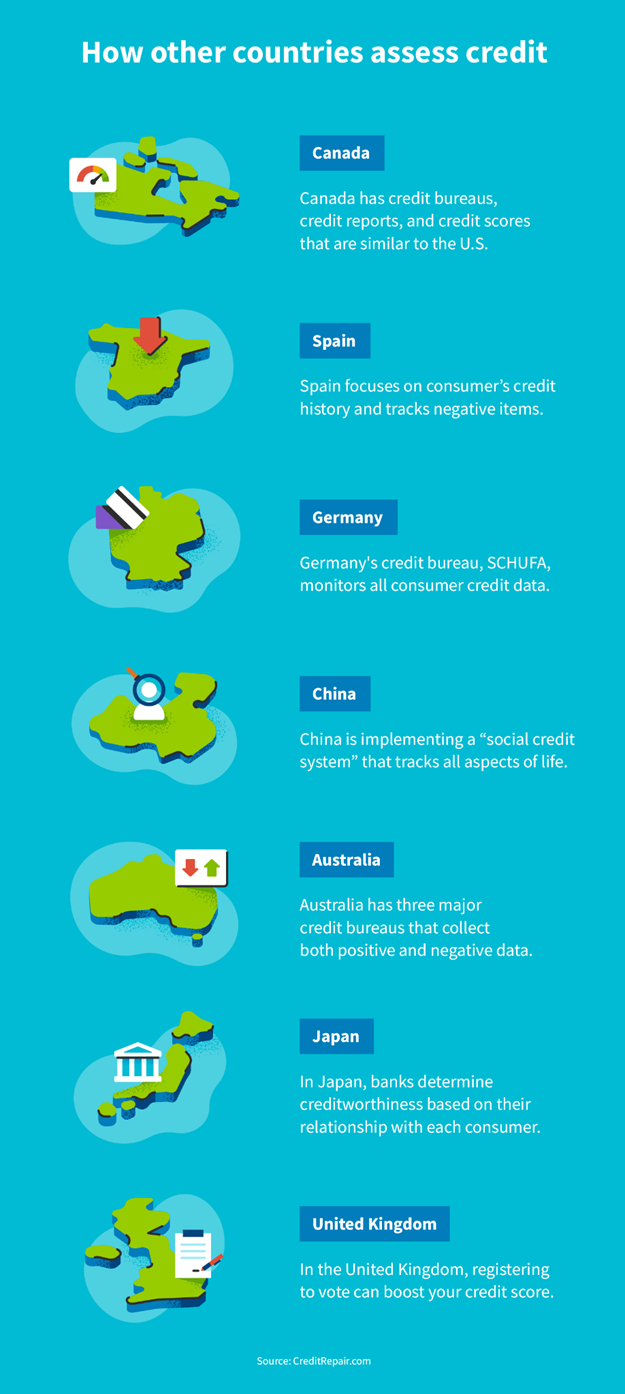 Does your credit score apply internationally?
Since each country has its own credit system, your credit score doesn't transfer to any other countries. That means you won't have any credit in a new country, even if you have a great credit score in your home country. However, keep in mind that you're still responsible for all debts, even if you move abroad.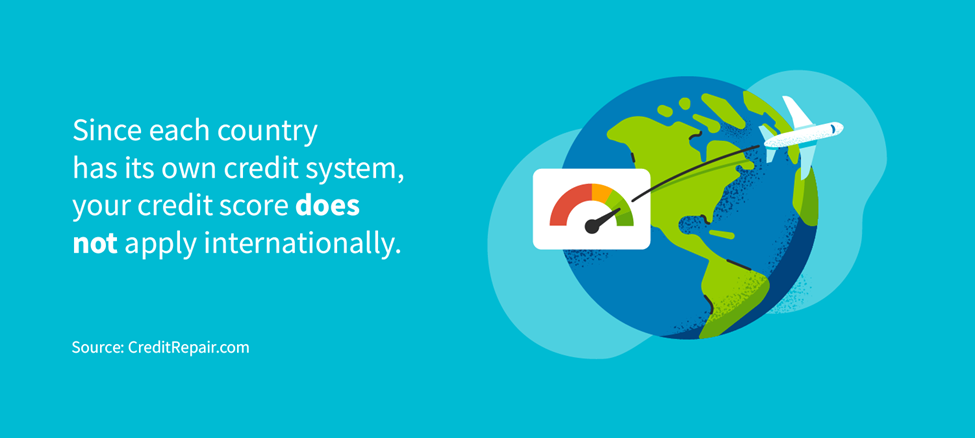 What should I do if I want credit abroad?
If you want or need credit abroad, you'll first need to research the country you'll be in to find out what its credit system is. For example, in Germany, you may be able to get a credit score of 100 as soon as you rent an apartment and therefore start building credit immediately. In other countries like Japan, obtaining credit may be challenging because the bank doesn't know you and doesn't have a relationship with you.
You can certainly establish credit scores in different countries, although you may need to establish residency or fulfill other requirements. It's best to find out everything before you move so you can arrive fully prepared with documents and an understanding of the process.
How to use credit while traveling abroad
If you're only going to be out of the country for a limited time, make sure you can use your U.S. credit card internationally and inform your card provider where you'll be so they don't cancel your card.
Note that there may be foreign transaction fees when making credit purchases abroad. If your card has significant fees, you can look for a travel credit card without foreign transaction fees.
Regardless of whether you're in the United States or another country, it's clear that your credit history can have a significant impact on your life. If you're struggling with poor credit right now, you might experience things like being denied for applications and being offered extremely high interest rates and poor loan terms. But you don't have to accept bad credit—you can take steps to repair it.
The first step is to consider an experienced credit repair service. There may be inaccurate negative items on your report dragging your credit down. The advisors at CreditRepair.com can review your credit report with you to help you find any incorrect negative items and dispute them on your behalf. Get started today.
---
Note: The information provided on CreditRepair.com does not, and is not intended to, act as legal, financial or credit advice; instead, it is for general informational purposes only.
Learn how it works