Disclosure regarding our editorial content standards
Although there are some nuanced differences between how VantageScore® vs. FICO® weigh criteria such as your payment history, your credit score will not be considerably impacted by which provider you choose. Both companies take a comprehensive look at your credit report to provide you with an accurate, reputable score that lenders can use to evaluate your creditworthiness.
That said, each model has its own unique features, utilizing different score ranges and rewarding different strategies for borrowing money.
How is each score calculated?
You probably already know what elements go into calculating your credit score, but depending on which company you get your score from, these categories are weighed slightly differently. FICO, for example, cares more about your payment history than VantageScore does. Let's take a look at how each company breaks down the influence of these factors.
FICO takes five elements into consideration when determining your credit score.
35% – Payment history
30% – Amounts owed (debt)
15% – Length of credit history
10% – Credit mix
10% – New credit (inquiries)
VantageScore, in its latest version (4.0), provides a slightly less concrete yet still telling look into how it calculates your score:
Extremely influential – total credit usage, balance and available credit
Highly influential – credit mix and experience
Moderately influential – payment history
Less influential – age of credit history
Less influential – new accounts opened
VantageScore 4.0 modified its priorities in determining one's credit score from version 3.0, lessening the impact of payment history. Other factors were moved and consolidated, but none of these changes have had a very consequential impact on how score is determined.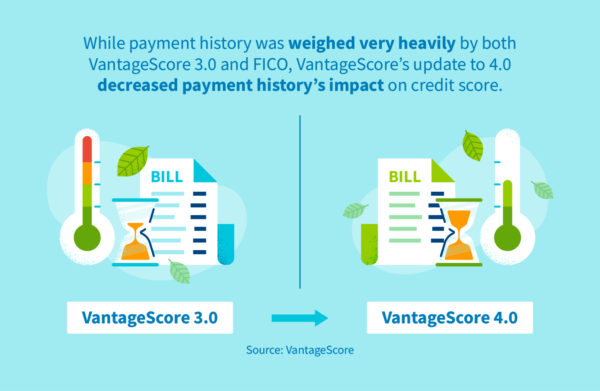 Before going into greater detail regarding how each company analyzes your activity, it's important to familiarize yourself with the scoring system used by these companies and what each score means for your credit health.
Credit score ranges for VantageScore vs. FICO
While converting a score between VantageScore and FICO used to be somewhat complicated with VantageScore's older versions (1.0 and 2.0) ranging from 501–990, the latest versions (3.0 and 4.0) use the same 300–850 range as FICO scores.
For this reason, as of 2017, both companies follow this range and general classification system:
800–850 = Exceptional
740–799 = Very good
670–739 = Good
580–669 = Fair
300–579 = Poor
While the max FICO score and VantageScore is 850, lenders do not expect anyone to reach this score to qualify for a quality loan. As long as you are in the range of "Good" and above, you should be perceived to be a reliable borrower by most lenders.
How does each score look at my activity?
When comparing your VantageScore and FICO score, you may notice a slight difference between the two—that's to be expected. Let's take a deeper dive into how each model evaluates your credit report, and what that means for you as a credit user.
Length of credit history
As a rule of thumb, older credit accounts impact your credit score more favorably than newer accounts. The older the average of all accounts, the higher your score will be. The logic behind this is that lenders want to see that you have plenty of experience managing credit accounts. That said, the length of your credit history is not the most significant consideration used to determine either score.
However, the age of your account is still very important for determining whether you can receive a score from VantageScore or FICO to begin with.
In order to obtain a FICO score, you must have at least one account that has been open for six months and at least one account that has reported to the credit bureaus within the past six months. VantageScore is a bit less strict, generating credit scores for those whose accounts are at least a month old, as long as one account has been reported to the credit bureaus in the past two years. That said, if you're very new to building credit, VantageScore might be your only option.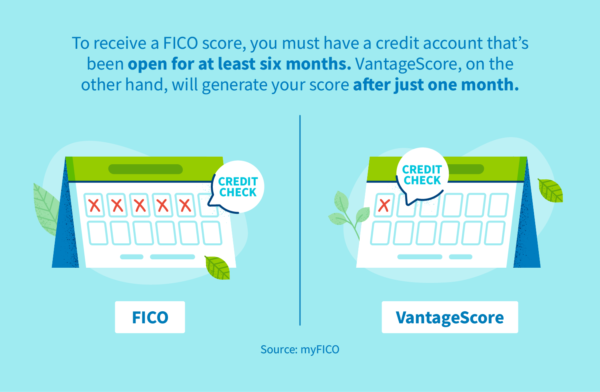 Credit inquiries
Credit inquiries have a negative but temporary impact on your credit score because they imply uncertainty. Hard inquiries occur when applying for new lines of credit, and they communicate to lenders that your "credit background" was investigated.
VantageScore and FICO each provide varying levels of grace for consumers' credit inquiries. Cognizant of the many hard inquiries that must be performed when people shop for credit, FICO offers a 45-day window during which all credit inquiries of the same type are counted as just one hard inquiry. This way, you can apply for several new credit cards or personal loans within a short period and only see one hard inquiry logged on your credit report.
VantageScore, on the other hand, offers a 14-day grace window during which multiple credit inquiries are counted as just one hard inquiry. Though this grace period is shorter than FICO's, the credit inquiries made during the VantageScore grace period do not have to be of the same type in order to be folded into the single hard inquiry.
That said, if you're just interested in buying a new car and you want to apply for several car loans this month, your FICO score will reflect your creditworthiness most favorably. On the other hand, if you're simultaneously inquiring about the best student loans and personal loans to rent an apartment near your school, you'll want to prioritize fitting all inquiries into a two-week period and relying on your VantageScore for the foreseeable future.
Activity data (data history)
Credit scores are a reflection of credit health at a specific point in time. They do not represent the accumulation of all your credit behavior from the moment you opened your account until today, unless you're a relatively new credit user. FICO, for example, takes into account data on credit utilization and borrowing that has been reported to credit bureaus at the time the score is requested.
VantageScore 4.0, on the other hand, looks at behavioral trends over time such as trended credit utilization. If you struggle to pay your bills on time, even if you have been doing well the past couple months, VantageScore will take the longer-term data into consideration, pulling from data as far as two years back.
That said, as long as you're mindful of the general categories that each score takes into consideration, you're on the right track.

How can I get my VantageScore and FICO credit scores?
While there are several organizations that allow you to check your credit score, the three primary credit reporting bureaus are Equifax, Experian and TransUnion. Since VantageScore was developed by these three organizations, they all provide you with your VantageScore credit score. Experian is the only one of the three that can also provide you with your FICO score.
However, not all sites provide credit scores for free. Some sites that claim to offer free scores will end up enrolling you in a costly credit monitoring service, so it's important to do your due diligence before entering your information.
While it's not a bad idea to check both your VantageScore and FICO score to gain a more comprehensive understanding of what lenders may see, using either score will suffice. Each credit reporting agency allows you to check your score once every 12 months, guaranteeing at least three free checks per year. Visit AnnualCreditReport.com for more information about how to check your score.
Don't stress about the discrepancies between VantageScore and FICO, but instead turn your focus to improving both scores at once by proactively building a good credit history. Keep an eye on both scores regularly and remember to consult with a financial advisor if personalized tips could help you reach your long-term credit goals.