Disclosure regarding our editorial content standards.
A "credit lawyer" is a licensed attorney experienced in credit-related laws, like fair billing and fair credit reporting. Keep reading to learn how a credit lawyer could help you with credit issues you are facing.
What is a credit lawyer?
Simply, a credit lawyer is a licensed attorney who is knowledgeable about credit law. They may focus their practice on different areas. Some only work on credit repair and others work only on debt issues. Be sure to find the right lawyer for your specific need. And don't forget, if you need representation in court to defend yourself against a claim from a creditor, look for an attorney who has experience in that field as well as trial experience.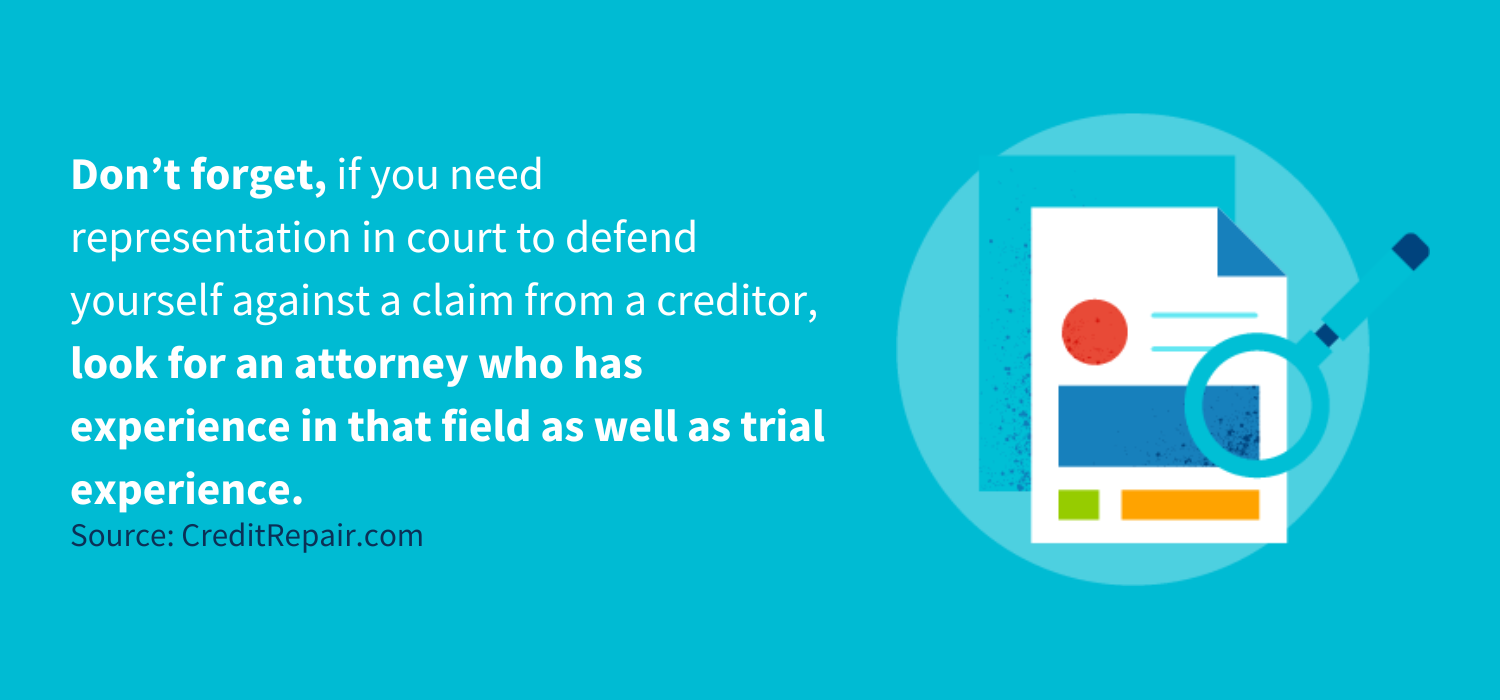 What laws affect you and your credit?
Since the late 1960s, a steady stream of consumer credit laws has been enacted that govern the practices of creditors and credit agencies. Below are a few of the laws that have been put in place to protect consumers' rights.
How are credit lawyers and credit repair companies different and how can they help you with your credit?
At first glance credit lawyers and credit repair companies might appear to offer the same services. However, there are several key differences between the two.
Credit repair companies without a lawyer's training can have more extensive and broad expertise with credit issues, whereas a credit lawyer's knowledge may be limited to their professional experience with credit law cases. Lawyers typically charge more for their services than non-lawyer companies, but you may get more one-on-one attention for your case when compared to a credit repair company.
Credit Lawyer
| | |
| --- | --- |
| Pros | Cons or Consequences of working with a lawyer |
| Qualified to provide legal counsel on credit law as well as other matters | Services may be prohibitively expensive |
| Able to provide individualized advice and guidance | May not have specific experience with your type of cases or issue |
| Can represent consumers in case of a lawsuit | Trial and proceedings may take a significant amount of time |
Credit Repair Companies
Pros:
Contact and respond to credit bureaus on clients' behalf
Handle a wide range of case types
Provide many services related to credit repair
Cons:
While clients can see improvement in credit scores, there are no guarantees
Does not handle credit lawsuits
Not every credit repair company is reputable
It's important to understand that neither credit lawyers nor credit repair companies can facilitate the removal of negative but legitimate entries on a credit report. For example, if you fell behind on credit card payments and your credit score took a hit, neither entity can have this wiped from your credit report.
However, if you can prove the credit card charges were fraudulent or unauthorized, either a credit repair company or credit lawyer may be able to help you get a fair, accurate, and substantiated credit report.
How much do credit lawyers and their services cost?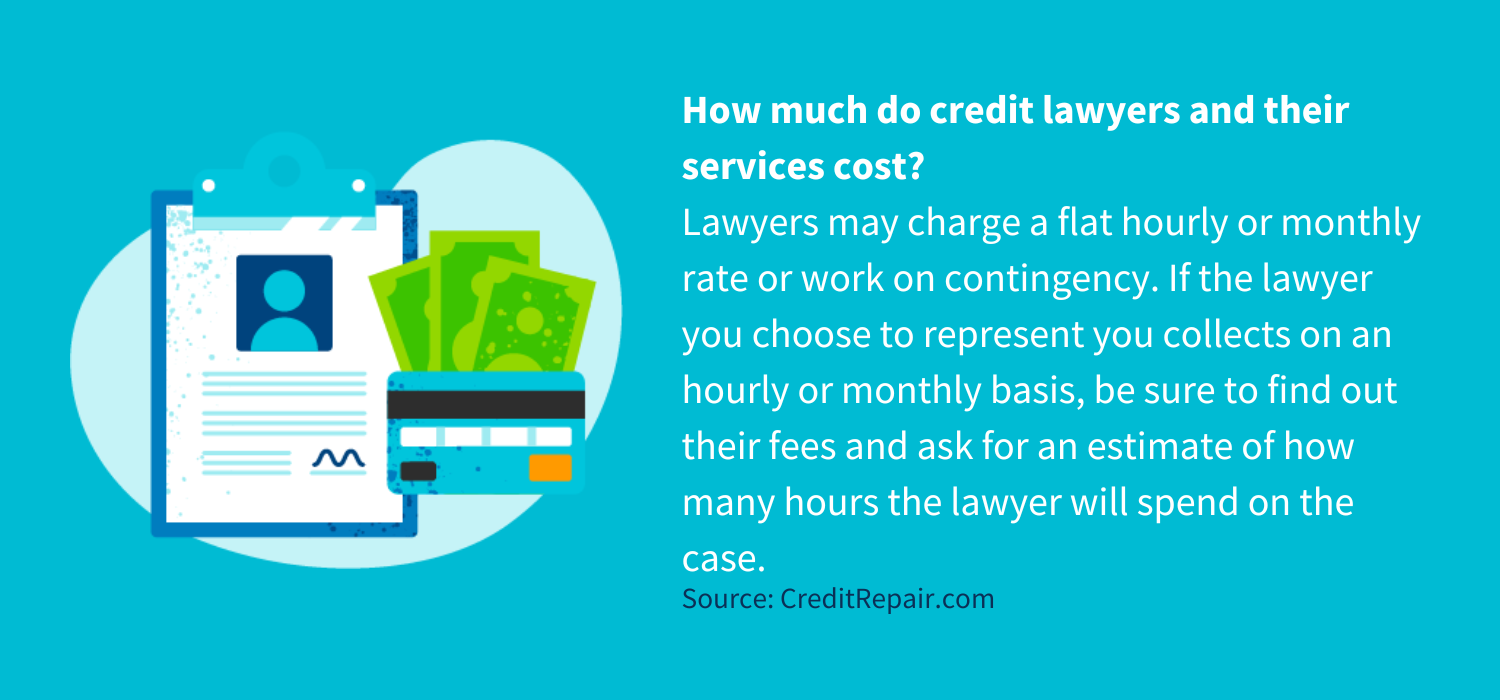 Lawyers may charge a flat hourly or monthly rate or work on contingency. If the lawyer you choose to represent you collects on an hourly or monthly basis, be sure to find out their fees and ask for an estimate of how many hours the lawyer will spend on the case.
Are there nonprofit credit lawyers who could help me?
There are organizations available that provide free or low-cost services to individuals in need of credit repair or debt assistance.
One such organization is HELPS, which stands for Help Eliminate Legal Problems for Seniors and Disabled. This is a nonprofit law firm dedicated to serving seniors, veterans and disabled persons. HELPS operates in all 50 states and represents clients who are experiencing harassment or unlawful treatment by debt collectors.
Watch out for scams
Unfortunately, not all lawyers are looking out for your best interests. This costs you time and money, and you could be on the hook for legal consequences. Here are some ways to protect yourself against unscrupulous practices in your quest to improve your credit history.
Vet your lawyer: Make sure your credit lawyer isn't misrepresenting themselves, their credentials or their services. Reach out to their individual state Bar as the Bar normally lists on their bios any disciplinary actions that have been taken against their lawyers.
Provide accurate and honest information: Lawyers are held to a much higher standard when it comes to the truth, so it's a major red flag if your lawyer advises you to provide false or incorrect information at any point during the process.
Read the reviews: While past outcomes can't always predict future ones, you should be able to get a good sense of your lawyer's skills by reading their reviews and ratings online.
Do you have to get a credit lawyer to fix your credit?
The simple answer is no; you don't have to work with a credit lawyer. If the details of your credit or your concerns are more complex, a lawyer's perspective could be helpful, but you could take some steps to repair your credit yourself if that is preferred.
Hiring a lawyer may be the best course of action if you need to file a lawsuit over your credit rights or need to declare bankruptcy. In other cases, you'll likely get similar results more affordably using a credit repair company like CreditRepair.com or working to repair your credit yourself.
---
Note: The information provided on CreditRepair.com does not, and is not intended to, act as legal, financial or credit advice; instead, it is for general informational purposes only.
Learn how it works