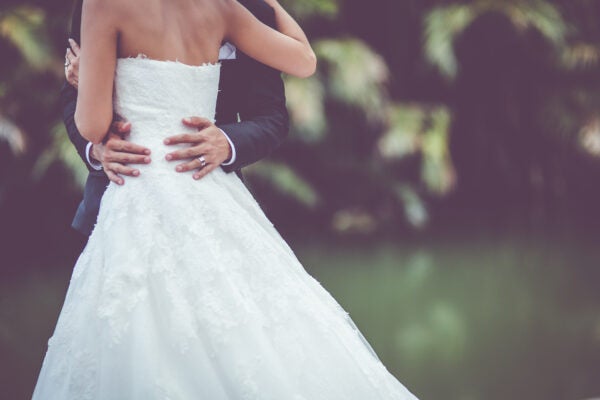 Planning a wedding is an exciting time. When I got married six years ago, my husband and I were determined to host a fun and memorable event. The problem, of course, was the price. Our choice location was downtown Chicago, a beautiful city with a price tag to match. The cost for the venue alone: $18,000. Some quick math told us that our wedding could easily top $35,000 for 100 guests, especially for the type of personalization we were hoping for.
As it turns out, personalization is the primary cause of rising costs for modern weddings. According to The Knot's 2015 Real Weddings Study, the average marital event price is at an all-time high: $32,641. Extra charges often include touches that reflect a couple's personality, including specialized entertainment, cakes, photography, etc.
Planning an event with a luxury price tag is unattainable for many couples, and some even turn to credit cards to bankroll their big day. Unfortunately, this choice can lead to overwhelming debt and credit damage long after the honeymoon ends. Why regret the happiest day of your life? It's possible to plan the perfect wedding for less, and I speak from experience. After shrugging off the drawbacks of a big city wedding, my husband and I opted to find money-saving alternatives without sacrificing our style. The final price tag: $11,000.
Don't risk your credit health by paying for an overpriced event. Allow personalization to work in your favor by:
Choosing a non-traditional venue. Wedding venues are notoriously overpriced and saddled with strict policies. Opt for a locale that doesn't impose:

A minimum amount. The average wedding venue charges by the hour and may carry a minimum dollar amount to secure the rental. While an hourly rate isn't unusual, why spend more than necessary? Public parks, churches, and even restaurants could provide a better deal.
Mandatory food and beverage service. Wedding venues usually require the use of their catering services, i.e., no outside food or drink allowed. This strategy enables them to mark up dining options and increase their profits, a consequence that is sure to run your budget into the ground. Choose a venue that advertises flexibility in addition to wedding space.

Searching for unconventional resources. With the help of a creative relative, my husband and I used Costco roses, hydrangeas and eucalyptus for our wedding. The total cost for 8 bouquets, 8 boutonnieres and 13 centerpieces: $300. Find savings for your wedding with the help of:

Wholesale stores. Big box stores are notorious for bulk pricing—a huge plus when you're planning a large event. Use your memberships to cash in on the available options, and don't forget to ask about the store's additional services. For example, many retailers provide catering and decorating services for a flat rate.
Friends and family. My creative cousin helped us save more than $1,500 on flower arrangements and your loved ones can help you do the same. Take stock of your family and friends' talents and enlist their help for the big day.

Removing "wedding" from your vocabulary. The wedding label carries a hefty surcharge, and it's essential to remove the word from your vocabulary immediately. Forgo specifics when it comes to:

Attire. Tuxedos, bridesmaid's dresses and the coveted wedding gown can cost more than $10,000 without careful planning. If you aren't attached to specific wedding attire, ask the groomsmen to wear suits and bridesmaids to wear cocktail dresses from the same retailer. Formalwear isn't limited to bridal designs, and this simple change is sure to slash your bottom line.
Rentals. Suppose you need to rent 10 tables and 50 chairs for your wedding reception. Consider contacting vendors and explaining your needs for a "family event" rather than a wedding. Your characterization could provide a sizable discount.
The bottom line: You don't need an unlimited budget to plan a fun and personalized wedding. Prioritize your marital finances by setting healthy spending limits and finding creative ways to save.
Learn how it works