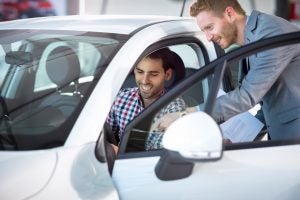 So it's time for a new car. You've been comparing prices, makes and models, and the features you want. While you debate if it's worth it to pay more for leather seats or a sunroof, you're probably going to head to a dealership and take a few cars you're considering out for a test drive. And somewhere along the way, you'll have to fill out an application that will prompt a credit check.
Before you fill out any forms, it's a good idea to make sure you understand the effect a credit check can have on your credit scores, especially because those scores will have an impact on the terms and conditions that come with auto loan financing.
What This Does to Your Credit
Any time a creditor pulls your credit report due to an application for credit, a hard inquiry is placed on your credit report, which, according to Annette Engler, a spokesperson for the credit bureau TransUnion, "have a small, temporary impact on a credit score."
Keep in mind that these types of inquiries are different from soft inquiries — the inquiries that happen when you review your own credit history, for example — and Engler said these types of inquiries won't harm your scores.
The Process May Involve Multiple Credit Report Pulls   
If you want to see what kind of financing you can get from a dealer, depending on your credit, your request could be submitted to multiple lenders in order to find the best deal for your situation, according to Experian, another major credit bureau. In each case, the prospective lender may do a credit pull.
This may also apply to online auto dealerships, like CarMax, according to one of their public relations representatives, Elizabeth Singer. "When a customer applies for credit with CarMax, each finance source that reviews the application will obtain and use a credit report," Singer said. "This helps customers across varying credit profiles obtain competitive credit terms."
Shoppers Get a Break
Because shopping for a loan is a good monetary practice, credit-scoring systems won't penalize you for it, as long as you do so within a short period of time.
"When purchasing a car, consumers should consider limiting auto loan applications to a two-week period so the hard inquiries are treated as one credit check to prevent the consumer's credit score from falling," Engler said.
Therefore, even if your comparison-shopping takes a week or so, and you visit multiple dealerships, all the inquiries on your credit report in related to your car search should only count as one inquiry, which can help minimize the damage to your credit scores.
Image: luckybusiness
Learn how it works