Disclosure regarding our editorial content standards.
In the United States, more than 61 million people live with some sort of disability. That means that 1 out of every 4 adults has challenges related to mobility, cognition, hearing, vision or another area of life. People living with disabilities are less likely to have access to healthcare and more likely to struggle with independent living.
Additionally, many adults with disabilities struggle financially, either due to a lack of income or difficulty managing the complicated benefits available to them. For example, laws related to Supplemental Security Income (SSI) restrict how many assets a person with disabilities can have while continuing to receive benefits, which can make it difficult to manage money.
We've created a guide filled with resources for adults with any kind of disability who are looking to have a better understanding of their finances. We'll discuss setting financial goals, managing a budget, navigating benefits, using credit and more.
You can jump to a specific section of the guide below, or keep reading to see the entire guide.
For anyone struggling with finances and living with any form of disability, it can be difficult to figure out the next best step. Oftentimes setting a specific and measurable goal can be helpful, since it gives you a clear destination to work toward. Once you have a goal in mind, you can take small steps to work toward your larger goal.

Financial goals can take many forms—a car or a house, for example—but achieving any of them requires the same skills that we'll cover in this guide. 
To create a positive financial goal, make sure it is concrete and meaningful to you and includes specific steps you'll need to take to achieve the goal.
For example, here are a few goals we've used:
Getting out of debt. In the next 18 months, pay off $5,000 in debt by cutting out nonessential purchases—at least $275 per month toward debt payments.
Saving for a car. Over the next three years, save $4,000 for a car down payment by setting aside 10 percent of the SSI benefit each month.
Going on a vacation. In the next two years, save up enough for a one-week trip to Germany including flights, hotels and restaurants by saving gift money from friends and family.
Financial goals are always personal to you and your particular situation. Depending on what you need and want as well as your current financial situation, you know best what goal to set to get motivated.
With a clear goal, you can envision the changes you can make to your financial life to achieve what you want. Keep reading to learn more about how different aspects of your finances can help you reach your personal financial goals.
One of the first steps to improving your finances is to make a budget. Although many people think of a budget as restrictive, the truth is that budgeting is all about helping you get what you want by making choices about what's most important. A budget also helps you understand your current finances more clearly so that you can make the changes that work for you.
For adults living with disabilities, a budget can be an important way to keep track of income from various sources, expenses that may be related to a disability and government benefits that may have limits on assets or income.
To create a simple budget that gives you a clear look at your current finances, make a quadrant like the one below, and fill it out according to the following instructions.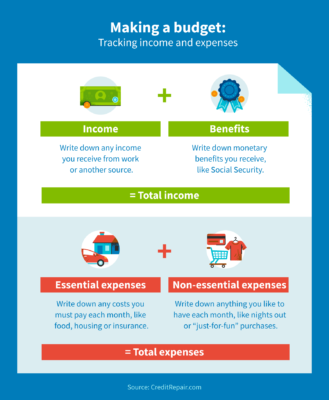 For each of the boxes, you'll fill out one aspect of your financial picture:
Income: In the top left box, write down specifics about your income—whether it comes from a job, support from a family member or another source.
Benefits: In the top right box, include information about any benefits you receive, like Social Security.
Total income: Add up the two boxes on the top to determine how much income you receive each month.
Essential expenses: In the bottom left box, detail the costs for any essentials like housing, food and utilities. Also include annual costs, like insurance premiums—just divide by 12 to get the monthly cost.
Nonessential expenses: In the bottom right box, make note of your nonessential spending on entertainment, shopping or other areas of your life.
Total expenses: At the bottom of the sheet, add up your total expenses by combining essential and nonessential expenses.
After filling in the chart, you'll have a solid sense of your current monthly finances. In general, it's best to keep expenses lower than your income, as this allows you to save a bit of money for unexpected expenses.
If you aren't satisfied with your current situation, try making adjustments to your expenses to see where you could save money to work toward your goals. It's possible to make changes to both essential and nonessential expenses.
For example, some people are able to save money on food or housing by making adjustments to their current living situation. Others can save on nonessential expenses by changing their shopping habits or going out less often.
Your budget will be personal to you—depending on your disability and financial needs, you will make choices that are best for you and your goals.
A wealth of government benefits are available to adults living with disabilities, but the system can be complicated to navigate.
The place to start when looking for benefits is the Benefit Eligibility Screening Tool (BEST) provided by the U.S. Social Security Administration (SSA). After answering questions about yourself and your disability, you'll have more information about what benefits you're eligible to receive.

The two main benefits offered by the SSA include Social Security Disability Insurance (SSDI) and Supplemental Security Income (SSI).
SSDI involves monthly support for eligible workers who have paid into the Social Security system, working enough hours and recently enough to qualify.
SSI involves monthly support for anyone with an eligible disability who meets requirements for financial need.
In addition to these benefits, other government programs are helpful for adults with disabilities who are looking to find greater financial stability.
Read on to learn about health benefits, veterans benefits and other financial benefits you may be eligible for.
Medicaid and Medicare
For those living with any disability, health insurance helps provide ongoing care. Healthcare costs can be high, but there are government programs available to provide free and low-cost health insurance to adults living with disabilities.
Medicaid is a federal and state health insurance program that supports people with disabilities who are in financial need. Learn more about eligibility criteria and how to apply at the Medicaid page on USA.gov.
Medicare is a federal health insurance program that supports everyone over the age of 65 as well as many people with disabilities who are under the age of 65. Check the eligibility criteria and application information on the Medicare page at USA.gov.
If you don't qualify for either of those programs, you may still be eligible for low-cost health insurance through the Affordable Care Act (ACA) marketplace.
Veterans Affairs benefits
Many members of the military who served their country suffer a disability as a result of their service. The U.S. Department of Veterans Affairs offers monthly support specifically for veterans with disabilities.

Monthly payments vary based on the severity of the disability as well as whether the veteran has a spouse or children. The maximum benefit in 2021 for veterans disability compensation is $3,731 per month according to Veterans Affairs.
You can review your eligibility and apply for disability compensation using the Veterans Affairs eligibility tool.
ABLE and PASS accounts
One of the most difficult financial situations for adults living with disabilities is the stringent rules around assets for those receiving monthly SSI payments. In general, adults with disabilities are only able to receive monthly SSI support if their total assets are under $2,000 (or $3,000 for couples).
While certain assets—like a primary residence or a car used for transportation—don't count toward the limit, it can still be a very restrictive number that can lead to financial stress. One of the hardest parts of managing finances for people with disabilities is balancing saving for the future with the fear of passing the asset threshold and losing government benefits.
For some individuals, two special accounts may be useful for creating a stronger financial future while still getting the necessary benefits.
Achieving a Better Life Experience (ABLE) accounts are tax-free savings accounts available for individuals who were eligible for disability benefits before the age of 26. The Social Security Administration provides information on how to open an ABLE account for eligible people.
Plan to Achieve Self-Support (PASS) accounts are savings accounts that help individuals with disabilities set aside money to work toward employment goals. The Social Security Administration has details about how PASS accounts don't count against the asset threshold for receiving benefits.
Overall, these accounts could make it easier to save money while continuing to receive benefits for your disability.
Finding a satisfying job is a challenge for everyone, and those living with any disability may also struggle to find a job that meets their needs. Regardless of the disability you're living with, you deserve to find a good job that works for you.

One of the first places to look is the Disability Services Program sponsored by the United States government. Their website provides a wealth of useful support, including:
Advice for developing your resume and work skills
Tips for finding a job
Specific support for young adults and veterans
Options for employment in the federal government
Information about legal protections that workers with disabilities have
In addition to government resources, you could also consider searching for a job at abilityJOBS, a network of employers aimed at providing jobs specifically for people with disabilities. The employers range from universities and government agencies to accounting firms and healthcare providers.
Finding the right job can take time, but leveraging your unique talents and goals will help you find a satisfying job that improves your financial well-being, too.
Building credit, using credit cards and getting a loan can take time and be very difficult. According to research from the National Disability Institute, adults living with disabilities are less likely to have a credit card or auto loan and more likely to be unable to come up with $2,000 to cover an unexpected expense.

However, living with a disability should not keep anyone from accessing the financial services they need. Regardless of financial or health status, anyone can build their credit and use credit cards and loans responsibly.
Here are a few resources to get started:
A guide to building credit: Whether you're just starting to build credit or trying to rebuild, this guide will help you understand steps to take.
How secured credit cards work: If you don't yet have a credit card, a secured credit card is a way to start building credit without having to get approved for a card.
What is debt consolidation?: For those who have acquired debts—medical debts, for instance—and need help repaying them, debt consolidation can offer support.
Over time, building credit can be an important part of reaching your financial goals. For instance, many large purchases—like a car or a house—require a credit check, so looking to grow in that area of your finances can help you work toward your larger financial goals.
In addition to the information provided above, there are many excellent organizations and resources that support adults with disabilities in a variety of ways.
Here are some links to check out:
---

Reviewed by Leikeisha Finai-Jones, Credit Consultant at CreditRepair.com.
Leikeisha Finai-Jones joined CreditRepair.com back in 2020 as a social community coordinator. Leikeisha knows how the credit industry works and how what pitfalls consumers need to look out for—Leikeisha mastered the skill of problem-solving even in tough situations involving identity theft, credit repair and other issues. Leikeisha has seen it all, and knows how consumers can make the most of their rights to boost and protect their credit.
Note: The information provided on CreditRepair.com does not, and is not intended to, act as legal, financial or credit advice; instead, it is for general informational purposes only.