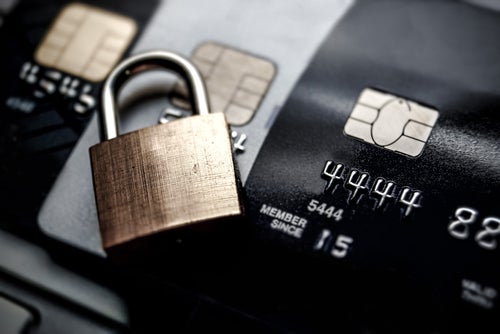 You may not have heard of secured credit cards, but if you have bad credit, or haven't established credit yet, they might be a smart alternative to a standard credit card. A secured credit card can help you repair your credit if you've damaged it in the past, or can help you establish credit if you have yet to generate a credit score. Another advantage to a secured card is that all you need is enough money to obtain the card; you don't need to get a co-signer, or have your relatives put you on their own card accounts. For many young adults, it can be the first step in becoming financially independent.
How It Works
If you've never had a secured credit card, they work just like any other credit card. You can use it to charge items, and you'll have to make monthly payments and of course, pay interest on any balance that you carry. That's all there is to it. In order to obtain a secured credit card, you must put down a security deposit that is then used as collateral. If you have the money for the deposit, then you're in. One of the advantages to this kind of card is that unlike many other credit cards these days, they are very easy to qualify for.
All Secured Credit Cards Are Not Created Equal
Getting a secured credit card sounds easy, right? However, if you're really serious about rebuilding or establishing credit, you shouldn't settle for just any secured credit card. Be sure that the card you apply for is one that reports to the three major credit bureaus, Experian, Equifax, and TransUnion. If your secured card doesn't report to these credit bureaus, then having it won't benefit your credit score at all, no matter how responsibly you manage it. Before applying for any secured card, contact the card issuer and clarify what their policy is on reporting to these credit-reporting bureaus.
Getting Started With Your Secured Credit Card
In a way, getting a secured credit card is somewhat like getting a lease on an apartment. Just like with an apartment, you have to put down a deposit to get the card. A typical amount for a secured card is $500, which gives you $500 in credit. Once you've established decent credit, you can cancel your secured card and move up to a regular credit card, which offers unsecured credit. If you don't get your new card from the company that gave you the secured card, then you'll get your deposit back in full, as long as you don't have an outstanding balance on your secured card. To get your deposit back, you'll have to contact your card company by phone, or send them a certified letter requesting cancellation of your secured card and requesting the return of your deposit. Don't expect the money back right away; it may take a few weeks for the company to process your refund.
Some Interesting Features Offered For Secured Cards
As noted earlier in this article, not all secured cards are created equal. Not all secured cards report to Equifax and the other credit reporting bureaus that help you create a good credit score.
For example, the OpenSky® Secured Visa® Credit Card offers customers a range of credit limits, from $200 all the way up to $3000, based on the amount of your security deposit. In addition, the OpenSky® Secured Visa card also offers a line of credit greater than the size of your deposit, up to $5000. There is, however, a $35 annual fee for obtaining this card. It also offers online access to financial education for your financial planning.
The Capital One® Secured Master Card charges no annual fee, and will help you build up your credit score with all of the credit reporting agencies. It can be obtained for as little as $200, with the option of getting a larger line of credit, depending on your overall credit worthiness and payment history. You can also get an app for this card that enables you to manage your money from your phone. This might be a good card for travellers since it's accepted at more than a million locations all over the planet.
Some Final Caveats For Those Considering Getting A Secured Credit Card
If you want to get a secured credit card because you have trashed your credit score with irresponsible spending, late payments, etc., don't repeat the same mistakes. A secured card can help you build up your credit score only if you are responsible with it. Here are a few guidelines that you should absolutely follow once you've gotten your new secured credit card.
Don't simply assume that your deposit will cover your payments from your deposit. That's not how it works.
Use only a small percentage of your secured credit at any one time, and then pay it back promptly so you're not carrying a large balance on your secured card.
Be sure to make all payments on time to help build up your credit score.
Don't skip a payment or pay late, since that will incur late fees, and cause additional damage to your already battered credit score.
Finally, while getting a secured credit card isn't an ideal choice, it can go a long way towards repairing your credit. A secured card comes with certain built-in limitations, however. With most secured cards, you can make charge transactions up to the amount of your deposit, but no more. Many cards only allow you to use a small amount of credit like $500 or so. Some will allow you to put down a larger deposit for a larger credit amount, so shop around and get the deal that best suits your needs. If your card issuer is willing to give you a larger line of credit because you've shown you're a responsible credit card user, that's great, but don't count on being able to do that. Do your research and be clear on the features and services that each card offers before applying for any of them.
Related Articles:
Should I Upgrade My Credit Card?
Good (And Not-So-Good) Alternatives to Credit Cards
Best Credit Cards for the Self-Employed
Learn how it works