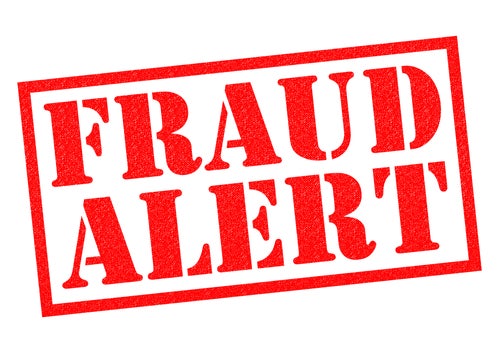 Fraud alerts on your credit report can be powerful safeguards against identity theft and credit fraud. While they aren't foolproof, fraud alerts require that businesses pulling your credit report must go through extra steps to ensure that you approved their actions. They also give you more free access to your credit report than you may have had previously, and they can help fight future identity theft from occurring.
If you are wary of identity theft – or have been a victim – you should consider contacting a credit reporting agency to place a fraud alert on your report.
There are a few different types of fraud alerts – each is appropriate for different scenarios.
Initial Fraud Alert
If you are wary of identity theft, or suspect that you are vulnerable –due to information on your current report, suspicious charges, or any other reason — you can immediately contact one of the three major credit reporting companies (Experian, TransUnion, or Equifax) and place an initial fraud alert on your credit report.
Once an initial fraud alert is placed, a business must contact you to verify your identity before they pull your credit report or issue you credit. This prevents false accounts from being opened in your name. The alert stays on your report for 90 days, after which you can renew it or let it expire. You also are allowed to order one free copy of your report from each reporting company, even if you've accessed your report less than a year ago.
The company must inform the other two credit bureaus of the fraud alert, who will also place fraud alerts on their versions of your report.
Extended Fraud Alert
An extended fraud alert is appropriate if you are a verified victim of identity theft, and have reported identity theft to the credit reporting agencies and the police. Extended fraud alerts are similar to Initial fraud alerts. They require that businesses must contact you to verify your identity before they access your report.
The difference is the length of time. Extended fraud alerts last for seven years, during that time you won't be added to marketing lists for prescreened credit offers.
When requesting an extended fraud alert, you must provide a copy of your Identity Theft Report. You get two free credit reports at all three agencies in the first year your fraud alert is active.
Active Duty Alert
This alert is available to members of the military who are deployed on active duty. To help prevent identity theft while they are away, service members can request the credit reporting companies place an active duty alert, which has similar restrictions to the other fraud alerts.
Active duty alerts last for a year – after that time, service members who are still deployed must renew the alert. It's a good idea to mark their calendar at that point.
Summary
For each type of alert, placing the alert with one credit reporting bureau is enough – they are required to alert the other two. Once you've placed an alert – no matter what kind – you should set yourself a calendar reminder to let you know when the alert is expired. Alerts can be removed upon request, as well.
What is absolutely essential – for all types of alerts — is that your contact information is correct on your report. If it isn't, credit reporting companies won't be able to get in touch with you regarding activity on your report – whether it's suspicious or legitimate.
All forms of alerts are free, and you should be prepared to provide proof of identity.
Related Articles: 
Can Credit Report Security Freezes Protect You From Identity Theft?
The Financial Fraud Definition Cheat Sheet
Victim of "Friends & Family" Identity Theft?
Learn how it works