Identity theft affects everyone (unfortunately), but learning more about it and how to report it can help you prevent fraudulent activity and damage to your credit report. 
Identity theft can occur from an online data breach, a credit card swipe at a store or having your purse or wallet stolen. In fact, a 2018 study found that 130,982 identity theft cases involved fraudulent credit card charges. That same year, the Identity Theft Center confirmed in its data breach report that 106 breaches occurred in the banking, credit and financial sectors. This resulted in 1,707,223 records exposed.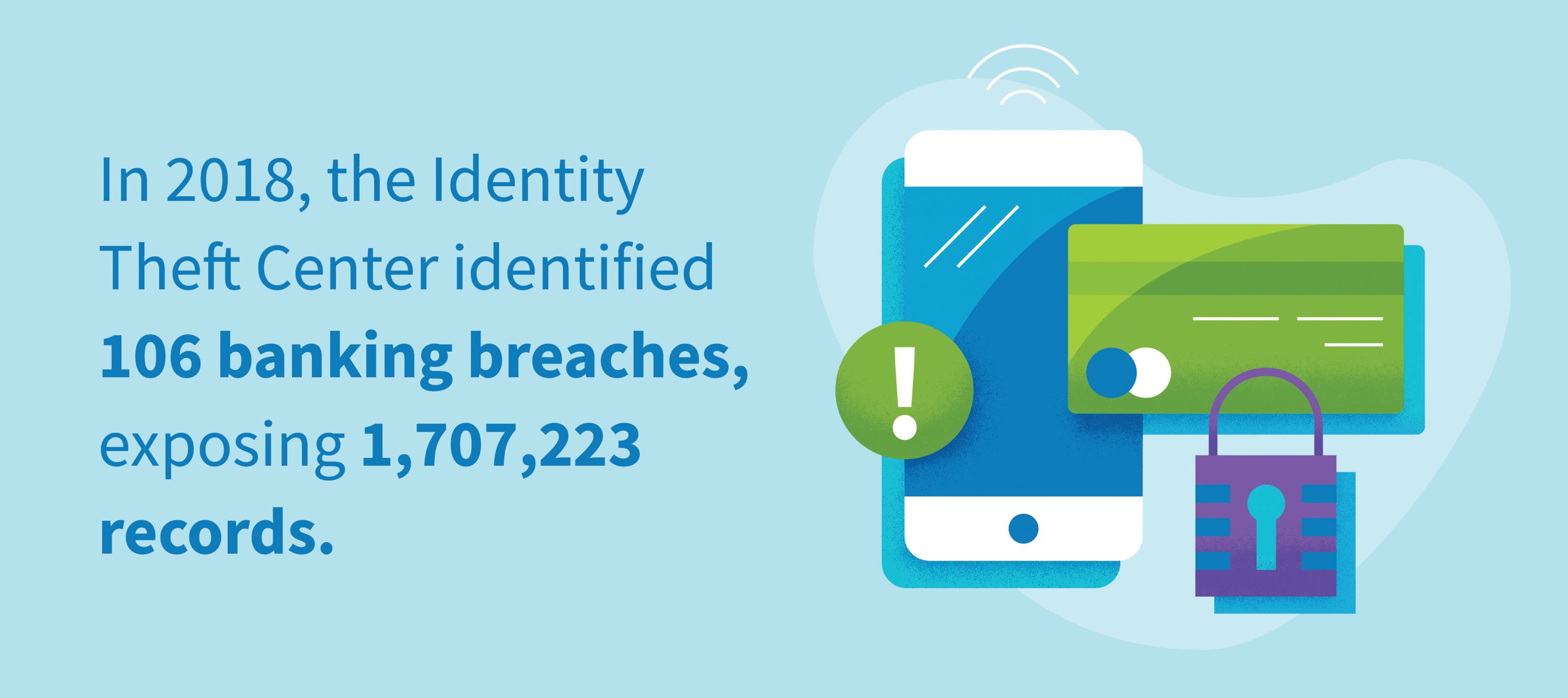 Having your identity stolen can leave you feeling vulnerable, but there are solutions for getting back on track. Keep reading to learn six steps for reporting identity theft and protecting your financial identity.
1. Check Your Credit Report for Unusual Activity
Your credit report is one of the first places to check for signs of identity theft and fraud. Look for newly opened credit card accounts, a fluctuation in your credit score or any unusual charges that may appear.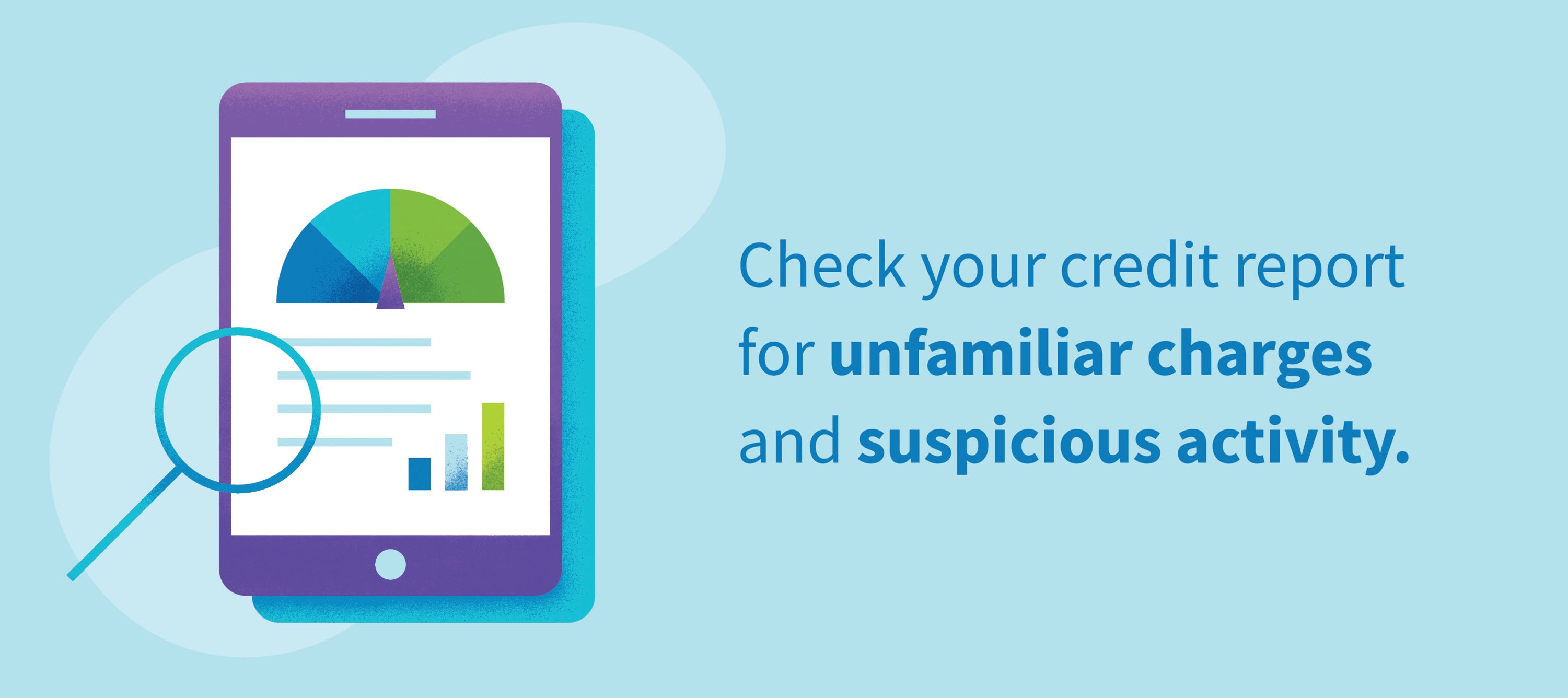 File a Police Report
If you suspect that you're a victim of identity theft, contact the police and fill out an identity theft report. Provide copies of your credit report, highlighting the unfamiliar activities. Once filed, be sure to keep a copy of the police report. You will need to send out copies to creditors to verify the claim.
Contact Your Creditors
Notify all credit card companies, loan and collections agencies that your identity has been stolen. Submit a fraud claim with the police report, so that they can begin an investigation. The creditor with fraudulent charges should be contacted with an alert to notify unaffected creditors. Additionally, be sure to discuss removing fraudulent charges and issuing new credit cards.
Call the Identity Theft Resource Center
The Identity Theft Resource Center is a nonprofit organization that helps victims solve cases related to identity theft, cyber crimes and fraud. They can help you gain insight into how the incident occurred and the best course of action in moving forward.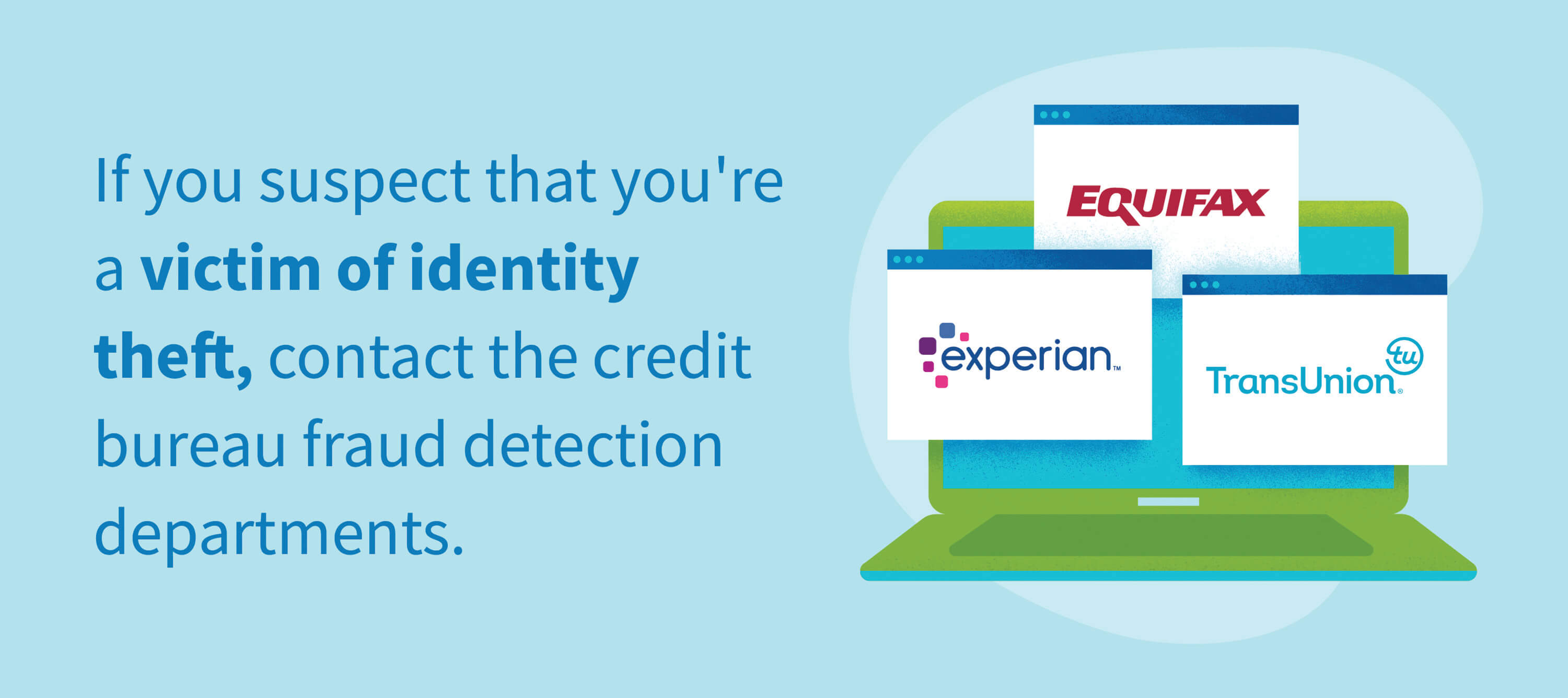 2. Report Identity Theft to the Credit Bureaus
Alert the fraud divisions of Experian®, Equifax® and TransUnion® that you're experiencing identity theft. Each agency has a different process but can be contacted online, by phone or mail. Here are some of the numbers that you'll need to know.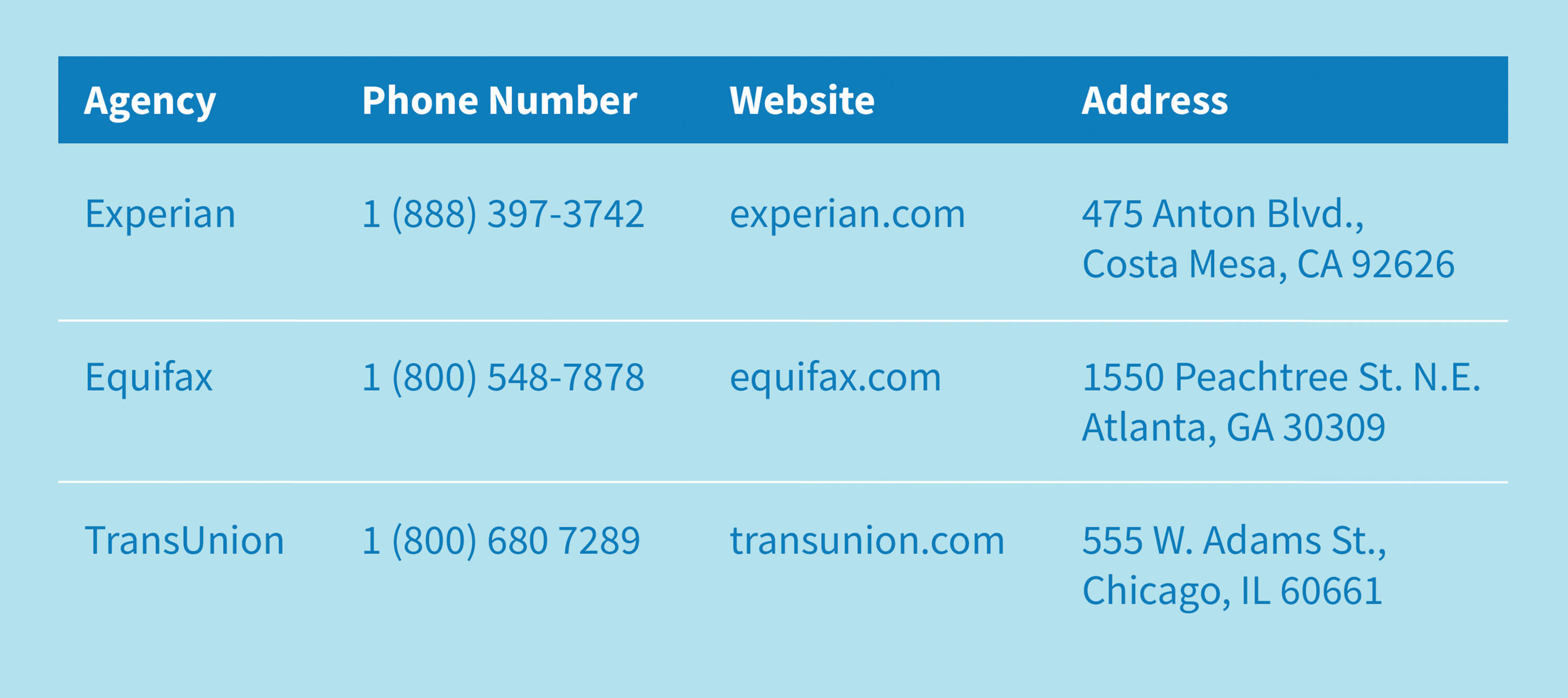 The credit bureaus will track your credit report and can install financial safeguards, such as a credit freeze, credit lock or fraud alert.
3. Submit a Fraud Alert to the Federal Trade Commission
The Federal Trade Commission (FTC) is a government agency that handles identity theft, fraud and unfair trade practice cases.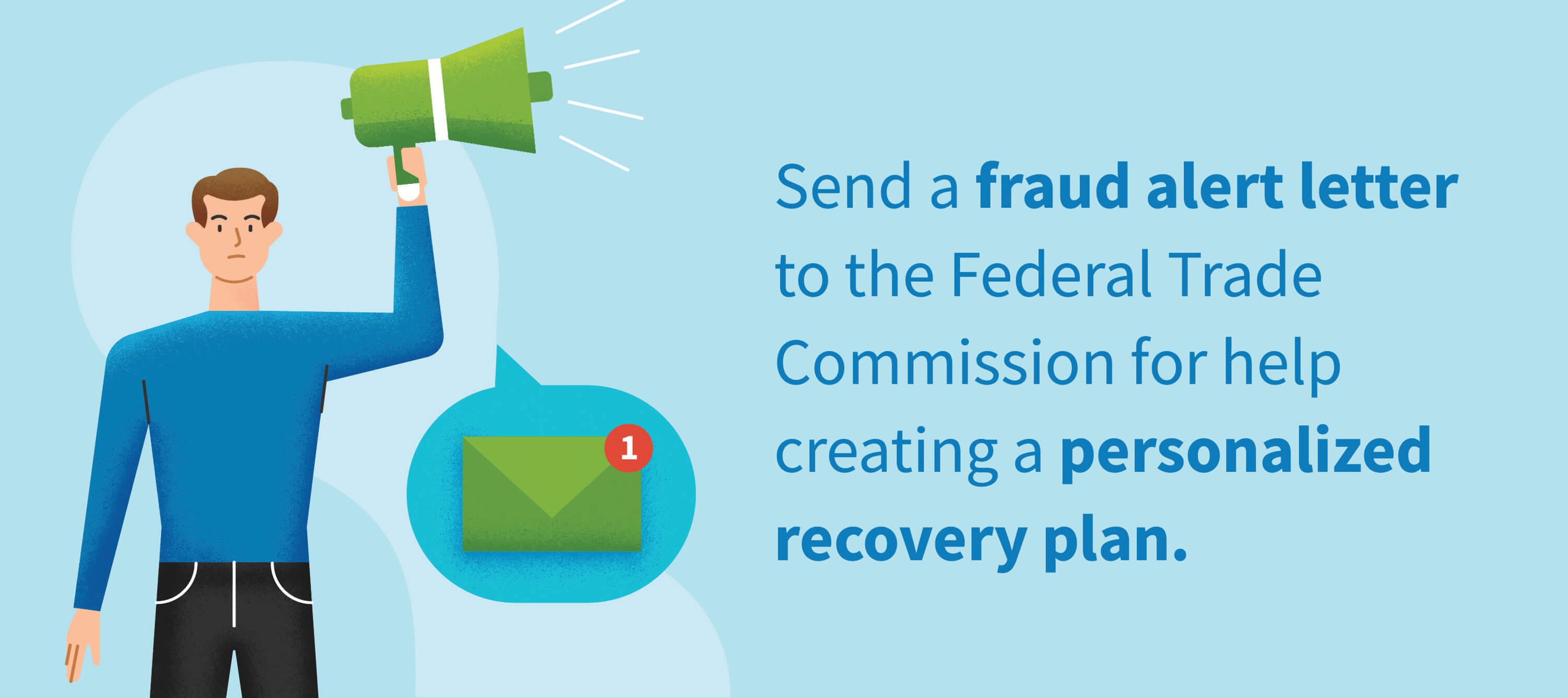 Submit an identity theft report on their identity theft website and they will notify the police. The Federal Trade Commission works with attorneys to create personalized recovery plans for fraud victims.
4. Write a Dispute Letter to Contest Fraudulent Activity
A credit dispute letter is an online or written document that you can submit to the credit bureaus to dispute credit report errors and ask for them to be removed.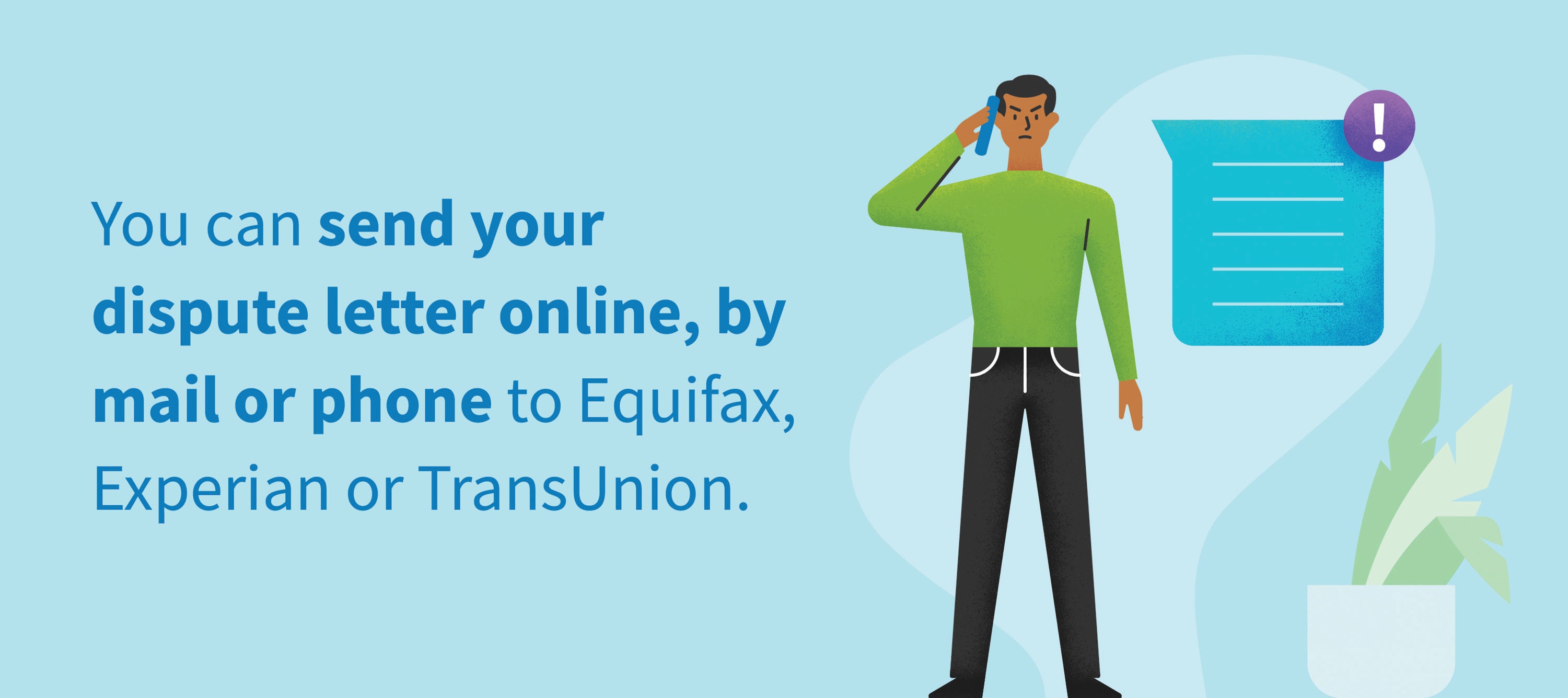 Some businesses and creditors don't report to the same agencies, so it's a good idea to submit copies to all three credit bureaus. Having them perform a deep dive on your credit report will identify any inaccuracies, errors and fraudulent activity.
In your dispute letter, state that you are a victim of identity theft, include a copy of the police report and all the fraudulent charges. Depending on which bureau you're submitting your dispute letter to, be sure to check their list of required documents.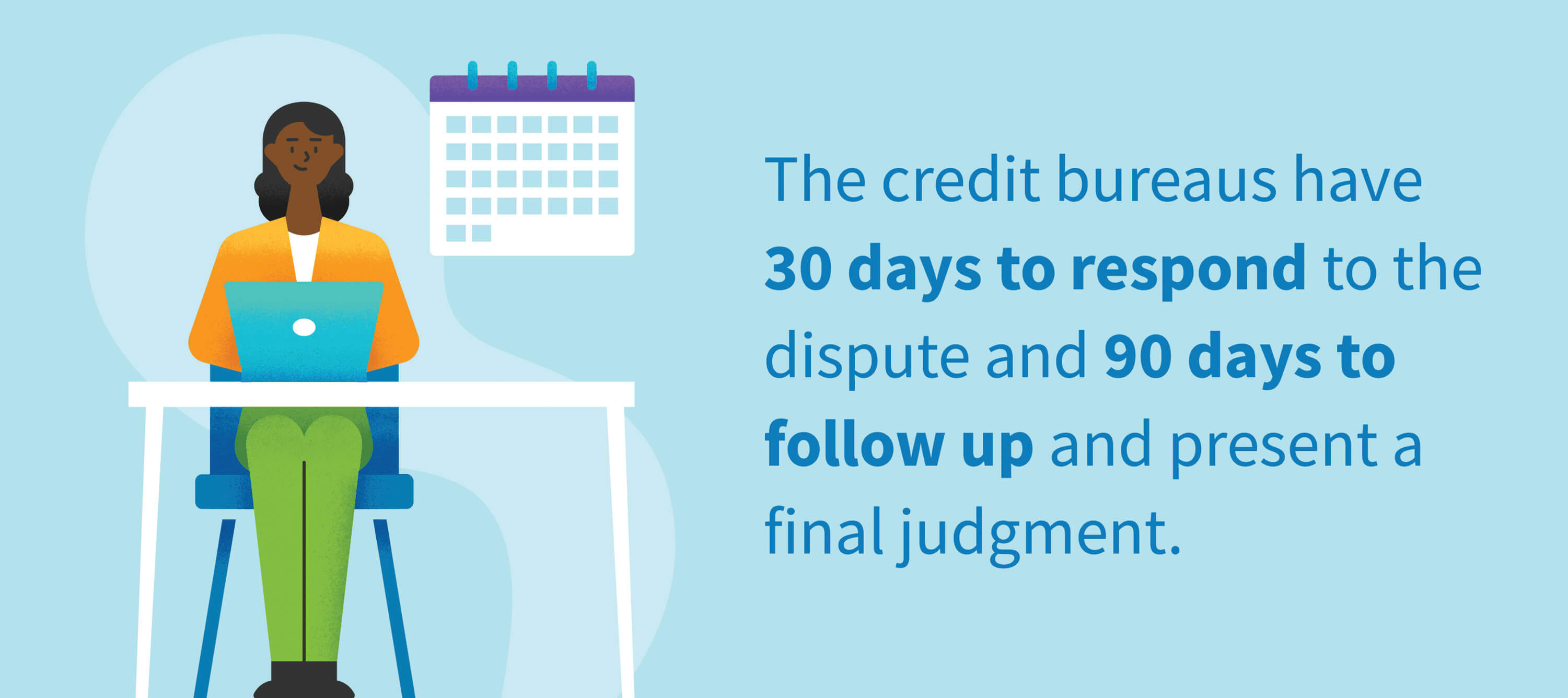 If you receive any pushback, try re-submitting your information and appealing the decision. You may even want to reach out to the Federal Trade Commission and Theft Resource Center for extra support.
5. Get Identity Theft Protection for Your Credit Report
Identity theft protection safeguards you and your credit report. Implementing a credit freeze, credit lock and credit alerts are steps to help keep an eye on your personal information.
Fraud Alerts
Putting fraud alerts on your credit report will immediately notify you of suspicious activity. Submit a fraud alert request form to any of the three credit bureaus to receive the free service. (They work together to keep you safe.)
Fraud alerts make it difficult for identity thieves to open new accounts in your name. If there is an attempt, you'll be asked to verify your credentials. Fraud alert protection is good for one year, so you'll need to renew the service every year.
Credit Freeze
A credit freeze or security freeze protects your credit report, limiting access to only a few financial and government agencies. The Federal Trade Commission ruled that credit freezes are free and don't affect your credit score.
Credit Lock
A credit lock is similar to a credit freeze. The only difference is that customers pay a fee to subscribe to the monthly service from one of the three major credit bureaus. Customers are protected up to $1 million, don't have to maintain a PIN number and experience little to no delays when removing the block.
6. Protect Your Credit from Future Thefts
To protect yourself from identity theft, it's important to periodically check your credit report and verify that no unusual activity is occurring. The following scenarios are signs of identity theft.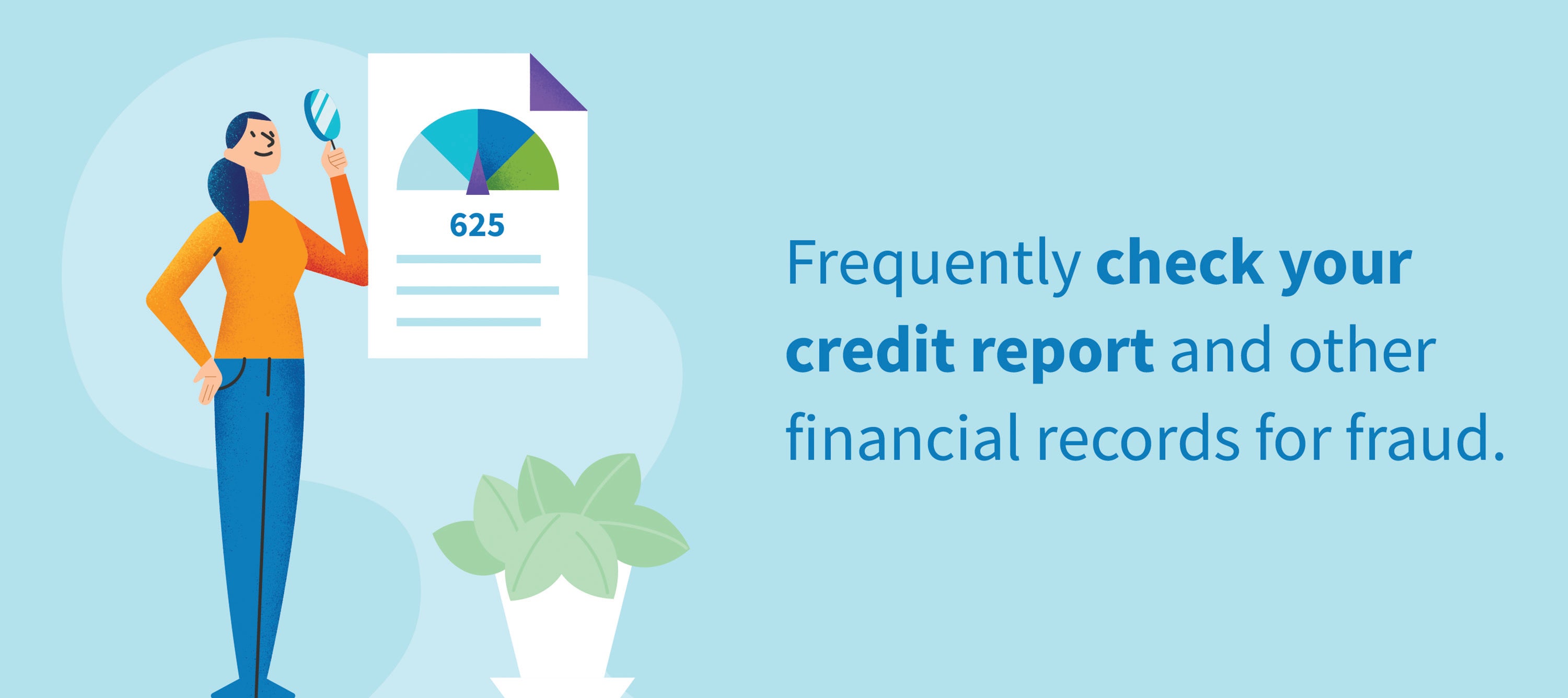 Your cell phone, wallet or purse was stolen.
You're denied the use of your credit card or approval for loans.
Your credit score fluctuates or drops.
You see withdrawals or charges that you don't remember making.
You notice changes occurring in locations outside of your home city.
You receive bills in the mail or calls about unfamiliar charges.
You're notified of a data breach by your bank, credit card company or creditor.
If you experience any of the above situations, make sure you contact the police, your credit card issuers and the credit bureaus.
Does Identity Theft Affect My Credit Score?
Here are ways that identity theft can affect your credit score.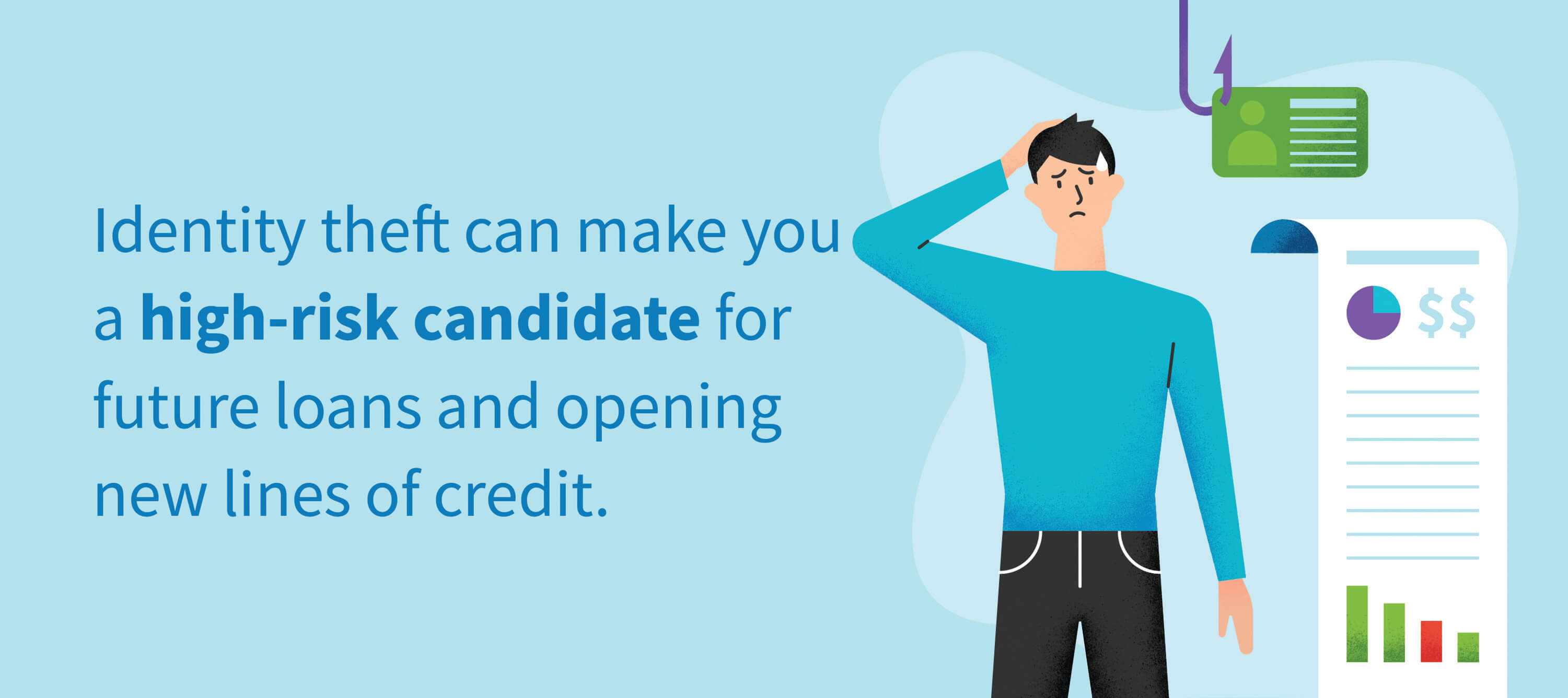 Lowers Your Credit Score
Identity theft can have a profound effect on your credit score. Newly opened credit accounts will shrink your long-standing credit history. Every a hard inquiry or credit check can lower your score five to 10 points.
Damages Credit History
A compromised credit account will tarnish your payment history with unknown missed payments. They will need to be distributed with your credit card lender.
Adds Emotional Stress
When credit cards get maxed out, it increases your credit utilization rate and negatively impacts your score. It can take a long time for your score to regain its previous level, and the financial strain can add additional stress.
Recovery Takes Time
The effects of identity theft can last several months to several years. Both soft pulls and hard credit checks remain on your credit report for up to two years. Repairing damaged credit (even if it's not your fault) can be an uphill battle.
Prioritizing credit protection with a credit lock, fraud alert or credit freeze makes it difficult for identity thieves to steal your personal information.
Long after an identity theft case has been closed and your credit score restored, the incident can send high-risk signals to future lenders and credit card companies. Identity theft has adverse effects on your personal and financial well being, but there is a light at the end of the tunnel. Periodically checking your credit report, knowing how to report identity theft and signing up for fraud protection can help shield you from future attacks.

Learn how it works