Disclosure regarding our editorial content standards.
When you're trying to improve your credit score or establish a credit history, it can be challenging to know what factors are most likely to help. After all, it can take six months of positive financial practices to build a good credit baseline.
While regular monthly bills don't make up a major portion of your credit score, several types of bills can have positive—or negative—effects. Keep reading to learn which bills can potentially help you build your credit.
What bills count toward your credit?
Keeping up with monthly payments on your credit card, auto loan, student loan, medical bills, rent and monthly utilities could help build your credit.
Credit card payments
Credit cards are one of the most influential monthly bills that contribute to building credit. These accounts are reported to the major credit bureaus—namely, Experian®, Equifax® and TransUnion®—making them notable contributors to your overall credit report.
To leverage credit card usage and build credit, try to pay off all your credit cards in full each month. Making minimum payments can help your credit score as well, but only if your overall credit utilization remains low.
Also, remember that avoiding credit card usage doesn't necessarily help your credit. So long as you're making appropriate payments, utilizing cards frequently can help to build credit through a record of on-time payments.
Auto loan payments
Car loan payments are also reported to credit bureaus, which means it only takes one late or missed payment to see a negative impact on your credit. If you're going to finance a vehicle, be sure you can comfortably make the monthly payment on time every month.
Student loan payments
Like credit cards and auto loans, student loans appear on your credit report. If you're struggling to keep up with payments, that can be a negative factor. 
However, student loans can also be key in helping younger people build a positive credit record. Since the length of credit history factors into credit scores, many borrowers may benefit from a loan account dating back to their early college days—especially if they don't have a great deal of other credit history to show.
That said, late and missed payments can hurt your credit score, so if you're having trouble making monthly student loan payments, don't hesitate to research alternative payment options.
These may include refinancing, deferring loans while still pursuing education, exploring loan forgiveness programs or switching to an income-based repayment schedule, depending on the types of loans you're holding.
Medical payments
Figuring out where medical bills fit into your credit picture can be complicated. On one hand, medical bills aren't normally reported to credit bureaus as long as they're in good standing. So, if you're making all your medical payments on time, you're in good shape.
But medical bills tend to come unexpectedly and, if you fall behind on payments, you could be hit with another surprise when an unpaid medical bill in collections appears on your credit report, bringing down your score.
The good news is that, as of July 2022, the top three U.S. credit reporting agencies have made changes to the way medical bills will appear on reports, not including them until a bill has been in collections for a full year and not at all if the outstanding bill is less than $500. If a medical bill in collections does end up on your credit report, keep in mind that it won't be dropped from your report for seven years unless you pay it off or it was reported in error.
(Sometimes) rent, phone and utility payments
Rent can be another tricky factor in your overall credit picture as landlords generally don't report payment information unless there's a problem (i.e., missing or late payments). That said, the three major credit bureaus will all include this data on your report if they see it (note that there are ways to petition landlords to report your on-time, positive payments).
The same largely goes for other monthly bills, such as phone, internet, cable and basic utilities. As long as you're keeping up with your payments, there's nothing to worry about, but if you're focusing on building your credit, it's essential not to let these bills fall behind and end up in collections.
What bills don't count toward your credit?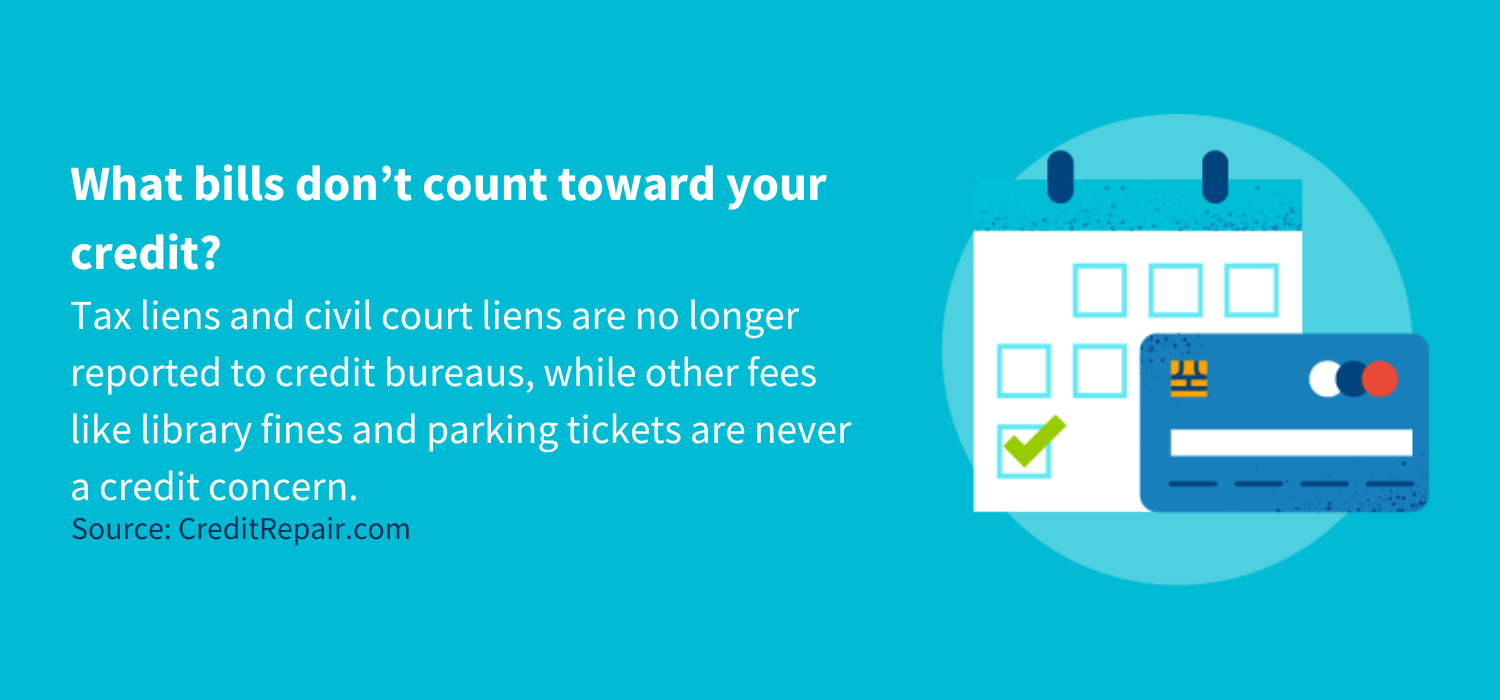 When you're considering what bills help build credit, keep in mind that some types of bills will never appear on your credit report and therefore have no impact on your score. Specifically, tax liens and civil court liens are no longer reported to credit bureaus, while other fees like library fines and parking tickets are never a credit concern.
Why some bills are counted and others aren't
As you've probably noticed, the factor determining whether a bill counts toward your credit score is whether it's reported to credit bureaus. Surprisingly, lenders and creditors aren't legally required to report account and payment information to credit reporting agencies.
Industry standards, however, dictate that certain types of debt—such as mortgages, student loans and credit cards—will be reported as a matter of practice. Providing that information helps these companies make better decisions about how they'll loan money or extend credit to individuals in the future.
There's a way to use this system to your advantage while building credit. While many bills may not be reported to credit bureaus when paid on time, those bills may often be paid by credit card, which will be reported. The advantage here is that having regular monthly payments processed through a credit card will help you build a history of credit usage, especially if you're starting from scratch.
Be aware, however, that if you're struggling to keep up with bills, paying with a credit card only to fall behind on paying off that credit card balance will have a fast negative effect on your credit score.
Some providers only report late payments and collections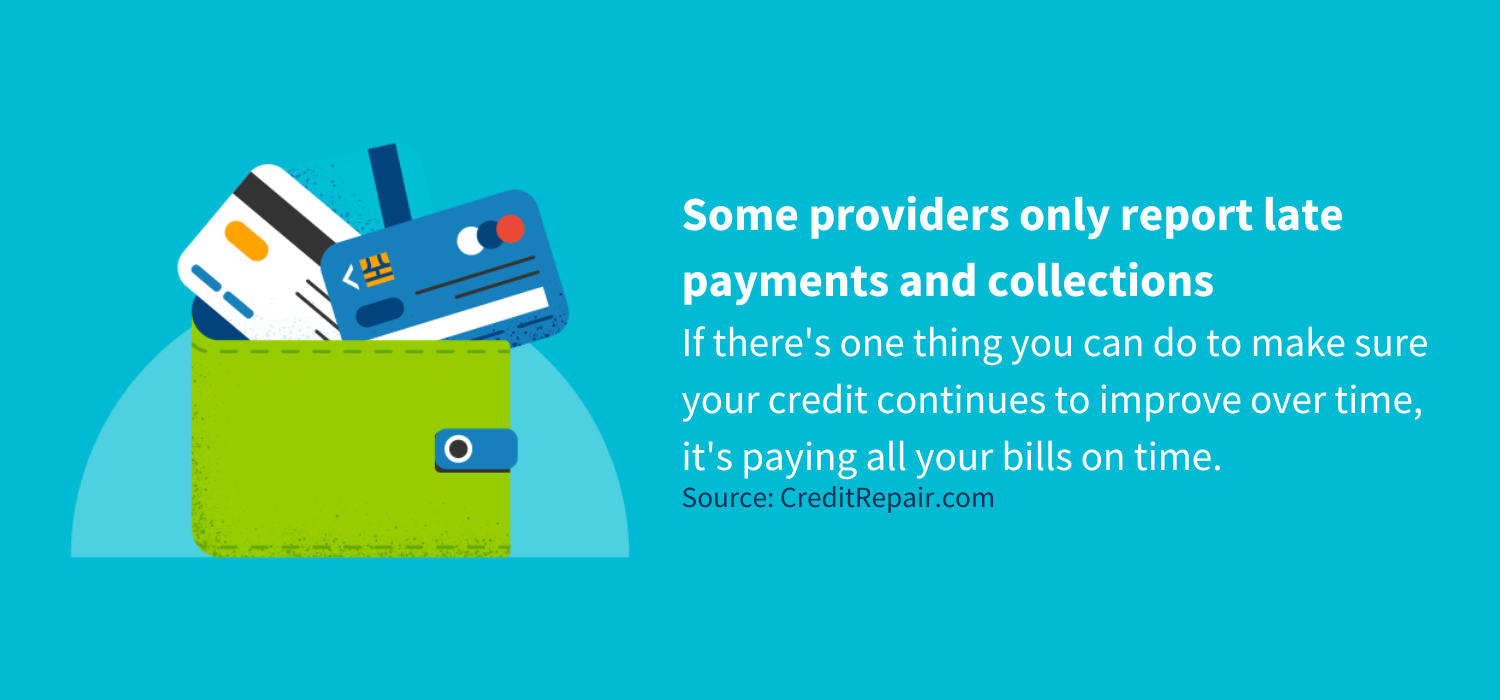 If there's one thing you can do to make sure your credit continues to improve over time, it's paying all your bills on time. Many creditors only report to credit bureaus when payments or late or missed or when an account is sent to collections, all of which negatively impact your score—and negative items can remain on your credit report for years, keeping your score down long after you've established positive credit habits.
Other simple ways to build credit
While you're working hard to pay bills on time, there are some other steps you can take to begin building or improving your credit. 
Maximize your length of credit history by leaving older accounts open, and avoid opening new ones more than necessary. Applying for new credit can also result in credit inquiries that may weigh against your score. 
Instead of opening a new credit card, ask for a credit limit increase. This will allow you to maximize credit utilization on a single, older account rather than regularly hitting your max across multiple younger accounts.
Set up automatic bill pay. If forgetting to pay bills on time is causing your accounts to fall into poor standing, setting up automatic payments can make sure those bills are taken care of each month.
If you already have outstanding late bills, get caught up as soon as possible. If you make a payment before the account is sent to collections, you may still avoid having it show up on your credit report at all.
Check your credit reports and dispute any errors. According to the Consumer Financial Protection Bureau, you should check your credit reports at least annually and make sure there are no errors that might stop you from getting a loan or credit. Make use of free credit report providers and write to credit reporting agencies to dispute any errors you encounter so they may be removed.
If you've taken all these steps and you're still not happy with your credit standing, or if you're simply having trouble understanding all that goes into your overall credit picture, a CreditRepair.com can help you get back on track and build the credit you desire for a more secure future.
---
Note: The information provided on CreditRepair.com does not, and is not intended to, act as legal, financial or credit advice; instead, it is for general informational purposes only.
Learn how it works