Though members of the military already give an extraordinary amount to their country, studies show that active-duty and retired service members also pay a hefty financial price when it comes to debt.

Thankfully, there is a plethora of resources and services available to military members and veterans that can not only help alleviate debt issues but can also help service members learn financial literacy skills, transition successfully into civilian employment, and even buy a home.
Contents
Financial Assistance for Military Members, Spouses, and Families

There are many programs and organizations that provide direct financial assistance to active military members and veterans in need. These can include monetary grants for basic necessities as well as help securing housing, job preparation and training, and more.
The 2-1-1 Program
The United Way runs a free and confidential service that connects Americans to a local resource specialist that can provide access to local resources like housing assistance, emergency funding, employment help and other community-specific aid. Any American in need can access the 2-1-1 Program by phone or computer, 24 hours a day, seven days a week.
American Legion Temporary Financial Assistance
The American Legion provides grants for basic amenities to families with minor children whose parent is active duty or a veteran of the military. TFA grants come in single one-time increments of up to $1,500 and can help families fund basic needs like food, shelter, utilities and health expenses.
American Red Cross
The Red Cross provides assistance to many communities in need, including the veteran community. Military members and families in need of emergency financial assistance can access the Red Cross's Hero Care center via phone, internet or mobile app.
Army Emergency Relief
The Army Emergency Relief Fund is a charitable organization that assists Army soldiers and their families financially by providing cash grants or interest-free loans. The AE helps with emergency travel, healthcare, groceries, rent and mortgage payments, home repairs, utilities, funeral expenses and more.
Child Care and Development Fund
The Child Care and Development Fund is issued by the U.S. Department of Health and Human Services in order to help fund child care services for low-income families who work or attend school. Low-income families can apply for CCDF coverage to help pay for babysitting or daycare services while pursuing career or education goals.
Children of Fallen Soldiers Relief Fund
The Children of Fallen Soldiers Relief Fund works to assist fallen and/or disabled veterans and their families. Their programs include emotional, educational, health and well-being, and children's enrichment services as well as direct financial assistance. The CFSRF has provided over $4.5 million in assistance to surviving family members and severely disabled or wounded veterans since 2005.
Coast Guard Mutual Assistance
The CGMA is the official military relief society for the U.S. Coast Guard. The program provides counseling, short-term interest-free loans, financial grants, referrals and other assistance to community members in need. According to the official CGMA website, "with few exceptions, everyone associated with the U.S. Coast Guard is eligible to request assistance on behalf of themselves or their immediate family members."
Fallen Patriot Fund
A subset of The Mark Cuban Foundation, the Fallen Patriot Fund was established to provide financial assistance to the families of military members who were killed or seriously injured during Operation Iraqi Freedom. Families can apply for help with things like mortgage and utility bills, living essentials, etc.
Foundation for Appropriate and Immediate Temporary Help
The Foundation for Appropriate and Immediate Temporary Help (FAITH) runs a Family Assistance Program that offers emergency one-time assistance as well as short- and long-term grants to help assist families facing financial strain.
Gifts of Gratitude Fund
The Gifts of Gratitude fund is a project of an organization called Freedom Has a Face, which works to support fallen heroes and their families. Through Gifts of Gratitude, families of those killed in action can apply for community assistance to help with things like home repairs, bills and mortgage payments, scholarships, family support and more.
H.E.R.O.E.S. Care
H.E.R.O.E.S. stands for Homefront Enabling Relationships, Opportunities, and Empowerment through Support. It's a coalition of NGOs that provides support for members of all military branches and their families through all stages of deployment. This support consists mainly of direct community efforts to assist families with mental healthcare, job training, home repairs and direct financial assistance for emergency needs.
Modest Needs
Modest Needs is a non-military program of assistance that offers short-term financial assistance for low-income American families. The program seeks to assist those who live just above the poverty line, work hard and give back to their community in some way. Anyone can apply for Modest Needs assistance regardless of military status, and financial grants are available to those in temporary crisis that are ineligible for most types of social assistance.
My Career Advancement Account Scholarships
The My Career Advancement Account is a subsection of the Military OneSource network whose purpose is to help military spouses develop their career training and prospects. The MCAA scholarship is a $4,000 grant that can be put toward a license, certificate or associates' degree in pursuit of one of over 170 approved portable careers.
National Association of American Veterans
The NAAV's objectives include assisting veterans with their financial needs and empowering service members to obtain information on employment, housing, medical care, benefits, etc. The organization offers a number of services including direct financial assistance. Eligibility for NAAV support is available for veterans and active military members, their families, and their caregivers.
National Military Family Association Scholarships
The National Military Family Association is a non-profit dedicated to improving the lives of the families of military personnel. One of the ways the NMFA helps military families is through their military spouse scholarships, which average $1,000 and can be used toward degrees, certifications, business expenses, etc. Spouses of all members of the seven Uniformed Services, including those who are also members of a Uniformed Service themselves, are eligible for the NMFA scholarship.
Navy-Marine Corps Relief Society
THe NMCRS offers financial assistance, interest-free loans, educational scholarships and a range of other direct support to help community members pay for basic necessities. This includes things like food, rent, utilities, pay shortage, etc. Any member of the Navy or Marine Corps and their families and caregivers are eligible to apply for Navy-Marine Corps Relief Society.
Operation Family Fund
Operation Family Fund is a private non-profit that's committed to providing resources to assist military and civilian personnel who have been seriously injured or disabled as a part of Operation Enduring Freedom and Operation Iraqi Freedom as well as their families and caregivers. OFF provides financial grants to help meet both short- and long-term needs and helps families achieve financial self-sufficiency.
Operation Homefront
Operation Homefront is a national organization that helps military families achieve strength and stability. Families can apply for funding to help with food, auto and home repair, vision and healthcare, moving assistance, rent-free transitional housing, etc. Funding from Operation Homefront is available to all members of the military community, including members, retirees, families and caregivers.
The PenFed Foundation
The mission of the PenFed Foundation is to provide service members, veterans and their families with financial education, home ownership, entrepreneurial support and short-term financial assistance. The Military Heroes Fund Foundation offers emergency financial assistance for essentials as well as free caregiver support and interest-free loans for qualifying individuals.
Salute, Inc.
Salute, Inc. exists to help veterans make the transition to civilian life by providing short-term financial assistance to meet basic needs. The idea is to help bridge any temporary income gaps between discharge from the military and the successful acquisition of a civilian job. Assistance from Salute, Inc. is available to all post-9/11 veterans and their families.
USA Cares Emergency Assistance Program
USA Cares is an independent non-profit that offers emergency assistance, housing assistance, and career transition help to veterans. While all of these programs include educational workshops and counseling, USA Cares differs from other organizations in that it also helps pay participants' necessary expenses while enrolled in their programs.

USA Cares is specifically focused on serving post-9/11 active and retired military personnel and their families. The organization places special emphasis on individuals and families in crisis as well as those who have been injured in combat.
United States Veterans' Initiative
U.S. Vets is the nation's largest nonprofit provider of comprehensive services to homeless and at-risk veterans. This includes debt and financial counseling, job placement, employment assistance, housing assistance and a number of other programs that can help veterans repair credit and achieve financial health. U.S. Vets also offers financial aid for things like rent and utilities as well as legal counseling, employment assistance, benefits counseling, help finding temporary and permanent housing, and more.
Debt Relief for Servicemembers

There are a number of organizations that offer specific debt relief services to military members, veterans and their families and will waive or significantly reduce the associated fees. Unlike general financial counseling, debt and credit counseling typically includes a full assessment of a person's circumstances and a specific path forward that can include negotiating lower interest rates, agreeing on a debt settlement plan, consolidating debt and a number of other strategies.
Military Hardship Discharge
In situations where a person on active duty encounters problems that can only be resolved if they're able to leave the military, they can apply for early discharge on the basis of "genuine dependency or undue hardship," which can include severe debt. In a situation where an individual needs to separate from the military to care for their family, gaining the freedom to pursue civilian work can make it more possible to pay off debt faster.

Hardship discharge is only available if the hardship in question is severe, not temporary, you've made every reasonable effort to improve the situation, and the only solution would be to separate from the military.
National Foundation for Credit Counseling
The NFCC is a coalition of individual credit counseling agencies that requires institutions to go through certification and uphold a set of standards in order to maintain member status. NFCC member agencies provide affordable credit management services to the military community. Anyone can seek credit counseling through the NFCC, but those with active or retired military status and their dependents are eligible for waived or reduced fees.
Upsolve
In some cases, those whose debt has become unmanageable can benefit from declaring bankruptcy in order to wipe their financial slate clean. Typically, it costs several thousands of dollars of legal help to declare bankruptcy, but Upsolve provides free legal aid in order to help low-income Americans and people in severe debt file Chapter 7 bankruptcy at no cost.

Upsolve is available to anyone regardless of military status, but individuals need to qualify financially by filling out a questionnaire online before moving forward with the bankruptcy process.
Financial Assistance for Wounded or Disabled Veterans

Many veteran support programs are intended specifically for veterans who have been wounded or disabled in combat and their families. In addition to basic financial help, housing assistance and career training, these programs also address the specific financial challenges associated with post-traumatic injury, disability or mental illness.
Coalition to Salute America's Heroes
The Coalition to Salute America's Heroes offers services to help wounded veterans and their families recover from injuries and illnesses and regain stability in the civilian world. In addition to psychological and transition services, the Coalition also provides emergency financial aid to cover essential payments like utilities, car payments, mortgage and rent, groceries, school supplies, healthcare and more.
Disabled American Veterans
The Disabled American Veterans is an organization created by Congress to support veterans that were injured in combat and their families. In addition to providing tools and resources to help aid veterans and their families with their transition back to civilian life, the DAV also offers emergency financial assistance and emergency disaster relief grants to help veteran households cope with extreme financial strain.
Hope for the Warriors
Hope for the Warriors is a nonprofit that provides transition, mental health, community development and other services to wounded combat service members and their families as well as the families of those killed in action. Among its program offerings, Hope for the Warriors offers scholarships for military spouses and caregivers, coordinates critical care and provides financial support to combat-injured individuals, and offers a range of free services that military families would have to pay for otherwise.
Operation First Response
Operation First Response is a direct service charity that specializes in helping families applying for assistance from the Veterans Administration while they wait for their claims to be processed. OFR provides a number of financial benefits including grants for basic expenses like groceries and rent as well as other needs like flights, lodging and transportation to and from the hospital. The organization is also continually expanding the scope of its services to accommodate growing and individual needs.
Paralyzed Veterans of America
For disabled veterans with spinal cord injuries and diseases, Paralyzed Veterans of America offers benefits services, healthcare, advocacy support, legal aid and financial assistance for education at no cost to members. The PVA primarily aids veterans with spinal cord injuries and their families, but veterans with other disabilities and afflictions may also qualify for certain benefits.
Silent Warrior Foundation
The Silent Warrior Foundation's mission is to provide veterans and their families with access to emergency assistance, mental health services, education and scholarships. This includes financial provisions for basic necessities as well as mental health copays and medication costs. Originally, the SWF was a scholarship program with very specific qualification requirements, but has since expanded to provide assistance for all veterans and their families.
Veterans of Foreign Wars
The VFW is the nation's oldest war veteran organization and provides all types of support to veterans and their families and communities. Among those services is the Unmet Needs program, which offers grants of up to $1,500 to military veterans and their families to meet unexpected financial difficulties.

Membership in the VFW is limited to active duty and veteran service members who have received a campaign medal for overseas service or received hostile fire or imminent danger pay. However, eligibility for the Unmet Needs program changes and may include non-member veterans.
Wounded Warrior Project
The Wounded Warrior Project offers a full suite of support services intended to help wounded and disabled veterans transition back into civilian life. This includes community support for veterans and their families, help navigating VA benefits and emergency financial assistance to help pay for past-due rent or utilities, medical bills and other essentials.
Financial Assistance for Female Veterans

For female veterans, the challenges presented by military life and the transition back to civilian life are often compounded. Various organizations offer support, resources, healthcare and financial assistance specifically to female veterans and their families.
Combat Female Veterans Families United
CFVFU is a non-profit dedicated to helping female combat veterans and their families transition back to civilian life. This includes housing assistance, financial crisis assistance, an emergency relief fund, employment assistance and more. Services offered by CFVFU are accessible to all female military members who have served in hostile territories during periods of war.
The Dixon Center for Military and Veterans Services
The Dixon Center is a subsidiary of a rehabilitation service organization called The Fedcap Group and is dedicated to helping veterans and military families thrive. As a part of their mission, the Dixon Center offers one-time emergency financial assistance to female veterans and their spouses, caregivers or children to pay for things like food, housing, utilities, childcare, etc.
Final Salute Inc.
Final Salute is dedicated to assisting women veterans and their children who are currently homeless, facing homelessness or under financial strain. Financial assistance from Final Salute is primarily earmarked for housing assistance. Any female veteran and her family who face financial strain are eligible for assistance from Final Salute.
Service Women's Action Network (SWAN)
The Service Women's Action Network is the "voice of all military women" and provides a variety of support services for the female military community. Support services include connections to financial resources as well as direct assistance for financial necessities. SWAN primarily serves female veterans and their families.
Financial Assistance for Veteran Small Businesses

When veterans transition back to civilian life, they are faced with the challenge of adapting their job skills to a new career. Many veterans choose to open small businesses, and there are plenty of resources available that are designed specifically to assist veteran entrepreneurs with their financial burdens.
Office of Veterans Business Development
The U.S. Small Business Administration has a department dedicated to assisting veteran entrepreneurs and those considering small business ownership. This includes direct funding for small businesses as well as training and other resources to assist with the entrepreneurial process.
Service-Disabled Entrepreneurship Development Training Program
The SDVETP is a grant available to organizations that deliver entrepreneurship training programs to service-disabled veterans. Individual service-disabled entrepreneurs who are interested in receiving SDVETP-funded benefits can contact the Office of Veterans Business Develop and find out what participating programs are based locally.
Veterans Institute for Procurement
The Veteran Institute for Procurement is the first free training program for veteran-owned small businesses and offers three entrepreneurship programs. Though the VIP is located in Maryland, it has graduated veterans from 49 states, D.C. and Guam at no cost to them.
Veteran Women Igniting the Spirit of Entrepreneurship
V-WISE is a training program in entrepreneurship and small business management operated by the Institute for Veterans and Military Families at Syracuse University. To be eligible, individuals must be honorably discharged female veterans, active duty service members or female spouses of the above categories.
Financial Counseling & Education for Veterans

While direct financial assistance is the most powerful means of providing debt relief, veterans also need to develop healthy financial habits in order to get and stay out of bad debt going forward. These organizations offer financial education and tools for free or at a reduced cost to military individuals and their families.
Military OneSource
Military OneSource is a Department of Defense-funded program that offers a variety of resources for military families that includes financial counseling as well as relationship counseling, document translation, education and career benefits, child care assistance and more. This includes workshops and one-on-one counseling on basic financial literacy as well as specific challenges like paying down debt, reducing dependency on credit and learning the difference between good and bad debt.

Active duty personnel and their families are eligible for Military OneSource benefits until 365 days after service discharge.
Military Saves
Military Saves is a campaign by the Consumer Federation of America that's dedicated to helping servicemembers and their families save money, reduce debt and build wealth. The Military Saves site includes collected links to other resources as well as financial educational assets to help individuals improve their financial learnings.
National Financial Educators Council
The NFEC provides educational tools and resources to organizations that offer programs in financial literacy. For organizations that work with military members and families, the NFEC's programs are completely free. The NFEC requires those offering their programs to graduate the NFEC training program so all Military Money Skills workshops are taught by qualified educators and cover basic financial readiness, retirement planning, debt reduction, avoiding or recovering from financial pitfalls and more.

Any organization that works to provide financial education to veterans and active duty personnel is eligible to receive the Military Money Skills course materials for free. Individuals interested in enrolling in the program can contact the NFEC to find an organization offering its workshops locally.
Veterans' Financial Coalition
The Veterans Financial Coalition is a group of financial institutions that have organized to offer resources to help veterans handle the financial aspect of the transition into civilian life. These resources include budgeting and savings tips, tax break information, and educational assets.
VeteransPlus
VeteransPlus is a non-profit organization dedicated to helping veterans achieve financial freedom through education, coaching and financial literacy programs. It partners with brands like CapitalOne, CitiBank, Prudential and more to help provide up-to-date information and education to help veterans and their families secure financial stability. The organization also specifically offers credit and debt counseling for those in need of help.

Active duty and retired military members and their families are eligible for VeteransPlus benefits.
Women's Institute for Financial Education
The Women's Institute for Financial Education is a non-military resource that offers a number of financial education courses to help women achieve financial independence. This includes assistance with financial strain as well as specific scenarios like divorce.
Laws That Protect Veterans in Debt
There are several laws on the books that contain financial protections for veterans, service members and military families in debt.
Joint Travel Regulations
The Joint Travel Regulations is a massive, 702-page document that covers all information related to government travel. This includes relocation pay, housing allowances for active duty members, standard transportation allowances, emergency evacuation expenses, etc. If any of a service member's debt pertains to travel of any kind, they may be entitled to funding under the JTR.

Active duty members and dependents of the United States Uniformed Services and civilian employees of the Department of Defense are covered under the JTR.
Military Lending Act
The Military Lending Act is a set of protections that prevents lenders from charging certain interest rates and fees to active duty service members and their dependents. Under the MLA, lenders cannot charge military members more than 36 percent Military Annual Percentage Rate, and lenders cannot penalize service members for paying back a loan early or force them to agree to mandatory arbitration.

Active duty service members, reservists, and members of the National Guard and their dependents are protected under the Military Lending Act.
Servicemembers Civil Relief Act
SCRA protections and benefits are designed to allow military members to serve on active duty without concern for potential damages arising from their inability to be at home while deployed. This includes protections against home foreclosures, vehicle repossessions and evictions as well as a 6 percent cap on all loans taken out before joining the military. The SCRA also allows service members to terminate contracts, like phone, internet, and lease agreements, if they are deployed to a new location before the contract was set to expire. Most importantly, the act states that service members may exercise their SCRA right to delay payments without having it reflected on their credit report.

Active duty military members and their families are covered and SCRA coverage expires 30 to 90 days after discharge.

Military Servicemember Debt by the Numbers
Studies consistently show that veterans carry more debt on average than civilians and have a significantly harder time living with it. A 2019 survey by the National Foundation for Credit Counseling found that 34 percent of active service members are unable to pay all their bills on time, while 11 percent currently have debts in collection. Nearly 9 in 10 service members and 84 percent of spouses worry about their finances.

What's worse is that military members also face more severe penalties for financial difficulties than civilians do. In article 134 of the Uniform Code of Military Justice, "dishonorable failure to pay debt" is a violation that constitutes grounds for a court martial and can result in docked pay, loss of promotions and even the removal of security clearance. In fact, debt trouble is the top reason active duty personnel lose their security status.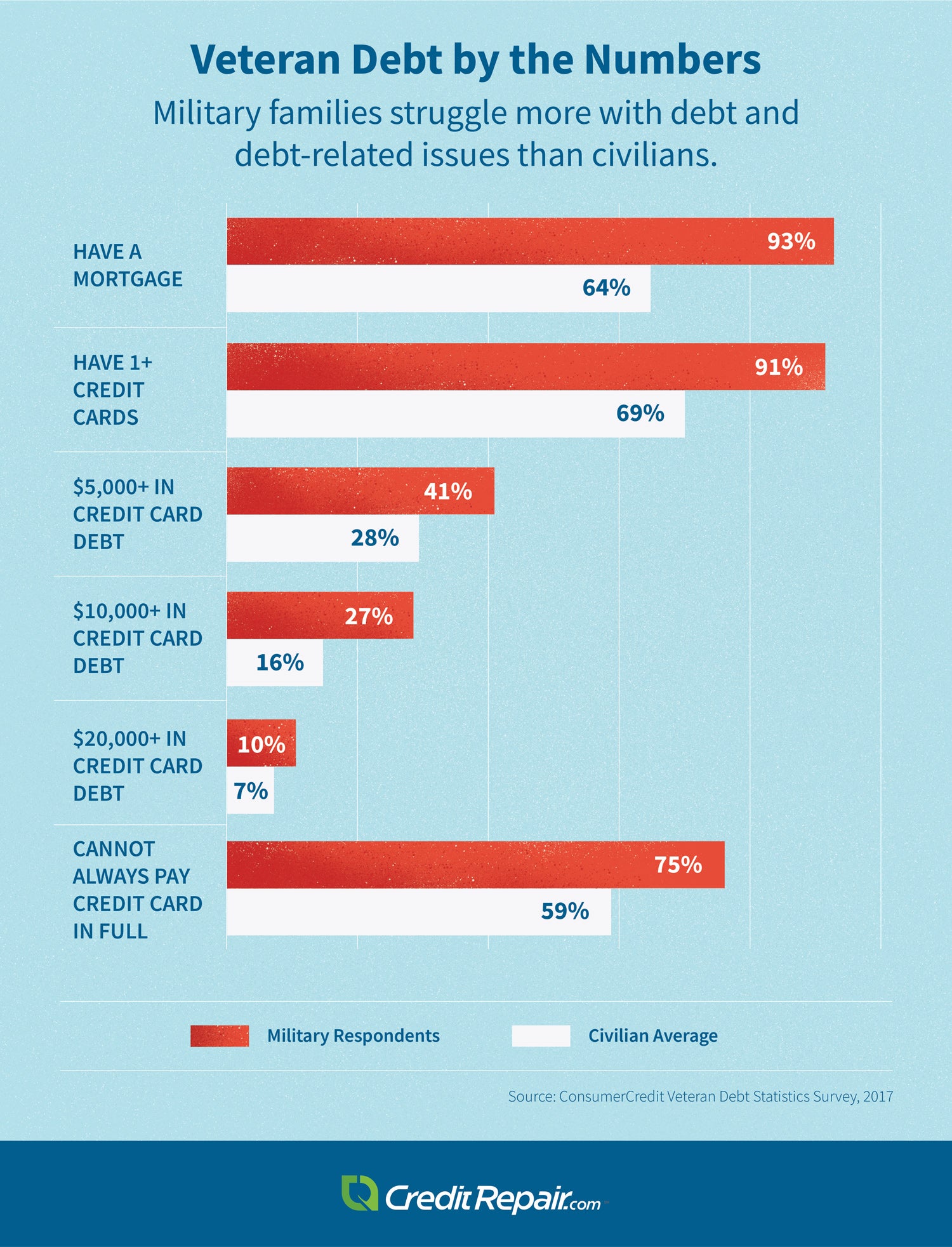 The important thing to remember is that there are resources available to help military individuals and families in need. No individual who has sacrificed for their country or their family needs to struggle with financial hardship alone.

Serving in and transitioning from the military is a challenge, and even the most capable servicemembers may find that they need help coping with their particular struggle. There's no shame in allowing yourself to be helped by the people who have benefited from your service and want to show their appreciation.

Learn how it works