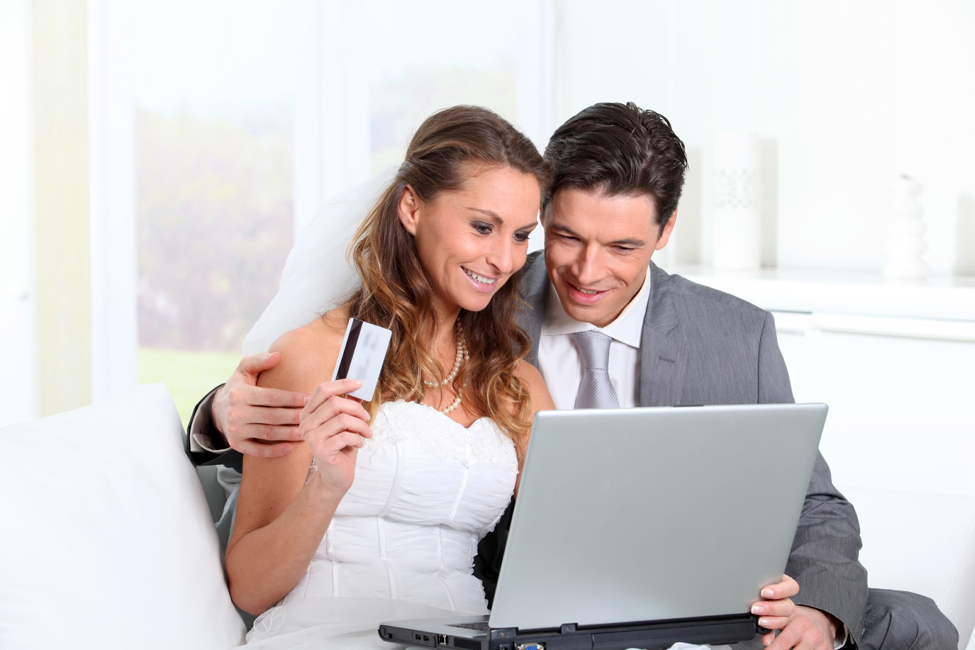 You finally did it; after months of searching dating sites and slogging through countless online profiles, you finally found The One, that special person who fills your heart with joy. Now, as you start building a life together, it's time to take into consideration the financial impacts of uniting two people (and bank accounts) in legally binding matrimony.
Among the top financial concerns of many couples about to tie the knot is the effect that marriage will have on each person's credit reports. Feeding into this concern is one of the most common myths in the world of joint finances, which is that getting married will cause some sort of credit score merger, resulting in a single, shared credit score. This myth is completely false. There are no joint credit scores. Even after marriage, each partner maintains his or her individual credit score, report, and history. And no, changing your name won't impact your credit report, either; you simply notify your creditors and the credit bureaus of the change and the new name gets added to your report.
The fact of the matter is, the only time your credit history will impact your partner is if both partners apply for a loan or other line of credit together. For instance, when dealing with a joint mortgage application in which you list both incomes, the lender will most likely check both credit reports to assess the risk of the loan. While applying together will usually increase the size of the loan for which you are eligible (due to the increased income), it may not always be the best decision.
Since both credit reports are assessed with a joint application, if one partner has poor credit, the lender may charge a higher interest rate for the mortgage than if only the partner with good credit applied — or the lender could even reject the application altogether. In this case, the apparent benefits of applying jointly may not be worth accepting the less favorable loan terms as it could end up costing you a lot of money in the long run.
The better choice may be to have the partner with poor credit focus on improving his or her credit score over time, then apply again when both parties have good credit. Many ways exist to help rebuild bad credit, including responsible use of a credit card (a number of issuers offer cards specifically for poor credit) or a personal installment loan. In some cases, a low credit score can also be improved with the help of a credit repair company. Search for an established company with a good reputation for the best results.
Depending on the method — and initial credit score — credit improvements may be seen in just a few months or so. In cases of bankruptcy or extreme debt, however, improving credit may take a significantly longer amount of time. Bankruptcies can stay on a credit report for up to ten years and delinquent debts may not fall off a credit report until paid in full.
Another thing to keep in mind when applying for credit as a couple is the potential future impact to your credit scores. In situations where both names — and, thus, both credit reports — are associated with a credit account, either party making a late payment (or, worse, missing a payment) can have a negative impact on both credit reports. So, if one partner forgets to make a loan payment, both partners may see a dip in their credit scores.
Additionally, shared debt can end up being a tighter tie than the very bonds of matrimony. Translation? Your joint debt won't go away even in the event of a divorce; both parties will still be responsible for paying the debt — and both parties will still be likely to suffer negative credit impact if that debt isn't paid. While few people want to think about the chances of their upcoming marriage ceremony leading to an unceremonious divorce, fewer still want to be tied for eternity to a financially irresponsible ex-spouse — or his or her debt.
Whether you decide to merge your finances (or just your furniture sets), it is important to establish a financial plan before entering into any legal agreements, be it marriage or a loan. While this doesn't mean revealing your bad credit on all of the dating sites you join, the key to a happy financial life together is to know what you're getting into well before saying "I do."
Carry on the conversation on our social media platforms. Like and follow us on Facebook and leave us a tweet on Twitter.
Learn how it works