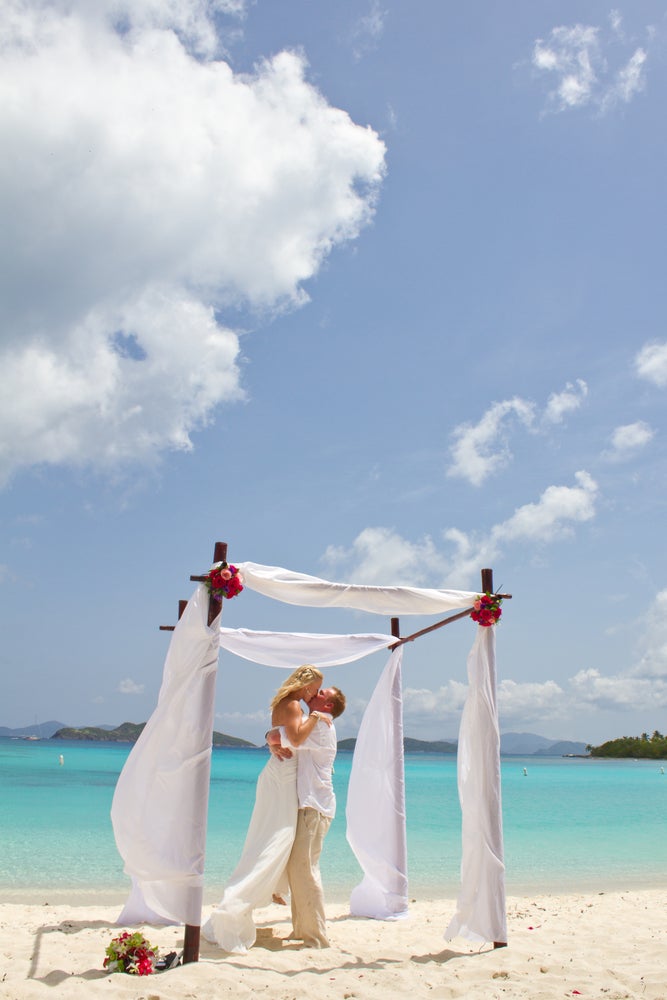 If television and movies are to be believed, weddings are lavish affairs with no expense spared, and for the average couple, a dream wedding will put them under a mountain of debt from which there is little hope of escape. Not an ideal way to start a successful marriage.
However, there are ways to plan and finance your dream wedding without taking on a huge amount of debt or negatively impacting your credit. Follow these Do's and Don'ts to put together a great wedding event without impacting your financial health.
Shop Around
As soon as you start planning a wedding, you realize how much actually goes into the production. Flowers, a DJ or band, cake, wedding venues – all these are valid expenses and can cost thousands of dollars. Do some shopping around to get a good deal.
DIY
You can save a lot of money on your wedding by going the do-it-yourself route. If you (or a loved one), has a big backyard, you can save thousands on a wedding venue. You can purchase fake flowers and arrange them yourself. You can create your own invitations and place settings. Options like these add up to a huge amount of savings.
Save Money
As much as you can, put aside money to use towards wedding expenses. This will reduce the amount of credit card debt you need to rack up to achieve your goals.
Schedule Less Popular Times
Planning a wedding in November through March gives you a better chance at a good wedding venue rate, as the rest of the year is busier for weddings. Same concept for Saturdays – the obvious choice for a wedding, of course – but also, the most expensive day.
Establish a Budget
The most important step of all is to establish your budget. Knowing what you can afford ahead of time will help you make appropriate decisions when planning every aspect of your wedding. Your budget should be realistic, and if you are willing to put some of your wedding purchases on credit, than it should be something you can pay off over a reasonable amount of time. Make sure to establish a little wiggle room, though, for unanticipated expenses that pop up.
Don't Pile On Debt
Amassing a large amount of debt isn't a great way to start a marriage. Money is one of the most common subjects of marital arguments – so why start your marriage on the wrong foot? As much as possible, avoid large credit card debt or taking out loans to pay for your wedding.
Don't Go for the Best of Everything
The details of your wedding are less important than you might think – what people will remember, over time, is the fun they had and the experience of sending you off into married life. They likely will not remember what kind of flowers you had, or if your placeholders were store-bought or homemade. If you must splurge on an aspect of your wedding, makes sure it's one that will truly enhance you and your guest's experience.
Don't Go Over Your Guest Limit
Another important part of wedding planning is your guest list – and after establishing a budget, picking a venue, and looking at food options, you should have an idea of how many guests you can afford. Don't let relatives, the wedding party, or parents pressure you into adding guests above your threshold. Stick to the amount you have. Of course, it's important to note that not everyone will be able to make it – so if your guest limit is 100, going over a little bit won't hurt.
Don't Neglect to Track Spending
Don't keep your expenses and planning needs in your head – you'll likely get overwhelmed.
Keep a list of each item and service you need and a proposed budget for each item on that list. As you begin to buy items and book services, make sure to update the list to include how much you're actually spending.
Don't Go Over Budget
Do not go over budget. If it looks like you're going to, then adjust your budget and spend less on the things you have yet to accomplish. By the time you get back from your honeymoon, you don't want regret or debt to be weighing you down.
Summary:
With these tips, you can plan a dream wedding without taking on massive amounts of debt. Through smart planning, establishing a budget, and having realistic expectations, you can still have a wonderful wedding without breaking the bank. Your future (married) selves will be happy you planned wisely, and didn't damage yourselves or your credit with unwanted debt, unpaid bills, and unmanageable credit card or loan payments.
Learn how it works