Disclosure regarding our editorial content standards.
A CPN is a nine-digit number that is formatted similarly to a Social Security number (SSN). Using a credit privacy number to apply for credit is illegal and may be considered identity theft.
When it comes to improving your credit score, there are many solutions you might consider. However, it's important to note that not all credit repair services are legitimate (or even legal). A credit privacy number (CPN) scam is just one way fraudulent companies and scammers target those with poor credit.
So, what is a CPN? Continue reading to learn more about credit privacy numbers and how to avoid these scams.
Key takeaways:
CPN stands for credit privacy number, credit protection number, and credit profile number.
A CPN has nine digits and is formatted like a Social Security number.
When used to create a false identity, CPNs are illegal and considered identity theft.
Fraudulent credit repair companies will falsely promote CPNs as a way to improve your credit.
What is a credit privacy number and what is it used for?
A credit privacy number (CPN) is a nine-digit number offered by scam artists as a way to apply for new credit. Also referred to as a credit protection number or a credit profile number, these scammers insist that it can be used as a substitute for your SSN on a credit application—but that couldn't be further from the truth.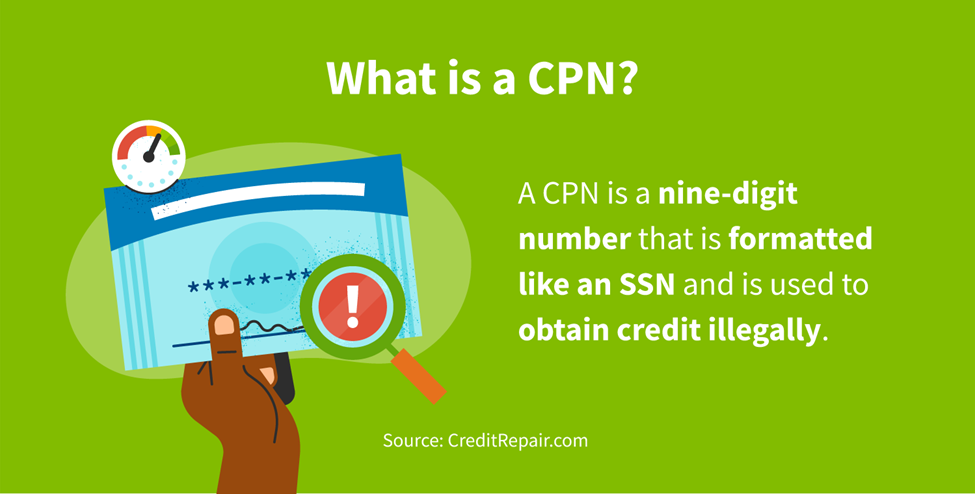 Are CPNs legal?
The use of a CPN on a credit application is illegal. Nonetheless, some scammers will falsely claim that CPNs are valid by citing the Privacy Act of 1974, which states that individuals aren't required to provide their SSN to creditors.
Oftentimes, CPNs are actually stolen SSNs from vulnerable people such as children, older adults and those in prison. For example, a scam artist may steal the SSN of someone who has been incarcerated for a long time (since they won't be monitoring their credit) and sell it as a CPN. Scammers may also create CPNs by automatically generating nine-digit numbers that have not yet been issued as SSNs.
Those caught using CPNs may be charged with identity theft and making false statements on a loan, which can result in a prison sentence and fines.
Can a CPN replace an SSN when applying for credit?
It's important to understand the distinction between SSNs and CPNs: An SSN is a government-issued identifier assigned at birth, while a CPN is generated by scammers.
Since CPNs and SSNs have the same format—XXX-XX-XXXX—some people believe that they are interchangeable. However, you cannot use a CPN to replace an SSN when applying for credit. It's against the law and considered Social Security fraud.
Other common misconceptions
There is a lot of information out there about CPNs—some true and some false. We clear up some common misconceptions below.
Celebrities use CPNs for privacy. Some sources try to legitimize the use of CPNs by falsely claiming that celebrities use them to protect their SSNs.
CPNs can be used as a fresh start for those with poor credit. Credit repair scams will market CPNs to those with bad credit as a way to improve their score.
There are legitimate CPNs. As mentioned above, CPNs are illegal scams and don't exist formally.
When looking for ways to boost your credit score, be sure to fact-check certain claims to make sure you are using legal credit improvement strategies.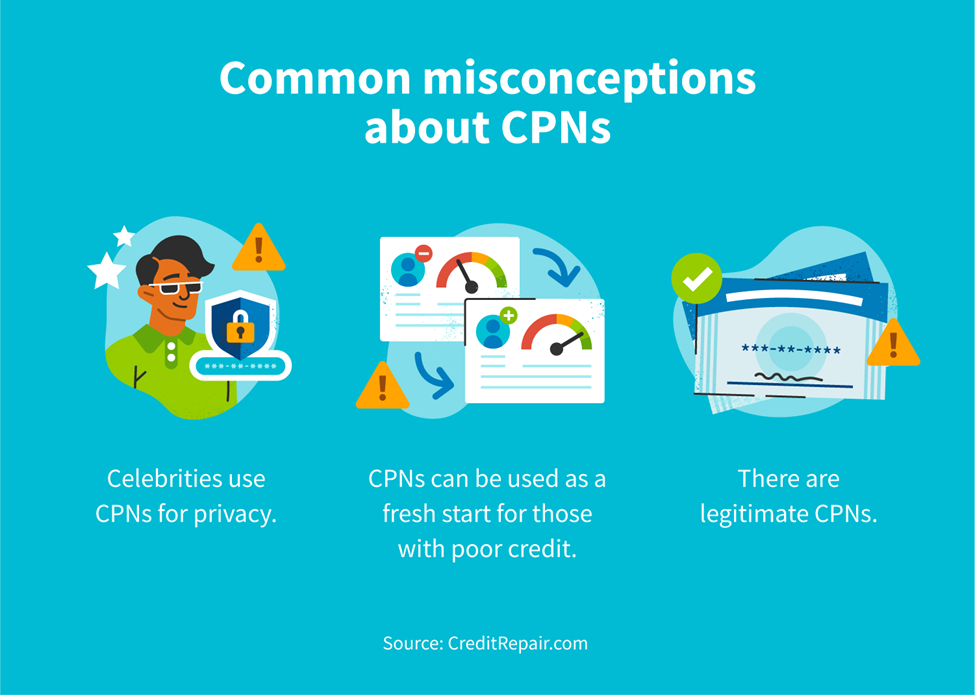 How to identify a credit privacy number scam
If you are considering working with a credit repair company, stay vigilant and keep your eye out for CPN scams. Fraudulent companies will promote CPNs as a legitimate way to improve your credit score. Here's how to spot a scam:
They provide you with a new credit identity. The use of an alternative credit identity is considered identity theft.
They tell you to provide false information on documents. Any company encouraging you to lie on documents is most likely a scam.
They claim CPNs can help improve your credit. It's illegal to use a CPN to apply for credit.
They promise to boost your credit score immediately. While it is possible to see an improvement in your credit in as little as six months, promises to improve your credit immediately may be a sign of a scam.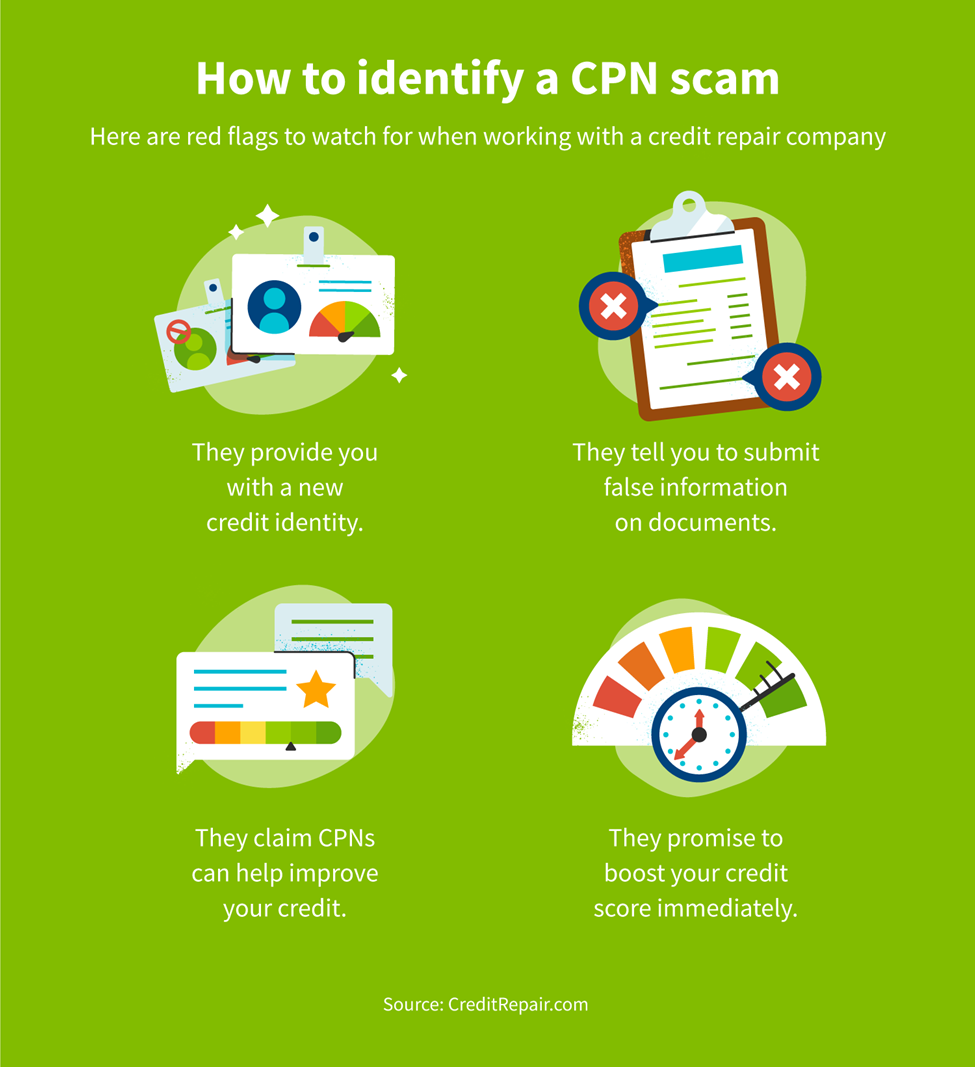 Credit privacy number FAQ
CPNs can be complicated, so we answered some common questions below to clear up any confusion.
How are CPNs different from SSNs, EINs and ITINs?
There are several identifiers issued by the government for identification purposes. Here's a quick summary of those numbers and what they mean:
Social Security number (SSN): a nine-digit number issued by the Social Security Administration (SSA) for identification purposes
Employee Identification Number (EIN): a nine-digit number issued by the Internal Revenue Service (IRS) to identify a business entity
Individual Taxpayer Identification Number (ITIN): a nine-digit number issued by the IRS to those who don't qualify for an SSN; used for tax processing purposes
A CPN, however, is not issued by the government and does not exist formally. Since a CPN also has nine digits, it can be easy to confuse these various numbers. It's also important to note that the above numbers are all issued by the federal government free of charge. You should never need to purchase a legitimate identification number.
Can you apply for a new SSN?
While you can apply for a new SSN under certain circumstances, resetting your credit score isn't one of them. The Social Security Administration will only consider granting a new SSN for the following reasons:
Sequential numbers given to family members are causing confusion.
There is more than one person assigned to the same number.
You are a victim of identity theft.
You are being abused, harassed or your life is in danger.
Your religion or culture is opposed to certain numbers being used.
Unless one of the above reasons applies to you, getting a new SSN likely isn't an option. Even if you are able to secure a new SSN, the SSA will reference your old SSN, so you'll still have the same credit score.
How should I report a CPN scam?
If you notice a CPN scam, you should report it to the SSA. You can also report a CPN scam to the Department of Justice and your local police department.
Alternative ways to improve your credit score
Although CPNs are illegal, there are plenty of other ways to improve your credit without breaking the law. Here are a few to try:
Make on-time payments. The simplest way to improve your credit is by continuously paying your bills on time and in full. Try setting up automatic payments to make things easier.
Decrease your credit utilization ratio. Paying down credit balances and increasing your credit limit are two ways to decrease your credit utilization ratio, which accounts for 30 percent of your overall score.
Partner with a credit repair company. A credit repair company can help remove inaccurate negative items and improve your credit score.
You don't need to resort to illegal methods to improve your credit. Credit repair services can help you reach your financial goals by following trusted guidelines.
---
Note: The information provided on CreditRepair.com does not, and is not intended to, act as legal, financial or credit advice; instead, it is for general informational purposes only.
Learn how it works