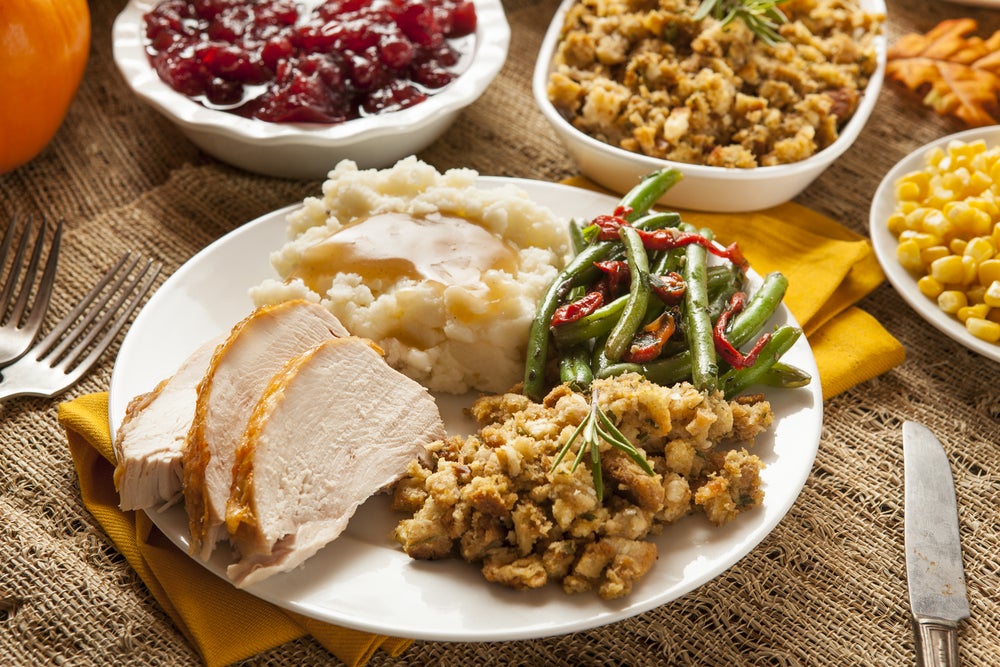 Thanksgiving is a time of celebration and togetherness…unless you're the host. An American Farm Bureau Federation survey revealed that a classic Turkey Day meal for 10 cost $49.04 in 2012. While that number may be average, anyone who's hosted Thanksgiving understands that it's conservative. The price of food is rising in the U.S., and holiday mark-ups are sure to pack a financial punch this season. Avoid a budget-busting meal by following the money-saving tips below. They will help you plan a fun and affordable Thanksgiving.
1. Buy a competitive turkey
Whether you want free-range, heritage, or plain old Butterball, the turkey is the centerpiece of your Thanksgiving meal. Unsurprisingly, it's also the most expensive item. Don't pay $5 per pound without shopping around. Choose a "competitive" turkey that boasts quality meat for a good price. Contact your local grocery stores, butcher shops and free-range farms to collect pricing information. Why spend more than necessary?
Cooking tip: Overdone poultry is the worst. Don't disappoint your guests by using a basting bag. Secure the best return on your investment by covering your turkey in foil and basting by hand every 45 minutes.
2. Downplay the sides
Potatoes, salad, green bean casserole, yams, corn, bread and more. If you aren't careful, Thanksgiving sides can spiral out of control, a consequence that is sure to affect your bank account. Diminish your bottom line by cutting the list of sides in half. After all, who reaches for salad at the Thanksgiving table?
Cooking tip: Choose mashed potatoes as your main Thanksgiving side. They're filling, affordable, easy to make and less time-consuming than yams.
3. Avoid pre-made items
If you've ever made a pie from scratch, you know it doesn't cost $15 to create a delicious dish. Don't let a fear of cooking affect your shopping list or your finances. Do some recipe research or ask family and friends for tried-and-true suggestions.
Cooking tip: If your family isn't fond of pumpkin, use this recipe to create the perfect apple pie. Don't expect leftovers!
4. Go potluck
The average family is filled with members who possess varying tastes and talents. To that end, suggest a potluck dinner to lower costs for everyone involved. If your mother likes cooking dessert, ask her to bring something sweet. If your brother enjoys grilling, ask him to bring some sautéed vegetables. This strategy will allow everyone to enjoy a tasty and budget-friendly meal. You can't lose.
Cooking tip: Create a public Google Doc where family and friends can submit their dishes ahead of time. You don't want to end up with five bowls of casserole.
5. Skip the alcohol
The average bottle of wine can top $10, a tidy sum if you're feeding a table of 10 guests. Combine that with beer, mixers and hard alcohol, and the bar tab alone could cost hundreds of dollars. Consider throwing a dry Thanksgiving to save on cash and corral rowdy relatives. At worst, tell them it's BYOB.
Learn how it works