Disclosure regarding our editorial content standards.
If your identity is stolen, the first thing to do is report the identity theft to all of your financial institutions and the Federal Trade Commission. After that, there are a number of steps to take to secure your information and get back on financial track.
It's everyone's nightmare: getting a call from a collections agency for a mysterious debt or noticing hundreds of dollars' worth of unapproved charges on your bank or credit card statement.
Identity theft is when a cybercriminal illegally uses someone's personal information for financial gain, such as opening a credit card or making fraudulent purchases—and it's a growing problem.
According to the Federal Trade Commission, the number of fraud, identity theft, and other report cases grew by over 60 percent from 2019 to 2020, and in 2021, 1 in 5 people reported losing money in imposter scams. Unfortunately, figuring out what to do if your identity is stolen is a process that more and more people need to learn.
The best strategy for dealing with identity theft is to prevent it before it happens. However, not many people have the luxury of planning ahead, and that is where we can help. Below, we have highlighted our guide for what to do if your identity is stolen. You will find 11 steps to right your financial ship in the short term, with some additional tips to protect your accounts in the future.
Table of contents
1. Contact your identity theft insurance
Fraud comes as a shock, and if you're sitting there debating who to contact about identity theft, the first call should be to your identity theft insurance.
Identity theft insurance is offered by major insurers such as State Farm or Liberty Mutual, typically as an add-on to property insurance policies. Additionally, identity theft insurance could be offered through your work benefits, so if you are unsure if you have this type of insurance, it is best to do your research to confirm.
With identity theft insurance, you get a number of surprising benefits, including:
Coverage for lost wages
Notary and mailing fee reimbursement
Legal expenses
Credit monitoring
Child care reimbursement
Identity theft insurance assists you in regaining normalcy—taking you from "why was my identity stolen?" to a confident financial future.
2. Notify your bank and credit card companies
Whether you have identity theft insurance or not, the next step is to notify your bank and credit card companies.
It's important to do this for every account that you own because even if the card in question hasn't been used in fraud, that doesn't mean your information is safe or unexposed.
In doing so, your options are to cancel the card or speak with the fraud department of each account. They will assist you in securing your assets, setting up new accounts and issuing new cards.
You can find the customer service numbers for the major financial institutions below:
American Express: 1-800-528-4800
Bank of America: 1-800-432-1000
Capital One: 1-877-383-4802
Chase: 1-800-935-9935
Citibank: 1-888-248-4226
Discover: 1-800-347-2683
Mastercard: 1-800-307-7309
U.S. Bank: 1-800-872-2657
Visa: 1-800-847-2911
Wells Fargo: 1-800-869-3557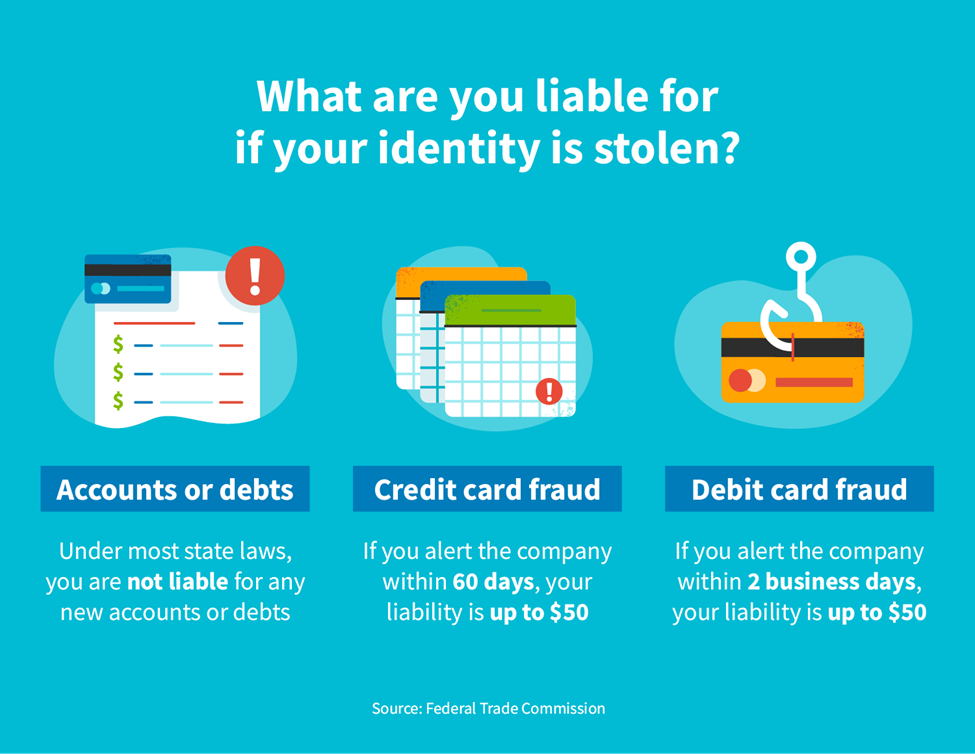 Learn what you are liable for if your identity is stolen
If your card is used without your permission, you might be wondering if you are liable for those charges. Per the Federal Trade Commission, your liability for debts that occur when your identity is stolen is based on the situation. A few key points are:
Under most state laws, you are not liable for any accounts or debts in your name without your permission
With credit card fraud, if you alert the financial institution within 60 days of receiving a statement with fraudulent charges, you are liable for only up to $50
With debit card fraud, your liability is only up to $50, as long as you alert the financial institution within two business days of discovering the fraud or losing the card
The good news is that as long as you alert the financial institutions as soon as you suspect fraud, your liability is low. However, it is best to check with your financial institution and consult your local laws.
3. Reach out to any institution where your identity was used
Next is to reach out to any institution where your identity was used. This could be banks or lending offices with which loans were taken out or stores in which fraudulent purchases were made.
In order to fully approve and process adequate refunds, these institutions may need additional information, such as a police or theft report number, and it is best to start the conversation as soon as possible. Additionally, anything you can get in writing—such as the institution's acknowledgment that fraud did occur—is useful for your records as you continue the process of repairing your credit.
4. Place a fraud alert or freeze your credit
There are three major credit reporting agencies: Equifax®, Experian® and TransUnion®. To issue a fraud alert, you will need to contact one of these three agencies, which will then contact the other two on your behalf.
Fraud alerts last for one year and add an extra layer of security to your credit. When a fraud alert is active, a bank or credit card company will need to verify identification before issuing a loan or new line of credit. This makes it extremely difficult for someone to open fraudulent accounts in your name.
A credit freeze, on the other hand, is a more extreme version of a fraud alert. Credit freezes seal your credit history and completely blocks any third party from accessing your credit report. To issue a freeze, you will need to contact all three credit bureaus separately.
Contact information for the credit reporting agencies can be found below:
Credit freezes are extremely secure, but they will need to be lifted if you intend to apply for a loan or are going through a job search that may require a background check. If you are wondering how to unfreeze credit, simply contact each credit union separately to remove the freeze.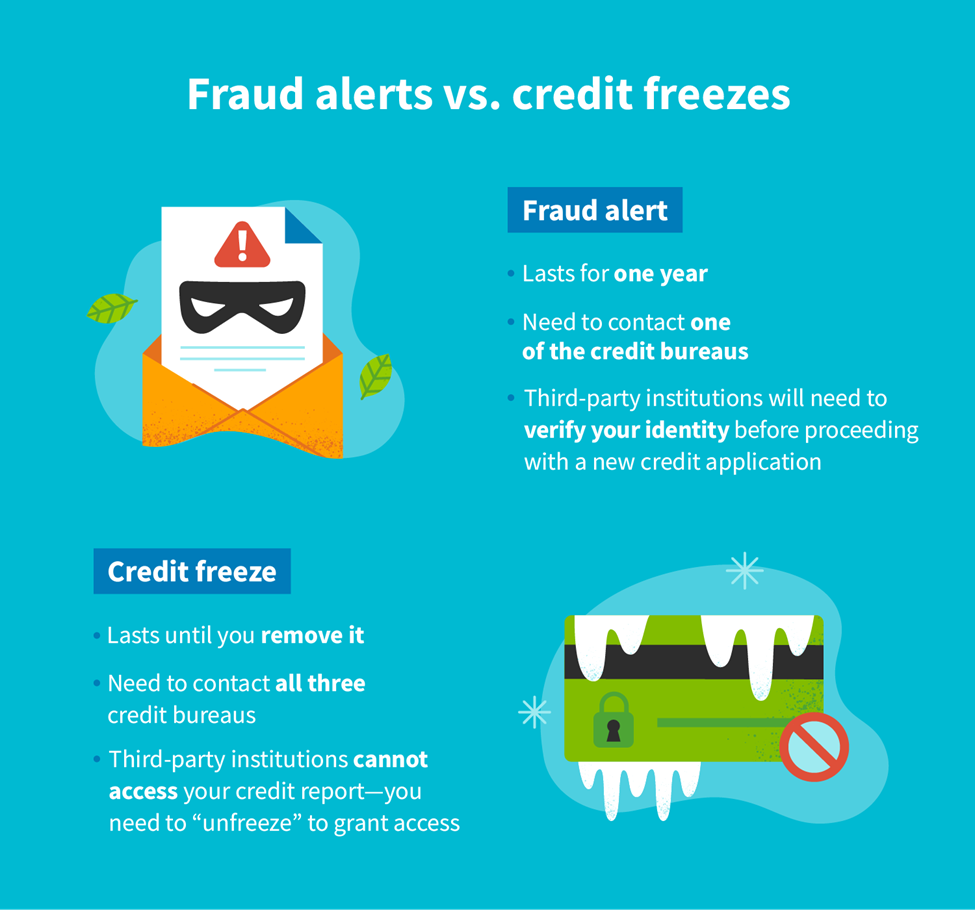 5. Look through your credit report for any other fraudulent activity
At this point, you have secured your accounts and prevented any other unauthorized access or spending. Now, it is time to comb through your credit report to make sure there isn't any other fraudulent activity you may have missed.
After placing a fraud alert or credit freeze, you will be able to request a free credit report from the reporting agency you were in contact with. Take a detailed look for any suspicious activity, such as any fraudulent accounts or loans you may have missed, unfamiliar accounts that are in collections and even seemingly small things like unrequested credit inquiries.
6. File an identity theft report with the Federal Trade Commission
While you have already completed reporting identity theft to credit bureaus, now you will need to file a formal identity theft report with the Federal Trade Commission (FTC).
Filing a report with the FTC will give you an official record of identity theft, which will be crucial when disputing charges and derogatory marks on your credit report. You can start the process by going to their site, IdentityTheft.gov, or by calling them at 1-877-438-4338. They will tell you how to report identity theft and walk you through the process when you have the necessary information.
While going through the filing process, the FTC will work with you to establish a recovery plan, take you through the steps for recovering information and pre-fill important forms and letters you will need to dispute fraudulent transactions.
7. Call your local law enforcement
After filing a claim with the Federal Trade Commission, they will also recommend pressing charges for identity theft by contacting your local law enforcement. When disputing charges, institutions may ask for a police report along with the FTC identity theft report, so it is important to complete this step.
To file a police report with your local department, call the non-emergency line or stop in at the station. You will need to have your identification, proof of residence, any proof you have of identity theft and your FTC report. Finally, make sure to ask for a copy of the police report to keep for your records.
8. Dispute fraudulent credit hits and transactions
Once you have your FTC identity theft report, police report and any other relevant information, it's time to formally dispute the credit hits and charges your identity has been exposed to.
We outlined in Step 3 how to reach out to any institution where your identity was fraudulently used. There is a good chance that accounts were paused and transactions were stopped, but they may need a few specific items before moving through the closing and possible reimbursement process. Now that you have copies of your official fraud reports, formally disputing these transactions will move the process toward resolution.
9. Check your devices for viruses
Now that you have secured your accounts and are in the process of disputing any transactions, it's time to figure out how you got your identity stolen in the first place. Knowing how your identity was stolen is a powerful tool in preventing it from happening in the future.
A common method for identity theft is malware, malicious software that hackers trick people into downloading on their computers or mobile devices. Once this software is installed on a computer, hackers can steal passwords, account numbers and other personal information.
Therefore, especially after your identity is stolen, it is important to run antivirus scans on your devices and check the safety of your home Wi-Fi to make sure there isn't an opportunity for your personal information to get stolen again.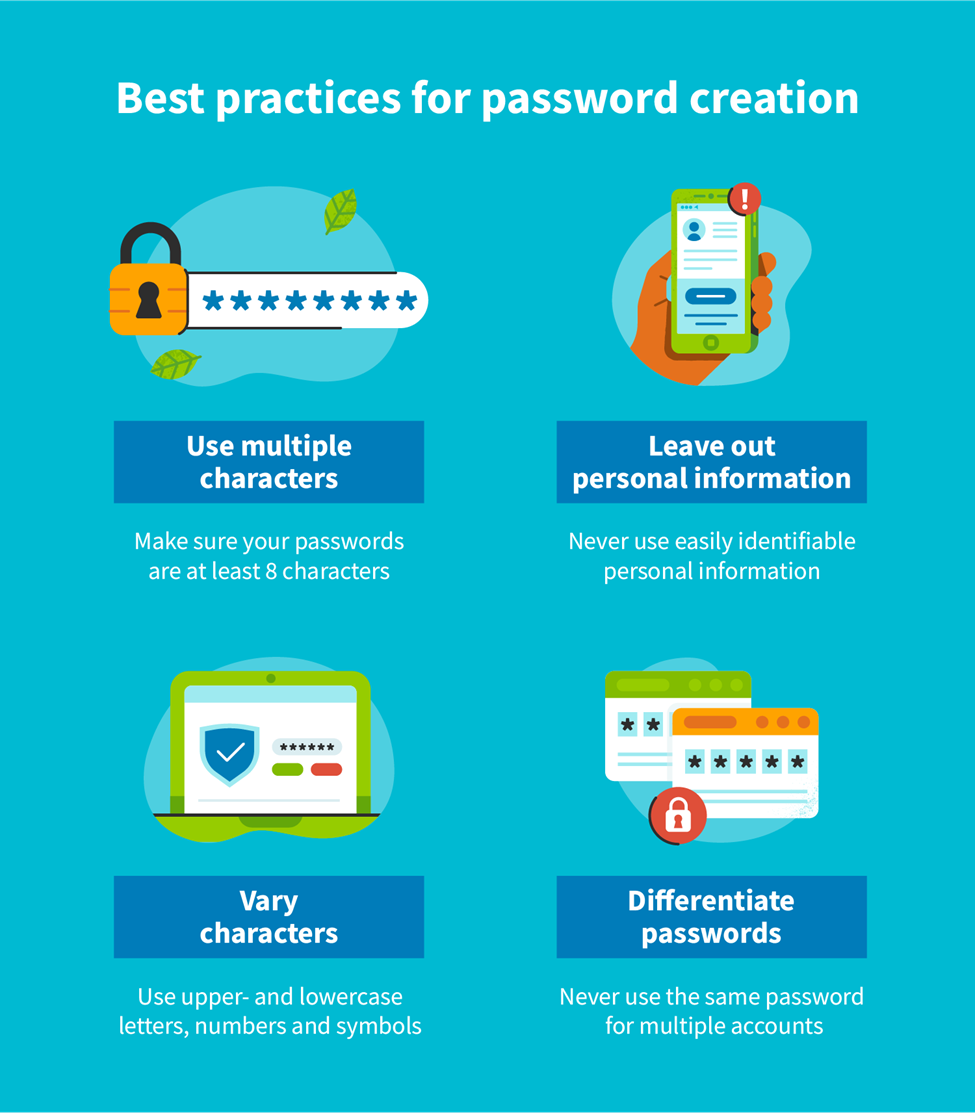 10. Change your passwords
Once you have checked your devices for viruses and made sure everything is secure, you should change the passwords of your most used and sensitive accounts.
To make sure your new passwords are safe from hackers, there are a few best practices to follow, including:
Make sure your passwords are at least eight characters in length—the longer the better
Never use easily identifiable personal information in a password, such as a name or a birthday
Include a variation of uppercase and lowercase letters, numbers and symbols
Never use the same password for multiple accounts
The best passwords are a completely random combination of letters, numbers and characters, and using a password management tool can help you keep track of passwords you otherwise wouldn't be able to remember.
11. Repair your credit
Now that reports have been filed, institutions have been notified and your accounts are secure, it's time to focus on repairing your credit.
How long it takes to raise your credit score depends on a number of factors, such as what your score was before the identity theft and how much damage the fraud caused. But with the proper documentation, it won't take long to get back on the right financial footing.
Additionally, you can use a credit service that analyzes your credit report, disputes inaccuracies and consistently monitors your credit for potential issues, like what we offer here at CreditRepair.com.
Common identity theft questions
Identity theft is a common occurrence that can happen to anyone, at any time. To prevent it from happening to you in the future, it's important to know the basics to keep your privacy secure and your finances safe.
What is identity theft?
Not many people know exactly what identity theft is, but the explanation is fairly straightforward. Identity theft is when a cybercriminal illegally acquires and uses someone's personal information for financial gain, such as opening a credit card or making fraudulent purchases.
These hackers often access information by tricking people into downloading harmful software such as malware, getting information from a compromised Wi-Fi network or phishing passwords. Therefore, it's always important to stay up to date with the security of the devices you use regularly.
How do you know if someone is using your identity?
When someone is actively experiencing identity theft or credit card fraud, there can be a number of indicators that something is wrong. These can range from noticing unusual credit card history to getting a card declined when you want to make a purchase.
However, the most secure way to protect yourself against fraud is to regularly check your credit report. Staying vigilant and up to date can stop identity theft in the early stages before it has a chance to get worse.
Can you recover from a stolen identity?
The short answer is: Yes, you can recover from a stolen identity.
There are many factors at play, such as when you discover and report the fraud and how quickly you can notify the proper institutions, but having your identity stolen isn't the end of the world and can be rectified easily with a little bit of work.
At the end of the day, being a victim of identity theft is an inconvenient, yet fixable, problem. As long as you spring into action the moment you notice something is wrong, your credit can be rectified and your monetary liability is low. If you're wondering what to do if your identity is stolen, simply consult our steps above to begin the journey back to normalcy.
People that commit identity theft are typically good at covering their tracks, so always being mindful of what is on your credit report is a great way to mitigate any potential issues. Stay one step ahead of identity theft by constantly monitoring your credit report for fraudulent activity with a service that monitors, protects and builds your credit, like what we provide at CreditRepair.com.
---
Note: The information provided on CreditRepair.com does not, and is not intended to, act as legal, financial or credit advice; instead, it is for general informational purposes only.
Learn how it works