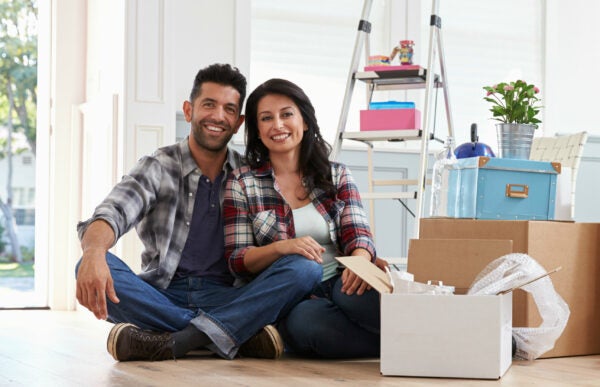 The real estate market for single-family homes has endured its share of ups and downs since the 1960s, most recently the catastrophic financial meltdown in 2008. Over the past decade though, home prices have steadily risen. Should you rent or buy? The answer is complicated.
Examining the Numbers
In its year-end housing report for 2018, ATTOM Data Solutions reported that the median U.S. home price hit a 12-year median high in 2018 of $248,000. Sellers enjoyed an average 61% profit, up from 21.9% in 2016.
The tide may be turning, however, with a less rosy outlook for sellers projected in the months and even years ahead. Forbes reports that with a predicted buyer's market for the first time in several years, 2019 could be the most important year for the U.S. housing market in the last decade. Barron's adds that rising interest rates and home prices contributed to the slowdown in the fourth quarter of 2016.
As housing prices have been on the upswing over the past decade, rents also have soared steadily. In July 2018, Business Insider reported that median rent for a one-bedroom apartment in the U.S. is $1,209, an increase of 4% from July 2017.
Keep in mind that housing prices vary widely across the country, with markets like San Francisco, New York City, Los Angeles, and Portland commanding the highest prices, while housing prices in other regions remains relatively stable.
The July 2018 report also noted a 15.1% decrease in rent in New York City from its March 2016 peak, though the median for a one-bedroom in the Big Apple is still $2,408. Precipitous decreases were also reported in Chicago and San Francisco, among other high cost of living cities.
As home prices drop, more buyers may want to take the plunge. However, rising interest rates and approval standards could keep some out of the market.
Considering Home Ownership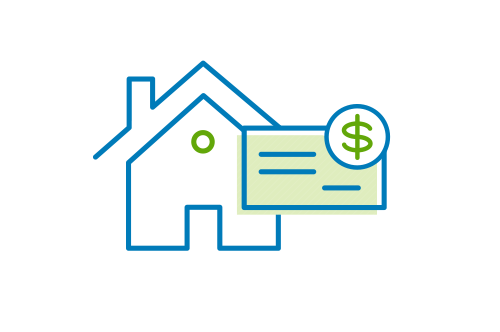 Purchasing your own property has distinct benefits over renting. These are some of the pros of home ownership:
You can build equity in your home with every mortgage payment. This creates financial security as well as available cash flow for college tuition, home improvements and even travel.
A home payment remains the same over time. When you rent an apartment or home, the landlord can increase the rent each year, which can make it difficult to create a long-term budget.
However, buying a home isn't right for everyone. Keep in mind the drawbacks:
Annual property taxes. The average across the U.S. is 1.24% of your annual housing costs, according to data reported by USA Today. In some states, property taxes are close to 3%. You'll need to factor in this cost when considering home affordability. Unlike your mortgage payment, property taxes will change over time.
Utilities. While many renters have to pay for water and electric bills, homeowners are also responsible for gas, sewer, garbage collection and other fees depending on the municipality.
Maintenance. You'll need to have money set aside for both minor and major repairs.
Barriers to market entry. If you have little saved for a down payment or a low credit score, it can be difficult to obtain approval for a home loan.
The Facts on Renting
Although buying a home has long been seen as the epitome of the American dream, more and more millennials choose to rent instead of own. According to 2017 data from the Pew Research Center, about 66% of household heads who are younger than age 35 are also renters. This also applies to 41% of those ages 35 to 44.
The increasing number of renters in the U.S. is often attributed to some of these benefits:
Lower cost of living. Renters do not have to pay property taxes or homeowner's insurance. Maintenance is the landlord's responsibility. In some locations, renting a home is still cheaper than a monthly mortgage payment.
Mobility. Unlike the major commitment of owning a home, signing a one-year lease gives renters the freedom to move to a new location in just a few months.
However, adults who opt to purchase a home instead of rent often cite these reasons:
The inability to build home equity as a renter
Rapidly rising rents in many U.S. cities
Lifestyle restrictions, such as rules about unit improvements, pets, roommates or parking
Bottom Line: Rent or Buy?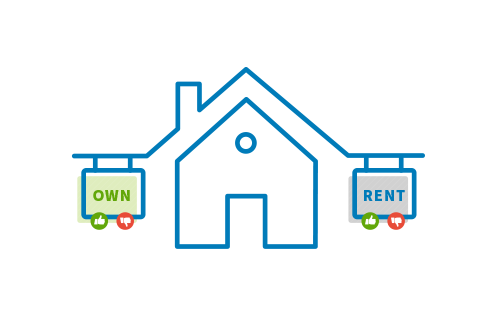 Before deciding whether you want to rent or buy, review your current financial situation. It's especially important to know where you stand when it comes to your credit score. Although some loans are available to borrowers with below-average credit, they typically carry more restrictions and higher interest rates than traditional mortgages. If your score is below 680, credit repair can help you boost your score into the range lenders like to see.
In addition to considering your credit score, you should also ask yourself these questions:
How much home can I afford? A common rule of thumb is three times your household income. If you earn $50,000 a year and you're single, you should be shopping for homes costing around $150,000. Check out properties at that price point in your desired location and see if they meet your needs.
What's my monthly housing budget? If you can afford $1,500 a month for housing, that will stretch much further in some markets than in others depending on whether you want to rent or buy. Shop around for apartments in that price range and see how they compare to the homes available.
How much money do I have in savings? For most apartments, you'll need to put down two to three months' rent as a deposit. It's a good idea to put a down payment on a home, but some mortgage loans don't require you to do so.
Do I know where I want to settle down? If you know where you want to live for the long term, it might be time to consider buying. If you see yourself as a more nomadic type for the time being, stick to signing a lease.
---
When you're ready to buy a home, CreditRepair.com can help you achieve your goal. We offer information and resources about credit repair so you can achieve your dream of being a home owner. Contact us today for a free credit evaluation.
Article Updated June 2019
 Sources: BusinessInsider | HousingWire
Learn how it works