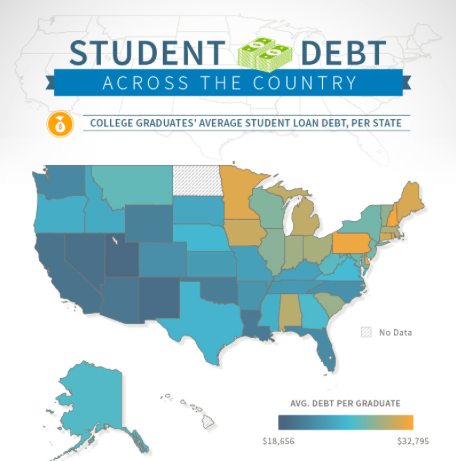 The challenge of student loan debt in America has received a lot of attention in the past two decades. This is mainly because the test of affordability for college students has remained difficult for many college graduates to manage. In recent years, the growth in college debt has stabilized and even decreased a tiny bit. About 65% of students who graduated from a four-year college in 2017 had debt from student loans. This is a slight decrease from the prior year but is still historically high. These students owed an average of $28,650, a small uptick of 1% over the 2016 average, an amount less than the rate of inflation. 
Even so, these debt levels present a tough challenge for many graduates entering the workforce or considering additional education. Whether the loans are issued by private lenders or by government entities, the amounts must be paid back and pose a burden to borrowers. A number of questions arise. Where are graduates hit the hardest by student loans? Is there an area of the country where debt levels are lower? Which institutions produce graduates with the highest level of debt? Are high debt levels at high-priced schools offset by higher starting salaries for graduates?
To provide a clearer picture of student loan debt in America, this report looked at a variety of reputable sources. These include information from the following main resources:
Throughout this report, other sources have been cited as well. The goal is to provide the most current information on college costs for graduates.
Exploring the Growth of College Costs 
One main factor driving the growth of debt for college graduates has been the increase of college tuition across the country. In most years, tuition, fees, books and other costs associated with college have increased faster than the normal inflation rates. Between 2008-2009 to 2018-2019 average college costs and fees have increased by the following amounts: $930 at public two-year colleges, $2,630 at public four-year colleges, and by $7,390 at private four-year colleges and universities. 
From this data, a few key points are worth pointing out. The average price for private four-year colleges has actually decreased relative to the costs of public universities: down from a rate of 5.1 times higher in 1988-1989 to a rate of 3.5 higher in 2018-2019. The increase in the net cost those students pay after grants and tax advantages have been calculated has decreased in recent years. 
Another factor driving costs has been the increase in enrollment over the past twenty years or so. Within this time span, though, there have been periods of enrollment decreases. Here are the most relevant and up-to-date figures:
In the year 2000, 13.2 million students enrolled in post-secondary educational institutions.

In 2017, total undergraduate enrollment figures reached 16.8 million students.

The years from 2010 to 2017 saw a decrease in enrollment by 7%.

Undergraduate enrollment is projected to increase by 3% from 2017 to 2028.
The higher demand for a college education has allowed schools to raise costs without much worry about losing enrollment. This forces many students to take out larger amounts in student loans. 
Considering Student Loan Debt Levels
In 2018, student debt levels for colleges reached an all-time high, with borrowers owing a collective debt of $1.5 trillion. The important figures in this area include the following:
42% of Americans who attended college have incurred student debt

The average debt level is between $20,000 and $25,000, and that average has increased to $28,650 for 2017 graduates

The average monthly payment for graduates is in the neighborhood of $300 a month, depending on interest rates and loan terms 
Debt levels for graduates are not evenly distributed across the country. For states that reported data, these states had the lowest debt amounts for graduates in the most recent statements:
Utah at $18,838

New Mexico at $21,237

Nevada at $22,064

Wyoming at $22,524

California at $22,785
The highest states for debt for college graduates who took out loans included 18 states with average debt loads of over $30,000. These were topped by the following states:
Connecticut at $38,510

Pennsylvania at $36,584

Rhode Island at $36,250

New Hampshire at $34,415

Delaware at $34,144
Another important factor worth looking at is the debt loads associated with particular universities. The most expensive colleges don't always correspond with the highest student debt since each institution has a different system of grants, scholarships and state tax advantages, as well as the resources of the enrolling students. In general, student debt levels are higher at private universities than they are at public schools. Of the top 100 colleges based on Forbes rankings, these colleges have graduates with the lowest debt levels:
Princeton at $9,005

Yale at $13,050

Brigham Young University at $14,998

Haverford College at $15,000

Harvard at $15,114
The ability to pay back student loan debt depends in part on the earning capability of the graduate as he or she enters the workforce. This can be determined by the type of major a student received, the geographic location of the graduate and the institution attended. A College Risk-Reward Indicator study measures a school's average level of debt against the earnings achieved by graduates of that university. Using this methodology, the top colleges are as follows:
College of the Ozarks

Princeton University

Yale University

Newman University

Webb Institute

Paul Quinn College

Harvard University

Troy University
Making the Best Credit Decisions
For graduates struggling to meet student loan debt obligations, it's important to make the best decisions possible. Repairing one's credit history is an important step to take on a path to financial health. That's where CreditRepair.com comes in. The experts work to help improve credit scores, allowing graduates to get the best rates for loans and other services.
Learn how it works