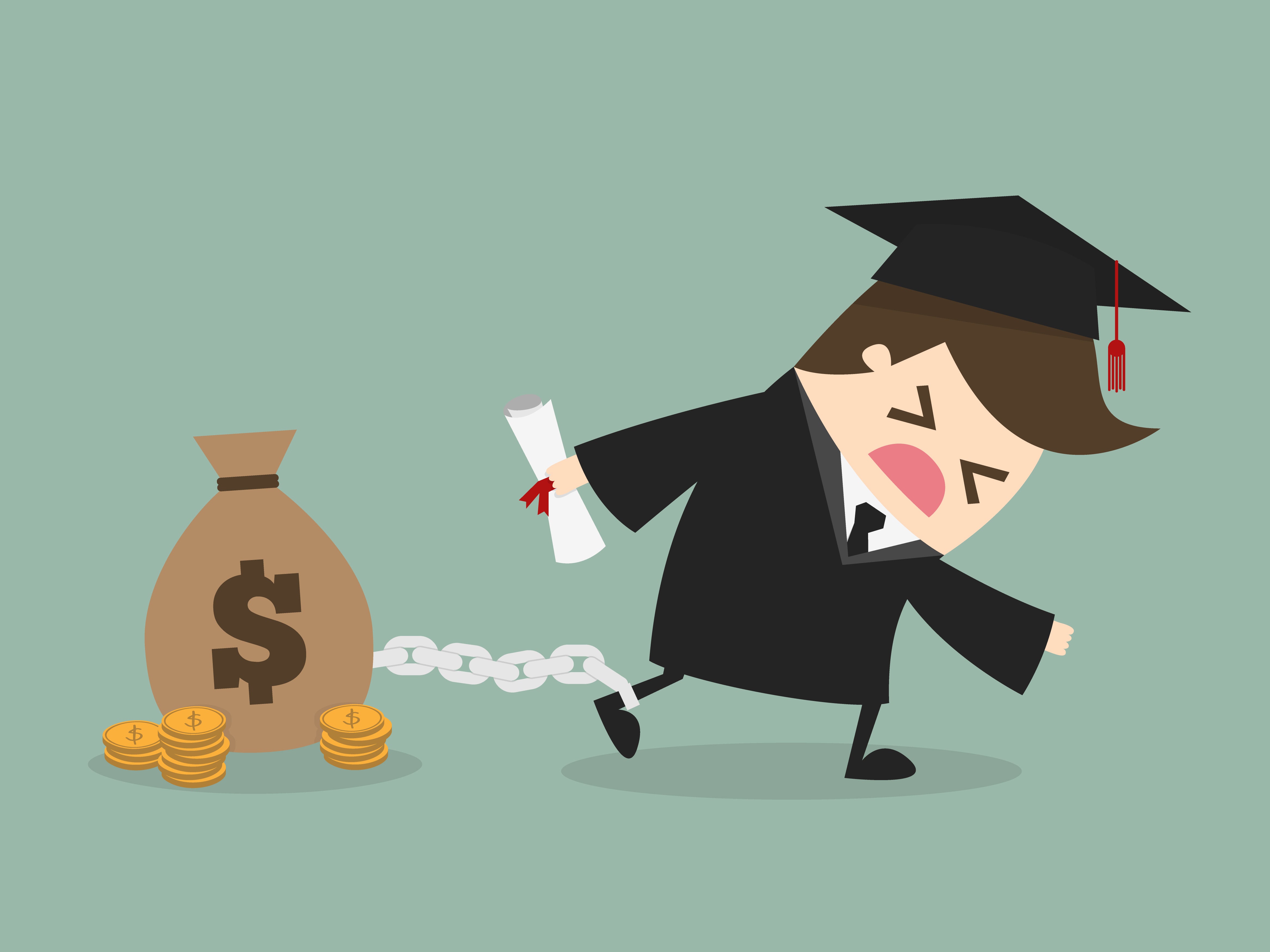 Education is invaluable — at least, that's what the American Dream would have us believe. The reality of modern-day tuition is another story. Earning a college degree was once a safety net, a surefire way to find a good job, earn a steady income, raise a family and retire comfortably. Unfortunately, times have changed. First-hand experience quickly showed me how risky a borrowed education can be, and I'm not alone. According to Experian, more than 40 million Americans rely on student loans to pay for a college, a 27.5 percent increase since 2008. In 2014, the average student graduated with $33,000 in student loan debt.
The effects of a $1 Trillion problem are significant in the U.S., threatening the national economy and the individual borrower on a daily basis. If you are among the latter, education debt can affect your financial stability and credit health long before the first payment is due. Risk factors include:
Liquid funds. Federal loans provide income-sensitive repayment terms and manageable interest rates. That said, private loans are not subject to the same regulations. Lenders like Sallie Mae are quick to offer credit to young adults, promising easy payment terms and a bright future. In reality, many private loans are saddled with high, variable interest rates, inflating minimum payment amounts and lengthening the repayment period. Bioethicist Sam Garner recently recounted his story for Slate.com, detailing how earning a bachelor's and master's degree saddled him with nearly $200,000 in student loan debt, a burden he slowly chips away at a rate of $1,500 per month.As Garner learned, the crushing effects of student loan debt can affect everything from your ability to pay for housing and utilities, finance a car, and even buy simple things like groceries. Saving for emergencies is difficult, placing you at greater risk for unpaid debts, overdue bills and long-term credit damage.
Debt-to-income ratio. Debt reduction is one of the best ways to improve your credit, but for those with high student loan balances, it's easier said than done. As interest compounds on your principal balance, so does your Debt-to-Income (DTI) ratio, or the amount of your gross income that goes toward repaying your debt. DTI won't affect your credit on its own, but as your DTI ratio creeps into the 40 percent range, lenders will view your financial state too risky to provide new lines of credit. DTI can also affect your credit utilization ratio, or the amount you owe vs. your total credit limit, a factor that accounts for 30 percent of credit scoring. The sum of these consequences means you'll have trouble finding loans for even the simplest expenses, including the option to refinance your student loans at a lower interest rate.
Risk of default. Perhaps the greatest struggle faced by indebted students is the risk of default. New grads who are unemployed, underpaid or who simply cannot meet unrealistic repayment terms are subject to lawsuits, wage garnishment, continued accruing interest and up to seven years of significant credit damage. Student loans are also exempt from discharge during bankruptcy.
Easy answers aren't available to those seeking an education, and until the collegiate system changes, students must learn to protect themselves while earning a degree. Pursue your degree cautiously by taking the following actions.
Consider earning potential and market trends. College-bound Americans are often encouraged to pursue their dreams now and worry about the consequences later. As Mr. Garner learned, this strategy is not always wise. Consider the earning potential of your desired degree based on a few factors:

Geography. The West Coast's tech presence is more likely to suit an engineer than the farmland of Montana. Consider your geographic location and willingness to relocate before choosing a major. It's also important to consider the cost of living in your city of choice. While your degree may pay well, student loans coupled with rising expenses could make things more difficult.
Availability. How will your career prospects fare in the next 20 years? Will the economy support your profession, or will you need to find work outside your field? While there are no guarantees, the Bureau of Labor Statistics' Occupational Outlook Handbook provides helpful information.
Return on Investment. The average employer is more concerned with skill than pedigree, which means you shouldn't overpay for a degree. PayScale.com and Bankrate.com provide compelling data that lists ROI based on university and degree, respectively.

Search for alternatives. There is more than one way to approach the price of education, including:

Community college. Consider attending your local community college the first year. This strategy allows you to complete core degree requirements at a fraction of the cost.
Grants and scholarships. Monetary awards are invaluable to students in need. Talk to your student advisor about available opportunities.
Financial aid. Federal financial aid isn't likely to cover the full cost of tuition, but its help is crucial to avoiding years of student loan debt. Funds are distributed on a first come, first serve basis, which means you should apply early in the year.
Work-study. Many universities offer tuition and housing discounts to student Teacher Assistants, research fellows and Resident Advisors. Talk to your counselor about the opportunity available at your school.

Consider the bigger picture. Popular opinion tells us that success exists on a timetable, and college graduation must occur by age 22. While it's important to set personal goals, don't allow faulty logic to impact your financial future. Weigh your responsibilities and resources carefully. Hastily pursuing debt will only lead to bigger problems.
The bottom line: College is valuable, but your approach to student debt is critical to overall success. Take advantage of free resources like our Student's Guide to Credit e-book and seek professional advice before taking the next step. Earning an education shouldn't threaten your livelihood.
Related Articles:
How Student Loans Affect Your Credit Score
College Student Drives for Uber to Help Pay Student Loan Debt
New Year's Resolution for Students: Graduating Without Debt
Learn how it works