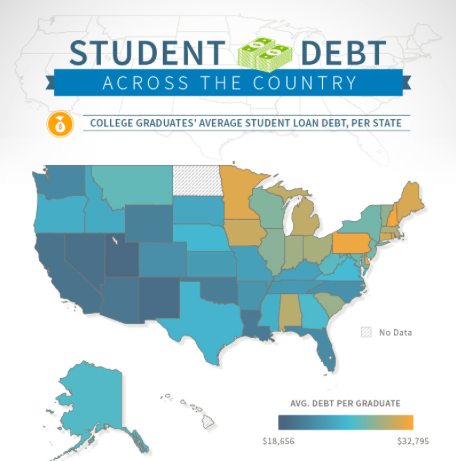 In recent years, student debt in America has reached unprecedented scale and scope: 69 percent of U.S. college graduates are saddled with debt, and the average debt per graduate peaked at $27,022 in 2014. As the cost of college has increased consistently over each of the last 11 years, students nationwide are assuming more debt to meet rising tuition costs – and confronting daunting financial burdens upon graduation.
Student loans can be issued by private lenders or government entities, but either way, debt stacks up against graduates. If students are navigating difficult financial decisions in all corners of the country, where are young people being hit hardest, and where is average debt relatively low? Which institutions produce the most and least indebted graduates, and are the most expensive schools offset by high starting salaries for their graduates? Which majors lead to jobs that pay well enough to justify the debt accrued while obtaining a degree?
We decided to address these questions by breaking down data provided by the College Scorecard and the Project on Student debt.
Methodology:
We explored data on national average debt and state average debt pulled from The Institute for College Access and Success CollegeInSight data extraction tool. In addition, we used the U.S. Department of Education's College Scorecard and analyzed universities with the highest and lowest debt. Average salary data from Payscale was used to compare average salaries for different universities and majors.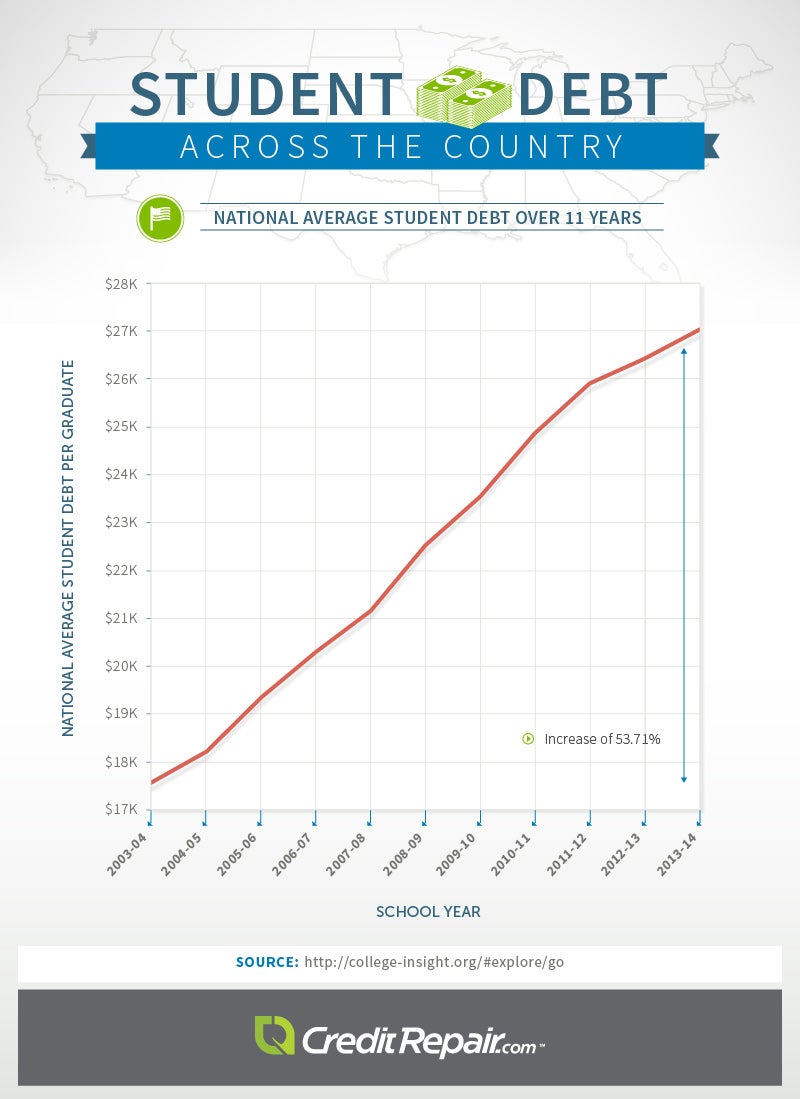 Since 2003, the national average student debt has increased by more than 53 percent. This can be attributed to an array of causes. Between the 2009-10 and the 2014-15 school year, the average in-state tuition and fees for public four-year universities increased by 17 percent more than inflation rates. Although the cost of higher education is rising, college enrollment has also increased; between 2006 and 2011, enrollment grew by 3.2 million. Due to such demand for a college degree, universities are able to raise costs without fears of losing enrollment, pushing students to turn to loans to fund their collegiate endeavors.
To break down the national average debt, you have to examine how the states contribute. We determined the average debt of graduates for the 2013-14 year from each state to see how they fared.
The Northeast dominates our top 10 list of states home to the highest average graduate debt. The first three states on the list – New Hampshire, Delaware, and Pennsylvania – are almost double the least indebted state, Utah, and above the national average of $27,022. The rest of the country tends to fall just at or below the national average student debt for the 2013-14 school year.
While average debt figures include outlier individuals whose student debt is particularly massive, median debt metrics are perhaps more representative of typical debt burdens. Over time, females may carry a higher burden of debt than males. Compared with men who hold a bachelor's degree, women with the same level of degree make 75 percent of male median weekly earnings. In the immediate future, the small difference in debt may not matter much, but over time that small gap increases the amount of money women will eventually owe.
So where are these students graduating from?

Here we explored the median graduate debt of public and private not-for-profit schools with at least 2,000 students enrolled. On the list with the lowest median debt, the majority of schools are community colleges. Graduates from these schools are escaping with degrees and significantly less debt than the majority of their peers across the nation.
Interestingly enough, the majority of schools with the highest median debts are located in the South, even though the Northeast comprises most of our highest state-average debt list.
Students at Benedict College, a small private school in South Carolina, pay around $18,000 a year in tuition and fees. While this may pale in comparison to many other universities around the country, graduates from this school have a median debt of almost $45,000: well above the national average. The remaining graduates from schools on the list fall below $40,000 of median debt.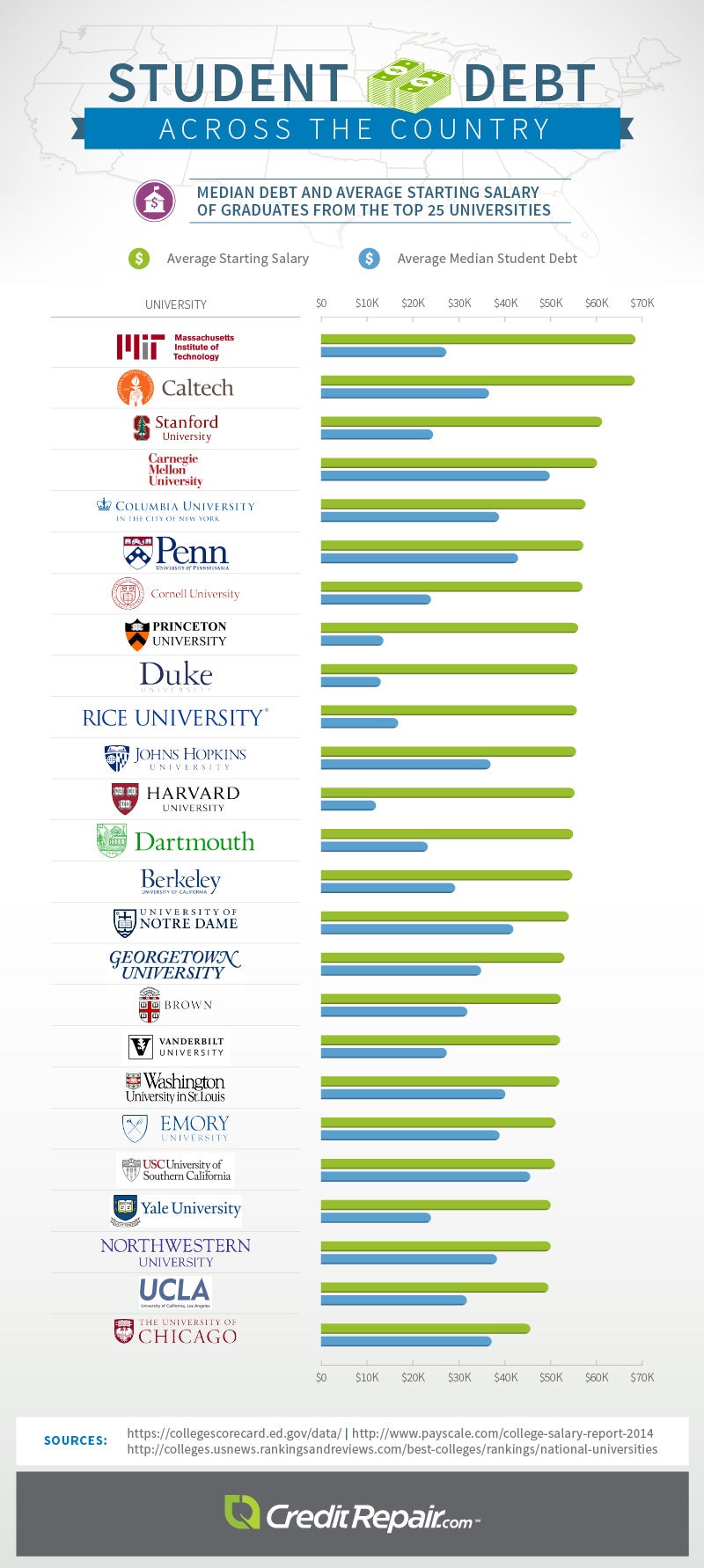 Attending prestigious colleges can cause students to quickly rack up debt. But is a degree from one of these universities worth it? For each of the top 25 universities, as ranked by U.S. News & World Report, graduates are earning salaries that will position them to pay down their debt gradually, though the average debt assumed by students of each school differs dramatically.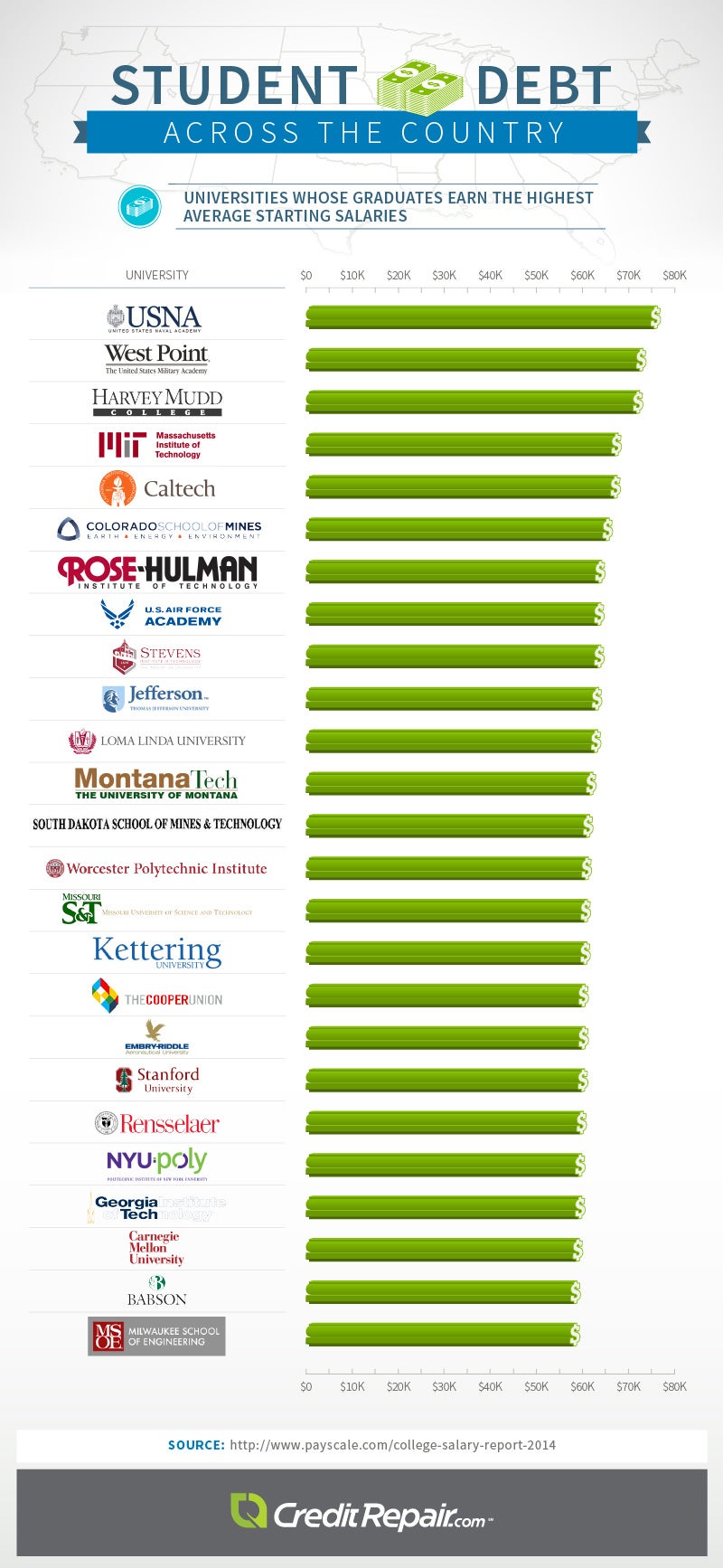 While a few of the top-ranked universities from above make the list of highest starting salaries, graduates from other universities show up here. The first two slots, filled by the United States Military and Naval Academies, require intense application processes but offer free tuition and room and board to students in return for five years of service.
The rest of the schools on this list specialize in science, technology, engineering, and math, which, as you can see below, are majors that enjoy the highest average starting salaries.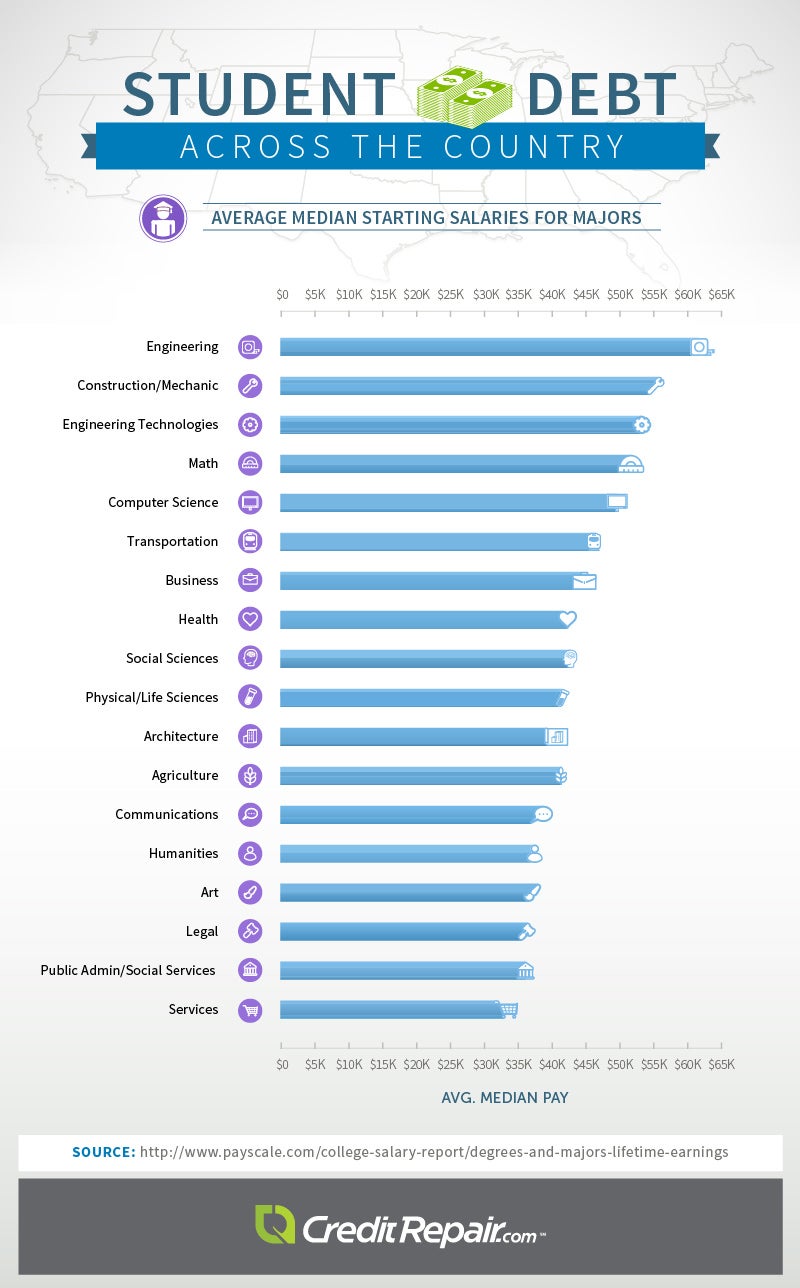 What you want to study can heavily influence where you want to go to school. While attending certain universities has been proven to pay off, bachelor's degrees in particular majors can also have a high return for new graduates.
Just as many of the highest average starting salaries came from STEM schools, STEM study areas take the top on our highest median starting salary list (categorized by major). Even though these majors seem to draw the highest median starting salaries, more students are electing business, health care, and social sciences majors.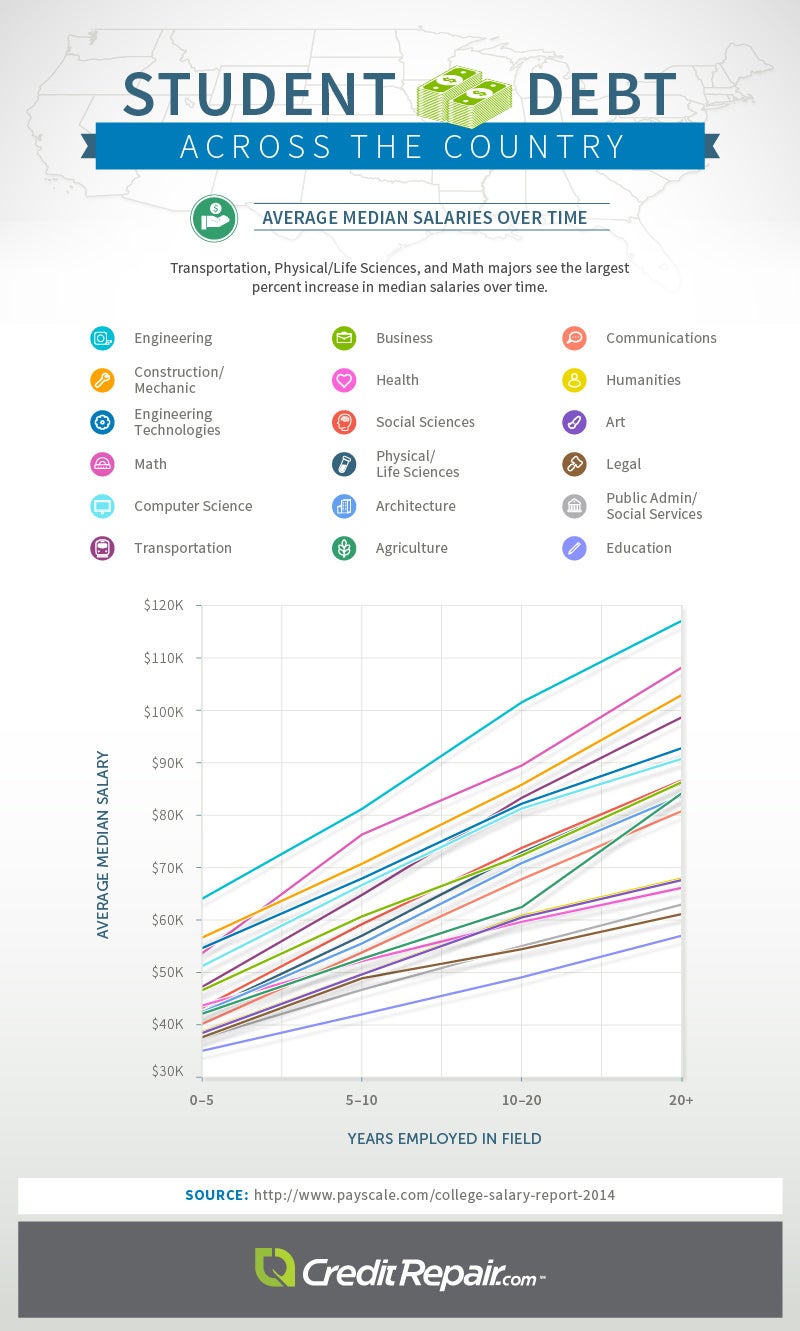 Starting salaries are one thing; but over the course of a career, which bachelor's degrees are paying back and helping pay off those student loans? As you can see, within each field, as experience increases, so does pay. Most majors see a proportionate and steady increase in pay over time.
Conclusion:
Even though many graduates carry the heavy burden of debt straight out of college, 88 percent of millennials think college has or will eventually pay off. But the steadily increasing cost of college and student debt weighs down each graduating class more and more. For more information on student debt and credit, download our free e-book, Student's Guide to Credit. 
Fair use:
Feel free to share the images found on this page. While doing so, we ask that you please attribute the authors of this project by providing your readers with a link back to this page. Doing so will allow readers to learn more about the research and methodology behind the project.