Disclosure regarding our editorial content standards.
A company may be a credit repair scam if they guarantee results, ask you to lie on applications, demand up-front payments and don't explain your legal rights.
Credit repair services are meant to help people review and fix their credit and learn healthy credit habits. Unfortunately, the credit repair industry is full of scams that take advantage of consumers' money and information.
Below, we'll help you spot the warning signs of a credit repair scam. Not all credit repair agencies are problematic, so we'll also help you understand how to find a quality credit repair service and get the help you need.
What is a credit repair scam?
A credit repair scam is a company that sells you a false promise to erase your bad credit. In reality, these companies take your money, don't help improve your credit and then disappear, leaving you to pick up the pieces.
It's important to note that not all credit repair companies are scams. Companies must follow industry regulations put forth by the Credit Repair Organizations Act (CROA).
The CROA is a federal law that protects consumers by defining what agencies can and can't legally do when providing credit repair services. Companies that do not follow the CROA regulations are considered an illegitimate business.
If a company offers you a too-good-to-be-true promise about fixing your credit scIf a company offers you a too-good-to-be-true promise about fixing your credit score, it's likely exactly that—too good to be true. Improving your credit won't happen overnight. Instead, building up your credit will require time and a commitment to healthy credit habits.
Credit repair scam warning signs
There are some common—and clear—warning signs of credit repair scams you should watch out for.
They make guarantees about improving your credit score
It's illegal for a credit repair company to tell you they can guarantee repair results.
Ultimately, no company can promise this because these companies have no control over your credit. Instead, your credit is determined by private companies called credit bureaus that collect information from banks, mortgage companies and other creditors.
Sometimes, a credit repair scam will go so far as to promise you a "new credit identity." This illegal approach can get both you and the agency in trouble.
Watch out for:
Credit repair companies that promise results
Credit repair companies that suggest setting up a new Social Security number to "start fresh"
They avoid explaining what you're legally entitled to
Under the CROA, credit repair companies are required to give you a written contract that spells out the services it will perform, what you'll pay and how long it will take to get results. Be sure to ask for a contract and read it carefully before signing.
All agencies must make it clear to you that you can perform the offered services yourself. Under the Fair Credit Reporting Act (FCRA), consumers can access their own credit reports, review them and file disputes.
You don't technically need a credit repair agency for these steps—although they can take some of the burden off of your shoulders. Another critical legal right is that you can cancel a credit repair contract with a credit repair company within three days of signing, for any reason.
Knowing your legal rights helps you understand what you're getting into, what you're paying for and what you can expect.
If you're about to sign with a credit repair agency and at no point do they go over your legal rights, this is a clear sign to walk out the door.
Watch out for:
Companies that are secretive about their methods
They tell you not to contact credit reporting agencies
Credit repair agencies shouldn't be discouraging you from contacting credit reporting agencies. Their concern here is that you may try to do the work yourself, be successful and not have to pay them for their services.
A good credit repair agency won't have an issue with you trying to learn and fix the problem yourself because they genuinely want your credit to improve—regardless of who fixes the problem.
Watch out for:
Companies that ask you not to contact credit report agencies on your own behalf
They tell you to dispute accurate information in your report
Credit repair scams might also ask you to dispute all of the information in your report—even if the information is correct.
The angle here is that the scammy company wants you to overwhelm the credit bureaus with false disputes in the hopes that the bureaus will be too buried in paperwork to investigate the dispute in depth.
While this tactic is not illegal, consumers rarely win when disputing accurate information.
You should, however, dispute inaccurate information that shows up within your report or dispute negative information that came from identity theft.
Watch out for:
Companies that ask you to dispute accurate information in your credit report
How can credit repair scams be prevented?
If you run across a credit repair company that shows any of the warning signs mentioned above, you should probably avoid that company altogether.
When considering credit repair companies, you can verify their legitimacy by:
Looking at reviews online
Contacting your state attorney general's office and the Federal Trade Commission (FTC) to see if the agency has any existing complaints against it
Searching its name within the Consumer Financial Protection Bureau's website, which offers a database of complaints
When searching for a reputable credit repair company, keep in mind the business practices that are prohibited by the CROA.
Credit repair companies cannot:
Make misleading or untrue claims about the results of their services
Make false statements about a consumer's credit profile to credit reporting agencies or encourage consumers to lie about their own credit profile to credit reporting agencies
Ask for advance fees for services not yet completed
Practice any fraudulent activities
Suggest or attempt to alter the consumer's identity to improve or refresh their credit profile
Be banks, credit unions or credit card issuers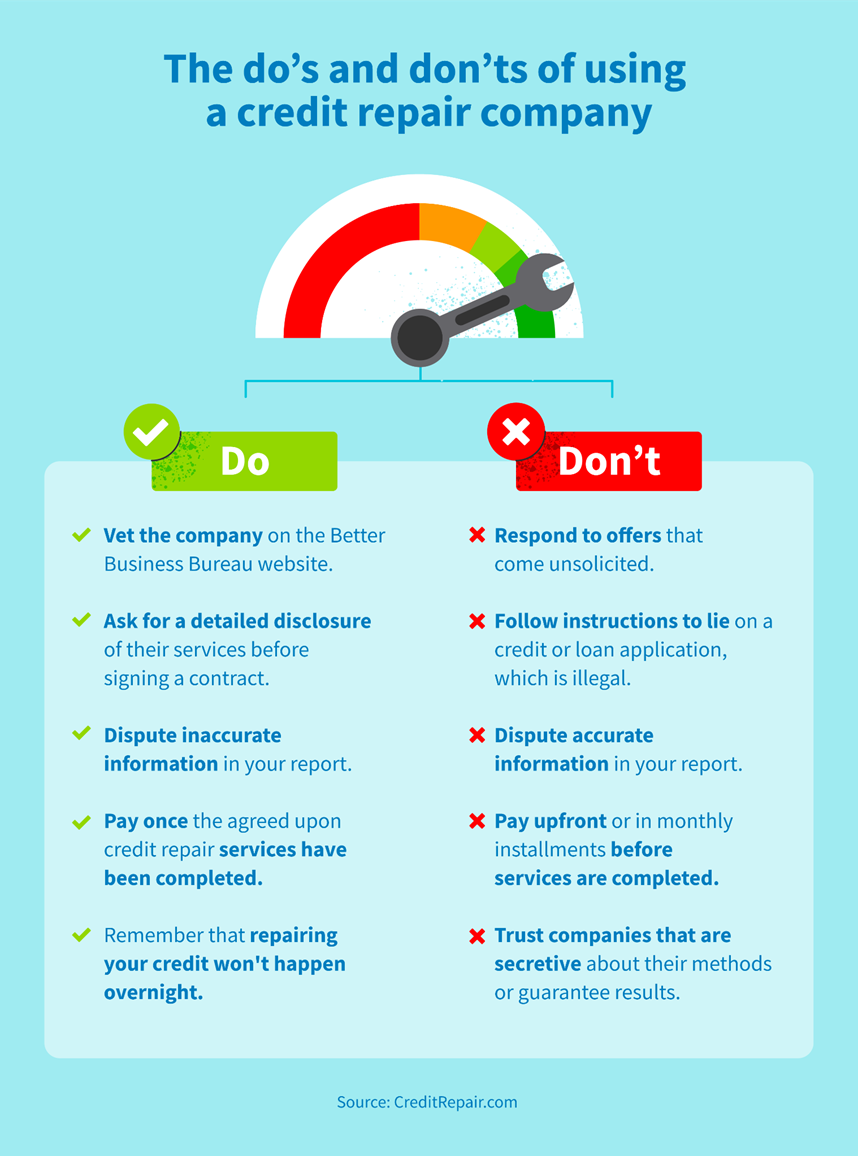 Common credit repair scams
There are a number of tactics companies use to carry out credit repair scams. Here are some of the most common.
File segregation: This scheme promises to hide unfavorable credit information by establishing a new credit identity. However, this is illegal and can result in fines or prison time.
Credit by phone: Another credit repair scam advertises guaranteed credit or cash loans that are only a $50 phone call away. Instead, the caller receives a list of banks offering low-interest credit cards or a brochure on how to establish credit.
Credit privacy numbers: A credit privacy number (CPN) is a fake Social Security number created by scammers. These are often created from someone else's SSN and can result in identity theft.
Credit piggybacking: With this scheme, consumers pay to be added as an authorized user on a credit card account belonging to someone with a higher credit score. However, the consumer is an authorized user in name only and does not have actual access to the account or line of credit.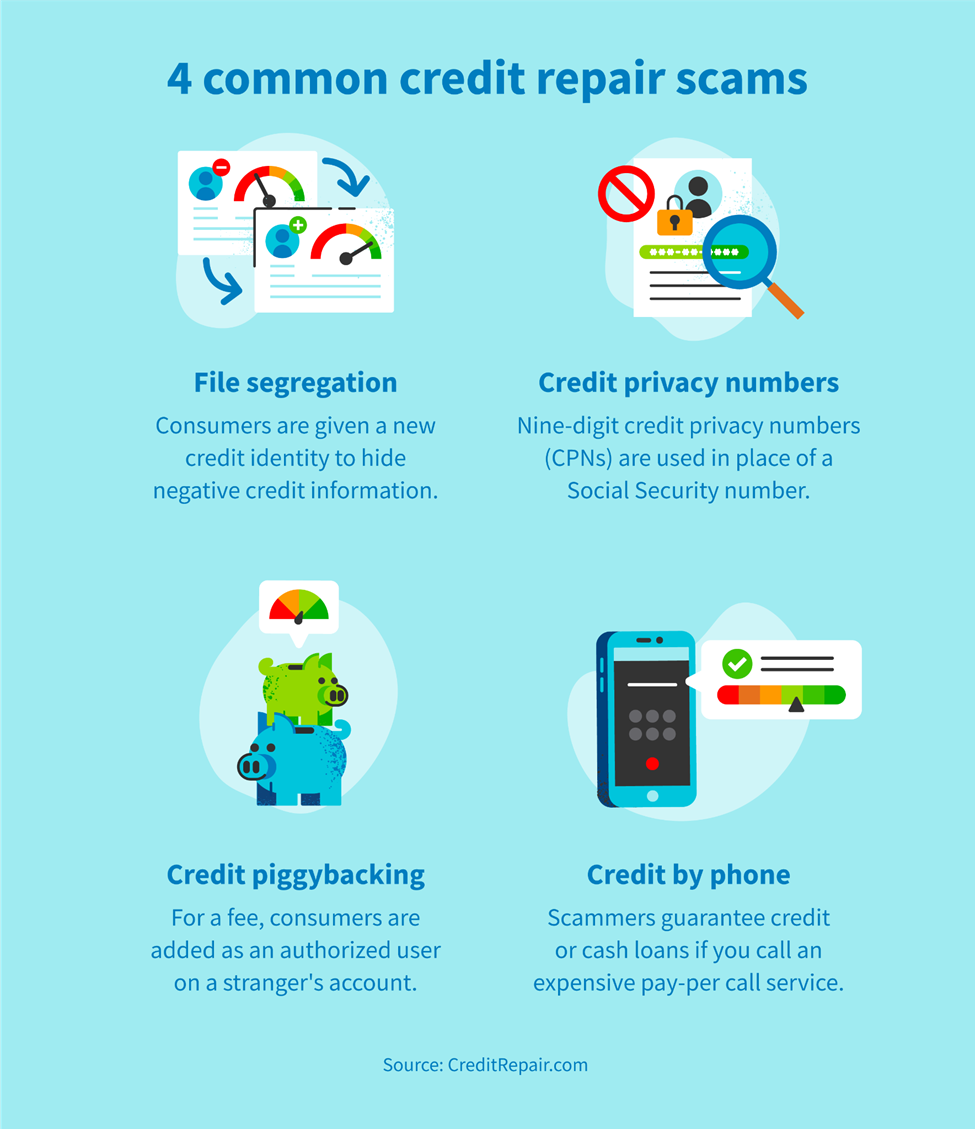 What to do if you're scammed
If you become the victim of a credit repair scam, begin repairing the damage as soon as you can. You can follow the steps below to begin reporting the scam to the authorities.
Report the organization to your state attorney general.
File a complaint with the Federal Trade Commission and the Better Business Bureau.
Consider hiring an attorney if you wish to pursue legal action against the company that scammed you.
What can a credit repair company do for me?
The right credit repair company can help you in two ways: by being with you every step of the way and by offering its expertise.
They can save you time. You may not want to spend hours combing through all your credit reports to look for discrepancies. A credit reporting agency will do this work for you so you can concentrate on other priorities in your life.
They can improve your chance of winning a dispute. If you do have a legitimate dispute to file, the credit repair agency can make sure it's filed well. These agencies file disputes every day and know what information the credit reporting bureaus need to consider a dispute. Making an error on your dispute can only delay the whole process and the improvements to your credit.
How to find a legitimate credit repair company
Unfortunately, there are companies out there that are looking to take advantage of your money and your identity for their illegal schemes.
On the bright side, there are also companies whose sole mission is to help you rebuild your credit and reach the money milestones you dream about.
CreditRepair.com is a reputable agency with over a decade of years of experience. Our team can help you review and dispute items on your credit report so your credit profile is an accurate representation of your financial history.
If you're ready to get the professional assistance you deserve—reach out to us today.
---
Note: The information provided on CreditRepair.com does not, and is not intended to, act as legal, financial or credit advice; instead, it is for general informational purposes only.
Learn how it works