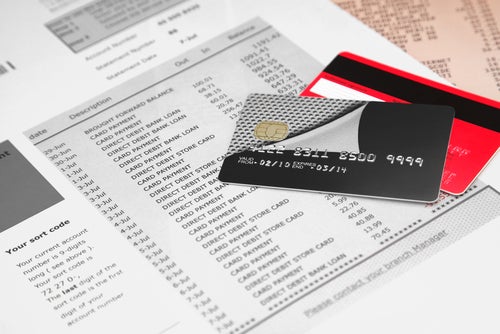 While chips have been recently added to American credit cards, there are still opportunities for thieves to steal your credit card information and fraudulently charge your credit card. Cards are not as secure as they could be. In addition, thieves don't need to hack into your magnetic stripe or pin number if they just use pen and paper: if your card information is stolen, all that is needed to charge goods and services online are the number, expiration date and the CVV number.
Ways You Can be Subject To Credit Card Identity Theft
Generally, holidays are the time when people use credit cards the most during the year, and every time you use your card, you open yourself to risk:
Restaurants and bars: Despite new chips in credit cards, they will still have magnetic stripes and consumers will not be required to enter a pin to authorize transactions. The magnetic stripe holds all the information you need to use a card fraudulently. If your card is out of sight when the waiter, waitress or bartender takes your card to go charge it, who knows what is being done with it. Skimmers, little devices no bigger than an ice cube, or disguised as a cell phone, can read the magnetic strip on the back of your card. In other countries' restaurants, a credit card processor is taken to the table, and your card is run right out in front of you. It might be a good idea for local establishments to follow suit. Until the magnetic stripe is replaced on your credit card, your card will not be totally secure. U.S. banks have plans to do away with the mag stripes eventually.
Malware on your computer: If a website with compromised security has malware (a malicious program) installed on it, this malware can be downloaded to the browsers which access the site. This malware can then install itself on your computer and read what you type into your computer, and access sensitive information. The other popular way to install malware is through phishing. In phishing, malware comes in the form of email attachments from familiar senders. Once you click on that attachment, the malware is installed on your laptop or computer. If a piece of software like this gets installed – you could be sending your credit card information. Thieves can also gain access to other sensitive identifying information and use it to steal your identity.
Malware on your phone: If you're like an increasing number of Americans, you use your phone to shop online. If you own an Android phone, malware is rampant. Even downloading apps from the Google Play store, the supposed trusted source, is no guarantee that the new app you're downloading is free of malicious code. iPhones fare no better; malware can be installed on devices without "jail breaking" (reducing factory security settings to install software). Many iPhone apps were discovered last year to be infected that resided on the Apple App store. You could be sending your credit card information to thieves unknowingly if your phone is infected with malware.
Dumpster diving: Gone are the days that thieves could retrieve your credit card information by digging old carbon copies out of the trash. However, your credit card statements are a wealth of information. Make sure you keep your statements in a safe place and use a shredder when you want to dispose of them. Even if thieves can't get to your CVV number or expiration date, they may be able to contact your banks and get additional cards sent to them. And some websites do not require the CVV number. With only a little effort, thieves can easily guess your credit card expiration date.
The bottom line here is that if you've exposed your credit card or information at all to the outside world, you need to be alert.
What Monitoring Program is Best For Me?
There are several ways to ensure the safety of your credit card information and protect you from identity theft.
The best program starts at home for no money.
Review your credit card statements carefully each month – fraudulent activity from the holidays will only just be showing up right now. If you act quickly, you are not liable for fraudulent charges.
Once you find a mistake, you only have 60 days to report the error or fraudulent charge per the Fair Credit Billing Act. Technically, the Fair Credit Billing Act requires you to dispute a charge in writing, but most credit card issuers will accept your dispute over the phone. Once the creditor has received your dispute, they have two billing cycles or 90 days to correct the bill and credit any finance charges, late fees or other fees that were charged.
Should a bank decide that there was no error, you then have 10 days to make the payment or re-dispute the error. After this 10-day period, banks have the right collect the money disputed and even use a bill collector.
As part of your self-monitoring, you should also pull your credit reports should you suspect credit card fraud. If your credit card has been compromised, thieves might have been able to steal your entire identity and been able to get new credit in your name, so if you find fraudulent charges, you should immediately pull your credit report. You can see current copies of your credit report from all three credit bureaus at annualcreditreport.com, as part of your rights under the Fair Credit Reporting Act.
Free credit monitoring
There are places to get credit monitoring for free. Credit Karma and Credit Sesame offer you a free monitoring service on your credit reports from TransUnion and Experian, respectively. Via email, they will alert you of new items on your credit report or changes in your credit score. Many data breaches occurred last year, and as the most common remedy, the breached data companies bought free credit monitoring packages for wronged consumers whose information was stolen, so check to see if you qualify for one of those programs.
If you sign up for CreditRepair.com credit repair services, you will receive free credit monitoring services as well.
Beware of paying for credit monitoring.
All of the credit reporting agencies, Experian, Equifax and Transunion, offer a credit monitoring program which promises to notify you if anything new is placed on your credit report, particularly a new account, late payments or significant changes in your credit score. In addition, other places, such as LifeLock and myFico.com may offer you a similar plan. Even Costco has a credit monitoring option. Are these worth it? Not really, unless you want to keep an eagle eye on your credit standings daily or monthly. Programs vary in cost from $100/year to $50/month. Self monitoring or free monitoring are adequate to protect yourself. If you do go the paid route, make sure you do your homework and know what you are getting.
Summary
If you are in the middle of repairing or restoring your credit, credit monitoring may be a good way to track your progress. However, you have other free options that will do as well or even better than a paid option. At a minimum, you should be self-monitoring your credit statements each month and pulling your credit reports once per year.
Related Articles:
Protecting Yourself from Credit Card Theft
Credit Card Monitoring Apps and Websites
Staying Safe Out There — Best Practices for Preventing Identity Theft
Learn how it works