Disclosure regarding our editorial content standards.
Credit monitoring is a service that keeps an extra eye on your credit activity. It helps track any suspicious developments and points out any red flags. It's a safeguard that can keep track of your activity with any or all of the three major credit bureaus (Equifax®, Experian® and TransUnion®). While credit monitoring shouldn't be an excuse for not keeping tabs on your own credit, it can provide you with extra peace of mind, especially if you've dealt with a breach or other compromising activity in the past.
What Does Credit Monitoring Do?
Credit monitoring provides an extra layer of protection that can help you keep a pulse on your credit health. Each major bureau has its own credit monitoring service, and there are other services you can sign up for online, both free and paid. Many banks and credit card lenders provide credit monitoring services when you sign up.

When you sign up for credit monitoring, you'll typically be notified of the following:
Any time a company looks at your credit history, which is known as a hard inquiry
If a new credit card account or loan is opened under your name
If a payment is noted as late on your report by your creditor or a collection agency
Whenever your address, name, phone number or other personal information changes
If you have a credit limit change, whether it's an increase or a decrease
If a bankruptcy is filed
The three major credit bureaus offer their own monitoring services, and numerous banks and third-party providers are available as well. With various price points and levels of service, it will primarily depend on what you need and your financial standing, which can be easily discussed if you're not sure where to start. If you have young children or authorized users on your card, you can use credit monitoring to keep an extra eye on what's happening on your credit account.
When it comes to keeping your family safe, credit monitoring can help add an extra level of security to your child's credit report, especially if they aren't old enough to monitor it themselves yet. Monitoring services can help you keep an eye on any unauthorized changes, hard inquiries or attempts to use your child's identity.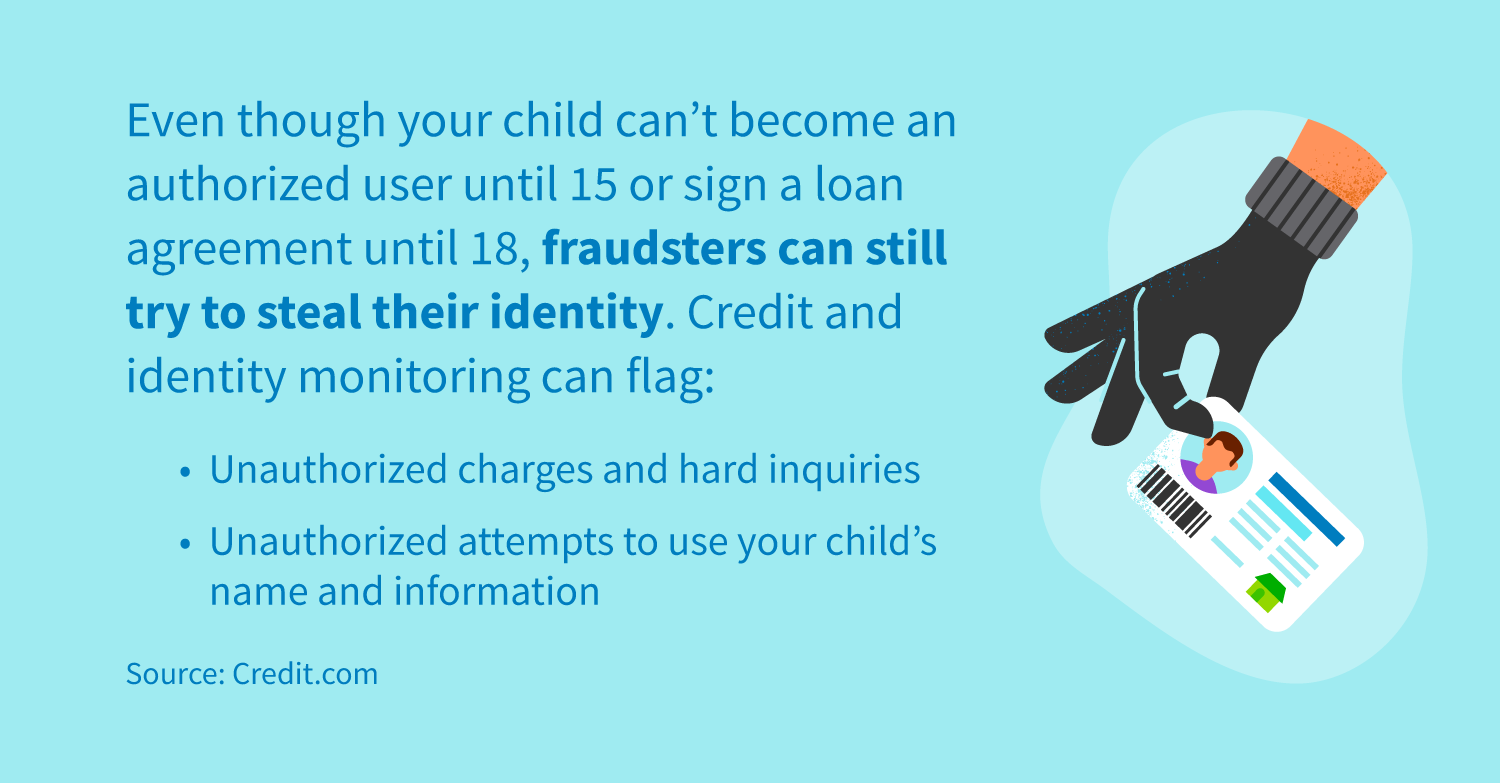 What Credit Monitoring Doesn't Do
We wish credit monitoring was the key to glittering financial health, but unfortunately, there are some things it can't and doesn't do. First, it's worth noting that some monitoring services don't keep tabs on activity with all three major bureaus. If you want the most holistic coverage, shop around to see what various services provide.
It's also worth noting the frequency of the monitoring. While some services check your report daily, others check in less frequently, like on a weekly or monthly basis. This is important to keep in mind before signing up—if you feel you need more stringent monitoring, it may be best to pick a service that opts for more regular check-ins.
Since credit monitoring only keeps track of what's happening on your credit report, there are some things that can be missed, particularly when it comes to identity theft. This is why it's important to keep track of your finances and credit health, but there are also other measures to keep you safe, like signing up for identity theft protection.
Credit Monitoring vs. Identity Theft Protection
Keeping an eye on your credit activity is important for preventing identity theft, but unfortunately, not all instances of identity theft involve your credit report. Also known as "identity monitoring," identity theft protection keeps an eye on your personal information and flags when it's used suspiciously. Your bank account, Social Security number, passport, driver's license number or medical ID, for example, don't normally show up or impact your credit report, so if anything fishy happens with them, credit monitoring won't do much to help you there. 
Depending on which provider you choose, identity monitoring may be able to let you know when your personal information shows up in any of the following:
Suspicious websites or sites known for illegal activity, such as trading stolen identifying information
Financial requests, such as payday loan applications or requests to cash checks
Mentions on social media
Court documents and/or records of arrest
Address change requests
New orders for cable, wireless or utility services
Just like credit monitoring, identity theft monitoring isn't foolproof. The service you choose is only as good as the provider you sign up for, and not all providers use the same resources to check for potential identity theft. Not all of them check with the same frequency either, just like credit monitoring services.
When you shop around for identity monitoring, ask about what kinds of information they check, how regularly they do so and which of the red flags mentioned above they check for.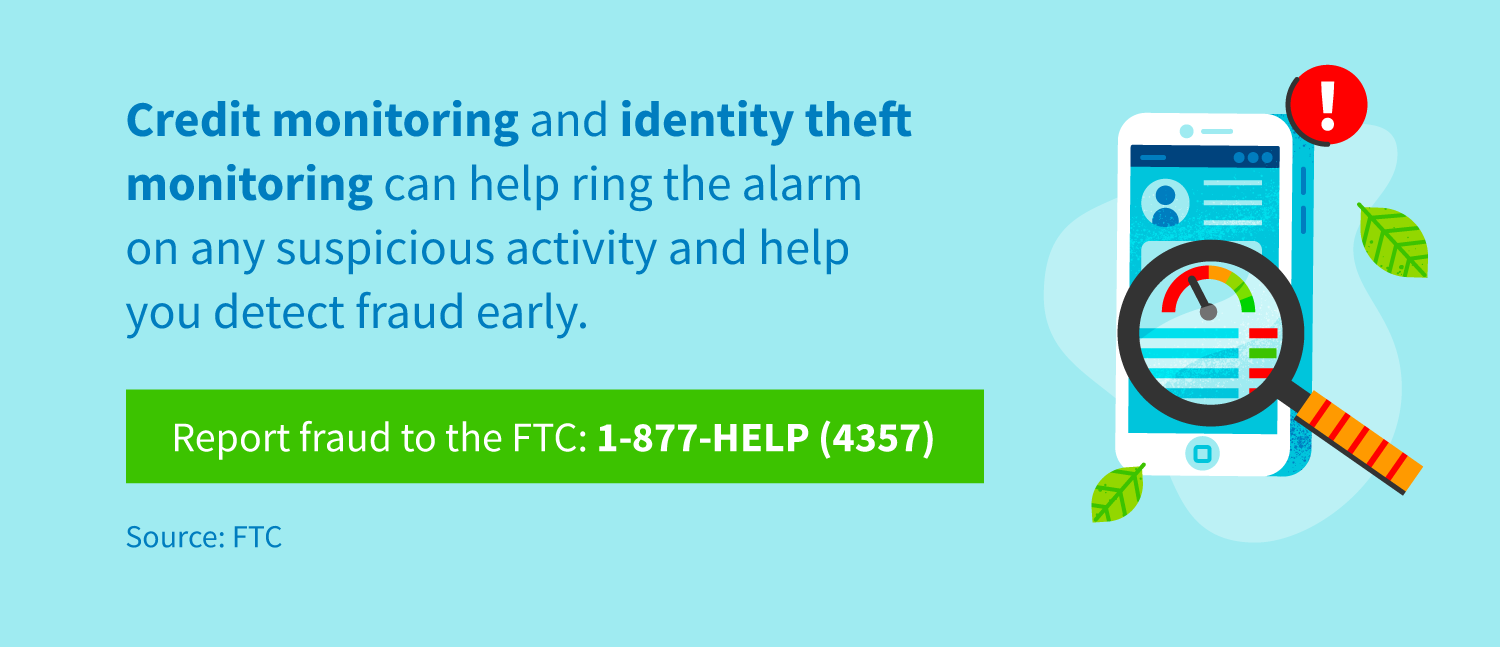 Is Credit Monitoring Worth It?
Whether credit monitoring is worth it or not is completely up to you. If you feel like you need a little extra protection or you're just starting out with your credit journey, it can be helpful to have an extra set of eyes on your side. Or if you were a victim of one of the high-profile data breaches of the last decade and you needed to freeze your credit, credit and identity monitoring could also be good for you. In fact, you may even be eligible for free services:
If you're still unsure if credit monitoring is right for you, there are professionals who can help you decide based on your credit history, family finances and planned money moves. And to learn more about your credit and credit repair services, CreditRepair.com is always here to help.
Learn how it works