Disclosure regarding our editorial content standards.
If you need to pay for a major expense but you have bad credit, a home equity loan—also referred to as a second mortgage—could be worth considering.
A home equity loan (HEL) allows you to take out a large sum of cash from your home. Similarly, a home equity line of credit (HELOC) is where a lender sets aside an amount of money that you can borrow when needed. A lender uses your home as a guarantee for both options, so an excellent credit score isn't required to get approved.
Learn more about how to get a home equity loan even with a bad credit score and whether it's right for you.
How to secure a home equity loan
Apply for a home equity loan with many lenders to compare costs, interest rates and loan agreements. There are various places you can look, such as a broker, loan originator, bank or credit union.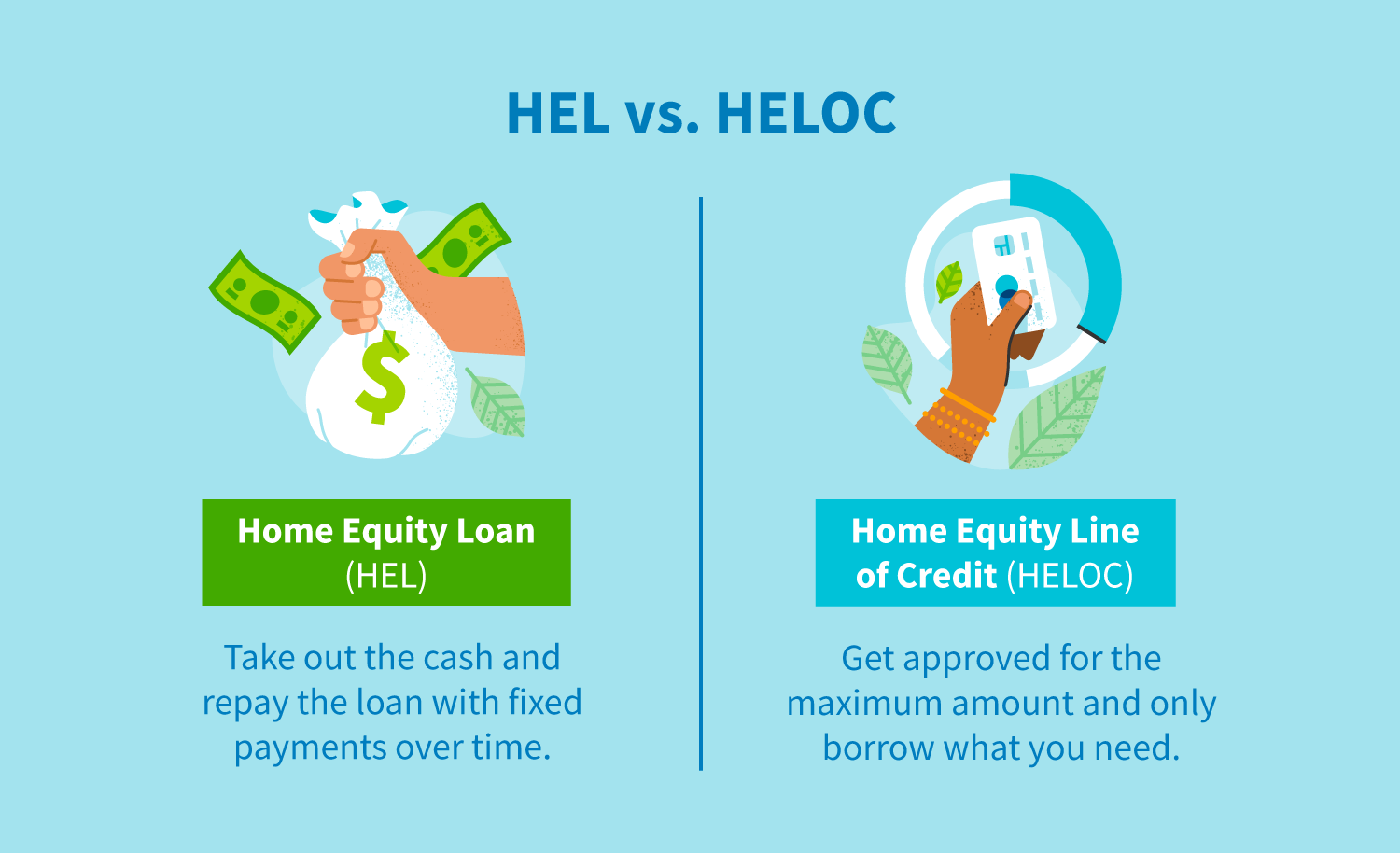 Lenders will do their due diligence before making their decision on your approval. Here are some things you can do to determine generally how likely you are to get approved:
Check your credit score: As we mentioned earlier, it's possible to get a home equity loan with bad credit. A FICO credit score of 620 is typically as low as lenders are willing to go, but other factors can help you override that.
Understand your home's value: Use online valuation tools, evaluate comparative properties or hire a professional appraiser to understand your home's value. Then, compare that to how much you owe.
Calculate your debt-to-income ratio: Lenders use your debt-to-income (DTI) ratio to determine your ability to manage monthly loan repayments to pay back the money you've borrowed. Keeping your DTI ratio under 43 percent is ideal.
Consider alternatives: Are there better ways for you to settle your debt? Consider a debt settlement company, credit counseling or a shared appreciation agreement.
How much home equity can you borrow?
Home equity is the difference between the current value of your house and what you owe on your mortgage. It takes most homeowners years to accumulate equity, but a dramatic rise in real estate values in your area can contribute to more equity earlier on.
Many factors come into play when a lender considers you for a home equity loan, including your loan-to-value (LTV) ratio.
Your LTV is the amount of a loan you're requesting compared to the market value of your property. For example, if you owe $300,000 on your home, which has a market value of $500,000, you own $200,000 in equity on your home and your LTV ratio is 60 percent. And say a lender allows you to borrow 80 percent of your LTV ratio. By following our equation below, you can borrow $100,000 on your home.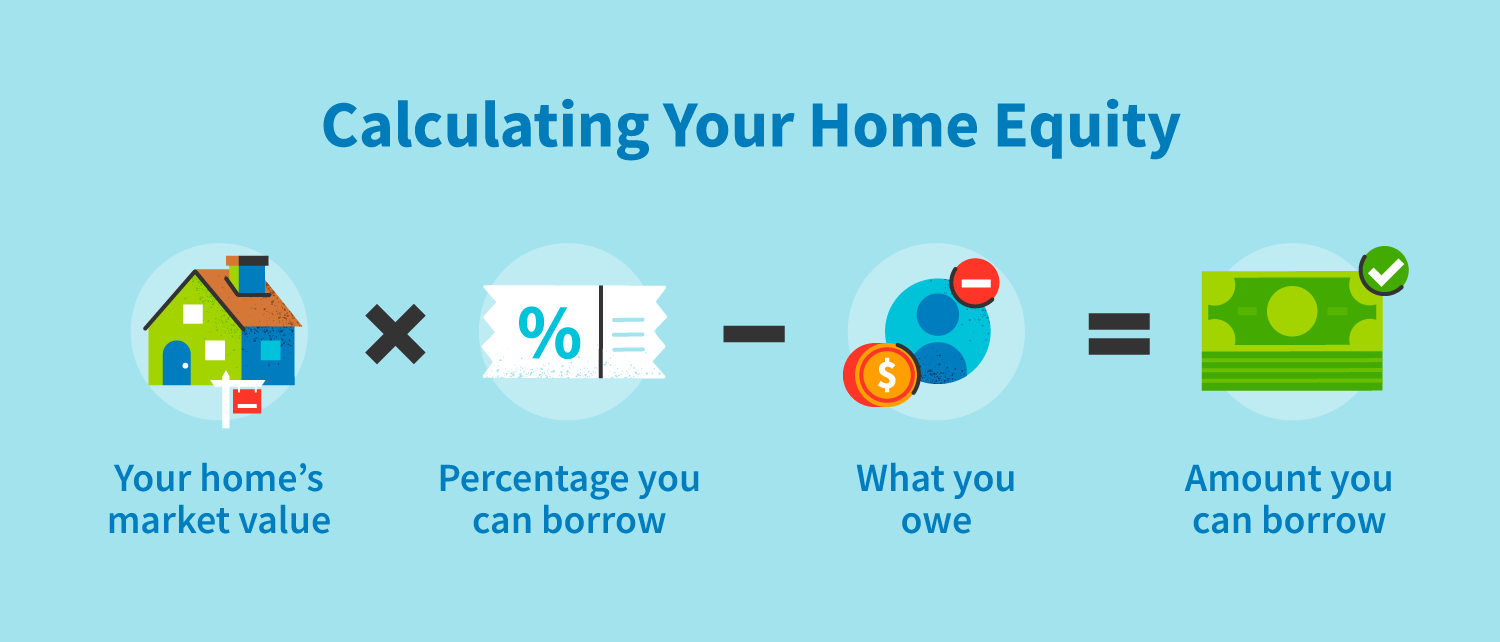 What are the pros and cons of a home equity loan?
There's a lot to consider when deciding if a home equity loan is the right choice for you. Consider the advantages and disadvantages of taking home equity out on your home before applying.
Advantages of a home equity loan
There are many advantages to taking out a home equity loan, especially if you're using it to improve your home.
Tax deduction: According to the IRS, you can claim a tax deduction if you use your home equity loan to "buy, build or substantially improve your home."
Higher chance of approval: A bad credit score can make it hard to be approved for credit, but if lenders have a guarantee on your home, they're more likely to approve you.
Large sum of money: Depending on the amount of equity you have in your home, you may be able to take advantage of a large sum of cash. However, know that some lenders cover your closing costs as a part of your contract.
Drawbacks of a home equity loan 
It might be enticing to take out a home equity loan, but remember that you will pay interest back on the amount of money you borrowed. So as a rule of thumb, only take out as much as you need.
Additional fees: Know that the interest rate you pay back on your loan might not be the only cost involved in taking out home equity. You may endure loan processing fees and closing costs, so make sure to ask up front.
High interest rates: Your bad credit will inform lenders that you're at high risk, so it's likely that you'll see high interest rates, which means a higher cost of borrowing altogether.
Risking your home: There's a reason that HELs and HELOCs involve providing lenders with a guarantee on your home—it's your collateral. If you default on your loan, you could face foreclosure.
Equally weigh the advantages and drawbacks before making a decision.
Although having bad credit can make it more difficult to qualify for a loan, you might have a better chance with a home equity loan. Do your research on all of your options and alternatives before making your decision on how you'll get a loan.
Even if you're dealing with a low credit score, know that it's not set in stone. You can always improve your credit score by reducing your debt, paying on time and keeping your credit utilization below 30 percent. The more you can improve your credit score, the better chance you have of getting a lower interest rate on your home equity loan.
Learn how it works