Disclosure regarding our editorial content standards.
In the world of personal finance, one oft-overlooked professional service is the personal financial planner or advisor. Many people don't think they have enough money to hire a financial planner; they may think that such services are only for rich people. Others may believe that financial advisors are good only when you are looking to invest money. They may not know what a financial planner does, or they may be reluctant to "air their dirty financial laundry" with someone they do not know.
Should you hire a financial manager? Well, the answer is—it depends. A financial advisor can be a helpful tool for some, and many people happily use financial advisors. Still, working with a financial advisor isn't free, so knowing whether the benefits outweigh the costs is essential.
What is a financial advisor?
A financial advisor is a professional who helps manage your investments and provides advice in areas like savings, budgeting, retirement goals and taxes. Ultimately, your financial advisor will identify your savings goals, help you create a plan to achieve your goals and check in with you frequently to make sure you're on track.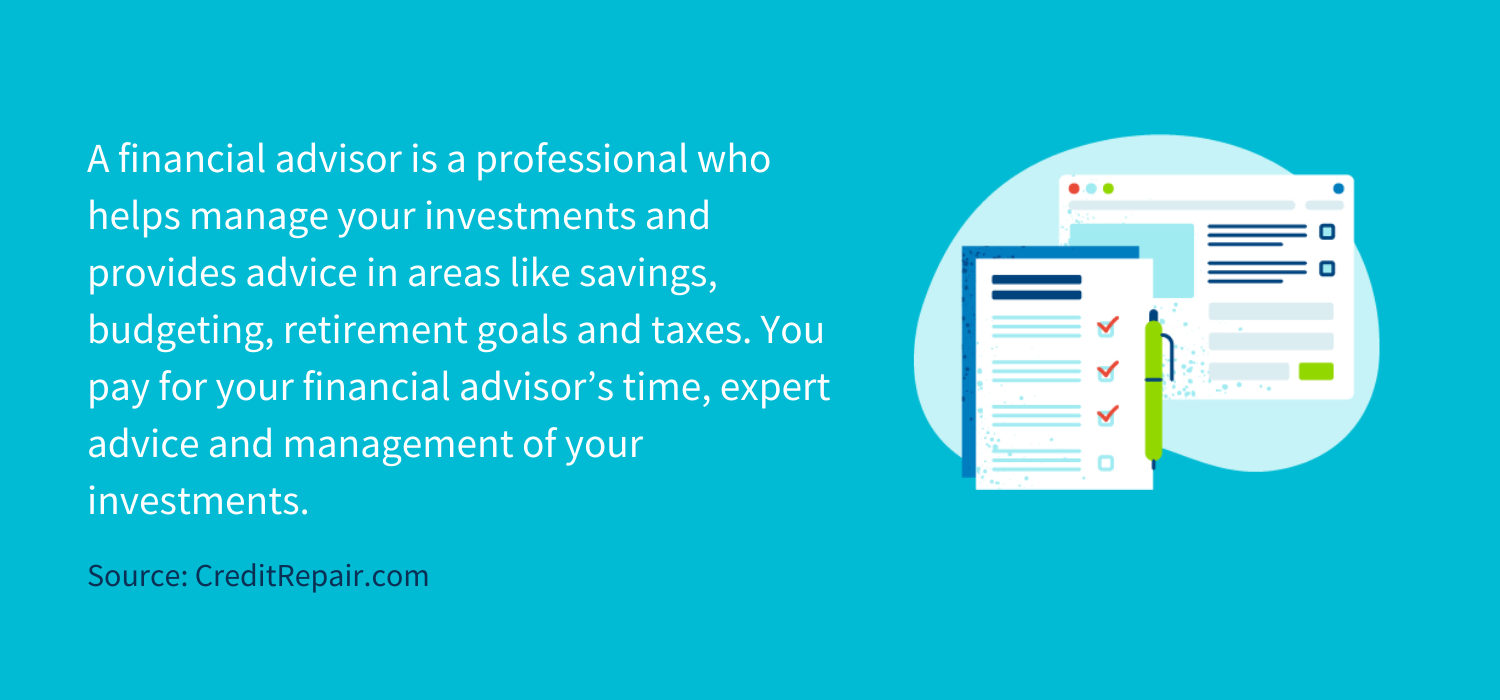 Average price of a financial advisor
You pay for your financial advisor's time, expert advice and management of your investments.
The fee a financial advisor charges can vary. Some advisors charge a flat fee, which may be anywhere between $2,000 and $7,500 annually as a retainer. Some charge a fee that's a percentage of your account balance, typically ranging between 0.25 percent and 1percent annually. Others may charge an hourly fee of up to $400 an hour.
What's the difference between a financial advisor and a wealth manager?
Financial advisors and wealth managers offer similar services, helping their clients with their finances and investments. However, the main difference is that wealth managers typically only work with high-net-worth individuals.
How to find a personal financial advisor
There are many good online resources for finding a CFP, though the best way to find one is often through recommendations from others. Some tips:
Ask a friend for their planner's information, especially if their financial situation is similar to yours.
You can try the National Association of Personal Financial Advisors (NAPFA) at http://www.napfa.org/. All of the planners you will find on this site have their CFP designation, are fee-based only and the criteria for being listed on the site often exceed CFP credentials.
Another source is the Garrett Planning Network, a group of financial planners that accept small projects at an hourly rate. Not all of them are certified, but the ones that aren't are actively working towards their designation.
http://xyplanningnetwork.com has a list of advisors who specialize in Gen X and Gen Y clients.
Financial Planning Association lists only certified CFPs.
What are life events that can prompt a financial advisor?
Many life events can push you to consider getting help managing your finances. Some of the more popular reasons are:
Having a child
A family member has passed and you gained an inheritance
A significant increase in salary
Divorce
Retirement planning
What questions should you ask a financial advisor?
You should always interview your financial advisor before agreeing to hire them. This working relationship will hopefully last a while, so you want to make sure you trust them. Some of the questions you might want to ask your financial advisor are:
You should always interview your financial advisor before agreeing to hire them. This working relationship will hopefully last a while, so you want to make sure you trust them. Some of the questions you might want to ask your financial advisor are:
What is your fee structure?
What makes you qualified to give me financial advice?
What is your approach for clients?
What asset allocation do you recommend?
How will we measure success for my goals?
How frequently will we communicate?
What should you look for in a personal financial advisor?
Anyone can hang a shingle outside their door that proclaims them a personal financial advisor. However, your finances should only be put in the hands of someone knowledgeable and who has your best interests in mind. Here are some of the ways you can tell if the professional is the one for you:
They should have a CFP designation.
You should only work with fiduciaries. A personal financial advisor should be willing to sign a fiduciary oath. A fiduciary oath is a personal pledge to act in good faith and with candor, work for your best interest, to point out conflicts of interest, and to not accept any referral fees or compensation contingent upon the purchase or sale of a financial product.
They should have at least 3 years' experience in dealing with clients who have finances like you.
Check their backgrounds and references. Ask if they have ever been convicted of a crime or if they have any disciplinary actions against them. You can run a free online check with the CFP board for individuals in your state. You can also check their investment advisor public disclosure.
Are they a good personality fit? Feeling comfortable with your planner is very important. Avoid anyone who talks down to you, pressures you to buy something or doesn't explain recommendations.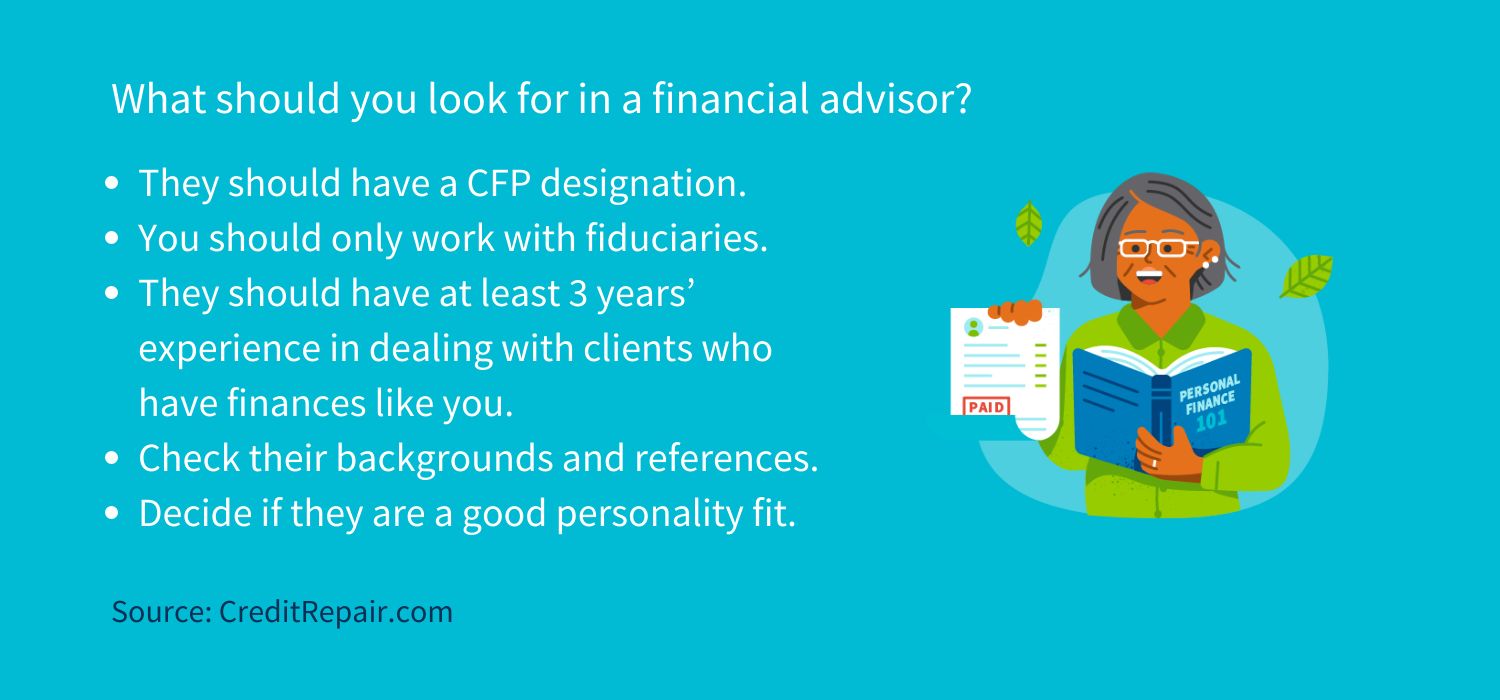 Pros and cons of hiring a financial advisor
By understanding the pros and cons of hiring a financial advisor, you'll better understand if this is the right decision for you.
Pros
Financial knowledge. A financial advisor has the expertise and objective view to guide you in all manners of finance, including retirement, taxes, savings, insurance and investing.
Time. You don't have to spend countless hours learning about investing and keeping up with the markets.
Organization. A personal financial planner will get you organized; the mere act of hiring one will force you to get your financial documents all in one place. Once you have all of your information put together, a good financial advisor will help you arrange your finances so they are manageable and easy to understand.
Goal Setting and Coaching. A good financial planner helps you to set financial goals like having enough for retirement or buying a house. The financial planner will review your progress and help you to formulate steps to get to the next part of your goal. In addition to your finances, some financial planners provide counseling on credit matters.
Plans for the future. A good financial advisor helps you to anticipate things that could or will happen to you in the future, such as the loss of a job, additions to the family or stock market fluctuations. They help you to create action plans to follow should any occasion arise.
Provides education. A financial planner will do the research in order to find the information you need in order to make good decisions about your financial future.
Cons
Relinquishing control. You need to trust that your financial advisor will make the right decisions on your behalf. If you use a financial advisor who's not experienced or goes against your wishes, such as being high-risk when you're low-risk, you may be unhappy with their results.
Cost. You pay for a financial advisor. If you choose to invest on your own, you could save that money.
How often should you see a personal financial advisor?
Many personal financial advisors suggest that your relationship with them should be similar to a personal physician. In general, you receive a check up every 6 months to a year from your general practitioner; financial planners suggest the same frequency to consult with them.
Just as preventive medicine can help avoid serious medical problems, the best time to see a financial advisor is before you're in money trouble. If you pay a monthly subscription, you may not meet with your financial every month but they are available to answer questions on a regular basis.
If you are worried about your finances, consider hiring a financial planner or repairing your credit. The credit advisors at CreditRepair.com could help you fix inaccurate negative items on your credit report, so reach out today.
---
Note: The information provided on CreditRepair.com does not, and is not intended to, act as legal, financial or credit advice; instead, it is for general informational purposes only.
Learn how it works