Disclosure regarding our editorial content standards.
Whether you aren't loving your new ride or you're tired of your monthly payments, getting out of a car lease early can present a number of challenges. You have various options when it comes to breaking your lease early, from lease transfers to returning the vehicle to the lessor.
Learn more about the different ways you can get out of a car lease early, as well as the impacts these options have on your credit.
1. Transfer the lease
Since a car lease is an open line of credit, it's important to get out of it quickly to keep your credit score from being affected. One simple way to get out of your lease early is to transfer it to someone else through a lease transfer website. 
There are usually some fees associated with lease transfers, both from the hosting platform and from your leasing company, who will likely charge you for the cost of registration and the lease transfer. If your auto loan rate is very high, you may need to offer additional financial incentives for anyone taking your lease.
2. Investigate the early lease termination clause
The early lease termination clause offered by your car lessor means you turn your keys in early and stop making monthly payments. However, when you turn your car in you'll need to pay the remaining balance due and any early termination fees. These fees and lease details should be included in your lease terms, according to the Consumer Leasing Act.
To determine your lease termination amount due, call your leasing company and see how much you'd owe. Depending on how early you're ending the lease and your lease terms, this could be much more expensive than if you finished your lease terms as usual.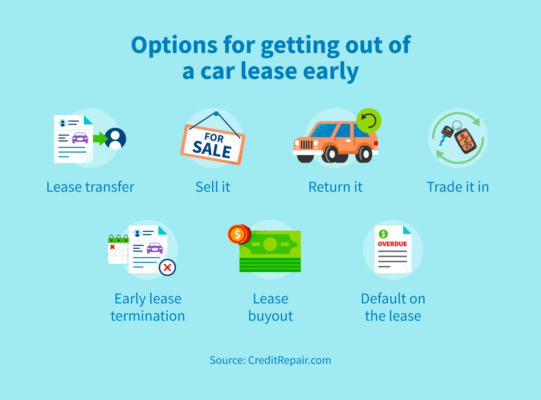 3. Try a lease buyout
Leaseholders have the option through a lease buyout to stop making monthly payments on their vehicle and purchase it outright. Owners can then either continue driving the car as their own or sell it. Once you've opted for an early lease buyout, the leasing company will calculate the approximate value of the car, then factor in how much you've paid as the final figure of what you owe.
4. Trade it in
If you're nearing the end of your lease or have been eyeing another car, the best route may be to trade your vehicle in to a car dealership to buy or lease another vehicle. However, this usually isn't a smart move if your credit score has dropped or isn't in a good place.
It's important to note that if you incurred any charges during your previous lease, those will be included in your new monthly payments. If you had any miscellaneous high charges, you'll essentially be paying for both cars at once. 
5. Sell the vehicle
Check if an "early buyout provision" is included in your lease. This means you're eligible to sell the vehicle to a private party, and use that money to pay off your remaining lease balance. Private sales will usually earn you more than other avenues of ending your lease.
Check with your leasing company ahead of time if you choose an early buyout. They may have requirements in place as well as a predetermined buyout amount, which usually includes an early termination fee, reconditioning charge and any negative equity.
6. Return the vehicle
While you have the option to return the vehicle to the leasing company, this is not recommended for a few reasons. The termination fees are usually high, and you'll also be responsible for paying the remaining depreciation of the vehicle. The lessor will then sell the car at a wholesale auction and reduce your payout by the realized value, which is normally the lowest possible amount you can get for the car.
It's recommended that you sell the car yourself or transfer the lease to get out of it quickly instead of returning the car.
7. Default on the lease
Defaulting on your lease is not recommended for people who care about their credit and want to avoid possible repercussions from not paying, like getting sued. The many negative side effects of having a delinquent loan outweigh the few benefits, so it's recommended to exhaust every other option for getting out of your car lease early.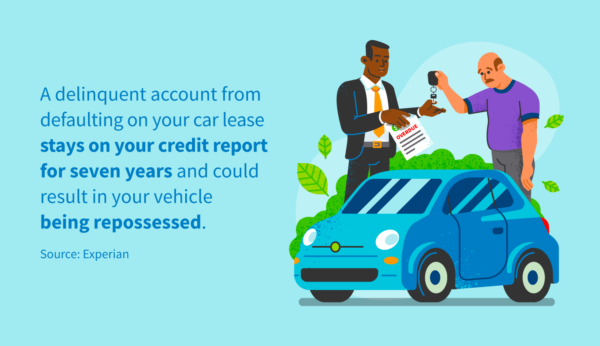 Benefits of getting out of a car lease early
While it's always best to see a lease agreement through to the end, sometimes certain situations prevent you from finishing payments or needing a car at all. If you're considering getting out of your lease early, there are a few benefits that come with it, including:
Ending a line of credit that may be affecting your score negatively 
Giving up a car that you may no longer need
Putting monthly payments to better use, like home payments
Drawbacks of getting out of a car lease early
However, if you're just getting started with establishing credit, then ending a car lease early could end up doing more harm than good. Some drawbacks of ending a car lease include:
Seeing a potential drop in your credit score 
Losing money through additional fees
No longer having a vehicle

In most cases, you shouldn't get out of your car lease early unless a serious issue arises. If you do choose to get out of your car lease early, you can rest easy knowing you have multiple options that won't result in you needing to fix your credit down the road.
Learn how it works