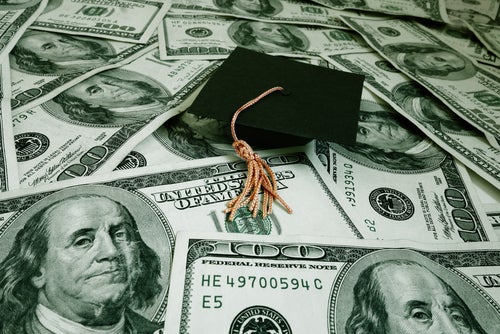 According to the College Board, the cost of college has increased 13 percent for public four-year colleges and 11 percent for private nonprofit 4-year colleges in the last year. U.S. debt due to student loans stands at $1.319 trillion (Federal Reserve, April 7, 2016). Millennial college graduates with student loans are spending nearly 20% of their annual salary on student loan repayments, as reported by Citizen's Bank in a study on Millennials in debt. If you are facing graduation this May, there is only a little time left before your deferment is over and you have to start paying on those student loans. Whether you are done with school this semester or you are facing more college studies in the coming years, there are some steps you can take to avoid financial crisis.
In their study, Citizens found that only about half of millennials have changed their spending habits to afford their student loan payments. Some expressed regret in spending so much on their college educations: 36% say they would have not gone to college if they knew how expensive it was going to be.
Other findings:
Strategies for Avoiding Student Loans While in College
If you still have time left in your college education, do whatever is necessary to avoid having to take out more loans. Here are some ideas:
Having money coming in while you go to school can avoid the situation where additional financial aid — such as taking out more loans — is necessary. See if you can balance working part time with a full time student study schedule, or work full time and go to school part time.
Sign up for a Work-Study program. If you already qualify for financial aid, taking part in a work-study program can help pay the bills. In addition, often the work study program may be a job in your eventual line of work, so besides getting paid, you gain valuable experience, or networking exposure.
There's all kind of money to be had if you just know where to look. There is $46 billion awarded each year by the Department of Education and another $35 million awarded by private companies. USA today has a list of the top 10 sites to find scholarships.
Pay less for college. Ivy League schools can cost upwards of $50,000 a year, while in-state tuition (who can prove residency) can cost less than a fifth of that amount. Community colleges are even cheaper and you can fulfill up to half of your required undergraduate courses by attending a community college.
Student Loan Forgiveness
If you think you'll never be done paying, there is a way out – a student loan forgiveness program, once you've made 120 payments (10 years worth). The Public Service Loan Forgiveness Program (PSLF) will forgive the rest of your loan if you work full time for a specified period of time for a qualified employer.
Qualifying employment is not the type of work you do, but who the employer is. The types of organizations/companies you can work for:
Government organizations (state, local, federal or tribal)
Not-for-profit 501 (c)(3) organizations.
Other types of not for profit organization that provide public service.
Americorps or the Peace Corps
Full time work is defined under this program as 30 hours per week. If you work more than one part time job for qualifying employers, you may meet the full-time employment criteria.
The types of loans that can be forgiven are the William D. Ford Federal Direct Loan (Direct Loan) Program and other loans that have been consolidated under a Direct Consolidation Loan. However, if you've been making payments on Direct Loans and want to consolidate other loans in this program to take advantage of the Student Loan Forgiveness Program, you will lose credit for those payments already made to your Direct Loan.
Beware of the REPAYE Program
Under the new REPAYE (Revised Pay As You Earn) program (which started Dec 17, 2015), your monthly student loan payment is capped at 10 percent of monthly income, which sounds good but has some serious drawbacks. The program is open for anyone in the Federal Family Education Loan Program (FFEL) system or Perkins loans. To qualify, you must agree to convert your loans to a Direct Loan.
There is no hardship requirement to enter the program, but the loan repayment is extended from 10 to 20 years for undergraduates and 25 years for graduates. Once you consolidate, however, you lose all credit for any payments already made towards those programs and do not count toward the 20 (or 25) years.
Unfortunately, if you are married, both of your income is counted in the 10% cap. In addition, you must update your income status every year. If you have a low payment, but marry a spouse that makes a lot of money, you could see your payment sky rocket. Another problem: at the end of the REPAYE period, any of your loan that is forgiven is rewarded with a 1099-C, meaning you have to pay taxes on the money you saved.
The one ray of sunlight? If your pay falls under 150% of the Federal Poverty Level, your payment could be $0 (but you still need to report income on a yearly basis to qualify).
Still Having Trouble Paying Back Your Loans?
While most debts can be discharged through a bankruptcy and/or have the statute of limitation expire, the same is not true of most student loans. While private student loans have a statute of limitation, government student loans do not. However, there may be a temporary fix. If you are having trouble making the payments on your loans, you may be able to get a loan deferment or forbearance.
If you are having a hard time finding a job, or are suffering economic hardship, you could qualify for up to 3 years of deferment.
If you are serving in the military, you can defer your loans.
If you are in rehabilitation for a disability, you can defer your loans.
If you don't qualify for a deferment, you can get forbearance for up to 12 months if you are suffering from an illness or economic hardship. The lender can grant discretionary forbearance.
Mandatory forbearance can occur if you are doing a medical or dental residency, your payments account for more than 20% of your income, you are performing a teaching service that would qualify for teacher loan forgiveness.
There are many other situations; visit the deferment and forbearance section of the ed.gov website.
Learn how it works