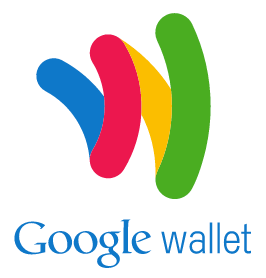 Is Google poised to become a bank in the U.S.?  Google already has a banking license (since 2007) in the Netherlands, but it's not the only payment system company having a bank license overseas but not in the U.S.  Online giant PayPal has its banking license in Luxembourg.
Google made its first venture into the payment world in 2006 with Google Checkout, a system designed to challenge PayPal, but failed to attract much support for the product: eBay, which had purchased PayPal outright four years before, banned Google Checkout almost immediately after it launched. Google Checkout was finally discontinued in November of 2013. 
Google Wallet
The much-improved Google Wallet product was introduced in September 2011.  Though first only available on the Sprint Nexus S 4G Android phone due to the required special Near Field Communications (NFC) technology, the app can be downloaded onto any smart phone today.  NFC hardware consists of a tiny microchip with a radio antenna and is now embedded in most smart phones, including Apple products.  Using your phone, you can "tap and pay" at any merchant with MasterCard PayPass or VISA payWave technology.  "Tap and Pay" merchant terminals also work with radio-frequency identifying (RFID) chipped credit and debit cards.
I tested the Google Wallet app on my smart phone.  You are required to have a Google account (of course), but signing up is pretty easy.  Once you have a Google account, download the free app from iTunes or Google Play.  Once installed on your phone, registering for Wallet requires your name, address and the last 4 numbers of your Social Security number. After successfully creating a Wallet account, you have a few ways to add money.  Google Wallet allows a user to deposit money into the wallet from a bank account (free) or a debit or credit card (with a 2.9% charge).
To link Google Wallet to my bank account, the app asked for my address, routing number and account number, as well as my banking online username and password.  The "instant link to bank account" is one way to connect your bank account and I assume Google is using my supplied credentials to attempt to log on to my bank's website (which they can determine via the routing number) to verify me.  During repeated attempts, this feature timed out.  I had to opt for bank account linking by the method of verifying small deposits Google made to my checking account.  The deposits can take up to 3 days to show up.
Apparently I've previously paid Google for apps in the Play Store, or paid for some other items through the now defunct Google Checkout, as their system already had my credit card information pre-loaded in Wallet.  That was a little unnerving.
Though spectacularly underused (PayPal dominates the market), Google has continued to introduce enhancements to its Wallet product, two of their most recent moves beyond the smart phone realm. Google announced in May 2013 the ability of attaching payments from Google Wallet to any Gmail message.  In addition, Google has introduced a physical Wallet debit card in November 2013.
A button in the Gmail compose window will allow you to send money from Google Wallet.  Money can be sent to people who don't have a Gmail or Wallet account, though the recipient will need to sign up for Wallet to accept money. Once someone opens a Google Wallet account, they can deposit funds to a bank account or use it anywhere Wallet is accepted.
The Google Wallet Card uses the MasterCard network and can be used to make purchases in stores like any debit transaction and can also withdraw funds at an ATM machine or bank.   If used as a debit card, a Wallet PIN must be entered.  If used as a credit card, the zip code you entered as part of your address during sign up must be provided.  The debit card has a limit of $5000 per 24 hours.  PayPal also offers the option of issuing a debit card connected to your PayPal account.
If Google is handling your money, doesn't it legally have to be treated like a bank?  No.  Like PayPal, Google Wallet is not required to be a licensed bank in order to operate in the U.S.  Like banks, both of these payment systems keep funds on deposit, but there the similarity ends. Companies are only defined as banks in U.S. when they lend out depositor funds in order to collect interest.  Neither Google nor PayPal do this currently, and there isn't much motivation to start lending. Banks are heavily regulated in the U.S. both at the state and national level, and the process to obtain a license is daunting.
Google and PayPal move money in and out of user accounts through the Automated Clearing House (ACH) network that processes electronic financial transactions in the U.S.  Examples of ACH debit transactions include direct deposit, Point-of-Purchase (POP) with debit and ATM cards and e-checks.  Though certain rules apply, a company does not have to be a bank in order to use the ACH network.
How Safe is Google Wallet?
Wallet Access is protected through the entry of a PIN on your device, and your username and password online.   When accessed from your phone, Wallet also requires the screen to be on.  If you have to enter a PIN to get into your phone, that provides an additional layer of security.  In addition, the PIN to access the app is stored in a separate part of the phone known as the NFC Secure Element.  This information is separate from the operating system.
The most impressive security measure taken by Google in 2012 is the removal of any credit card and debit card information from your device.  When you pay, Google — like PayPal — actually pays the merchant itself, and then processes the transaction with your credit or debit card information stored on its secured servers.  Whether or not you want to trust Google (that no doubt knows more about you already than you realize) with your financial information is up to you.
A known technical vulnerability exists on Android devices that are "rooted" (i.e., altered by do-it-yourself experimenters for one reason or another, akin to "jailbroken" Apple devices).  On a rooted device, it is possible to access the NFC Secure Element and retrieve the Wallet PIN.  It's important to remember that Android phones have no need to be rooted in order to perform normal functions.
One further security concern: Google Wallet funds are not insured by the Federal Deposit Insurance Corporation (FDIC). Since the Great Depression of the 1930s, most U.S. banks have offered FDIC insurance, which guarantees deposits up to $250,000 in the case of a bank default.
Not ready yet to use Google Wallet?  There are other competitors besides PayPal.  Square Cash and Venmo seem to be rapidly gaining user acceptance as well.
Learn how it works