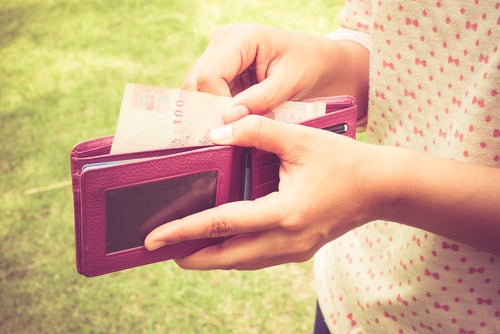 The sinking feeling deep in the gut – the one that comes when you realize your wallet or purse is gone – is probably universal. Set that feeling aside long enough to take a few critical action steps.
Move quickly. Many of these steps should be taken within 24-48 hours of the theft.
Get a notebook and file folder so that you can keep records of all of calls and letters.
Assess initial damage. Was the wallet stolen or misplaced? The difference is important. A consumer who is reasonably certain that the wallet is lost (even irretrievably) but hasn't fallen into malicious hands has an easier road ahead to replace what was inside. A victim of theft should treat the incident as potential or imminent identity theft.
1.      List the wallet's contents
Reconstruct the wallet's contents to the best of your abilities. Some common items that might have been inside:
Driver's license
Credit cards
Debit cards
Blank checks
Employee ID card
Passwords or PINs
Insurance and discount cards – health, dental, pharmacy, auto
Membership cards – gym, library, museum, zoo
Loyalty cards – grocery stores, drug stores, restaurants, retail outlets
Gift cards
If your military ID, social security card, resident alien card or passport was in the wallet, you'll have to take extra steps (below).
If passwords or PINs were written down anywhere inside your wallet, change them immediately. Going forward, use passwords you can remember or keep track of them with a secure online password keeper, not on paper.
2.      Contact financial institutions
Log into your bank account and credit card accounts to report the loss/theft immediately. If you delay, you could be liable for fraudulent charges. For credit and debit cards, if you report the loss before any fraudulent charges are made, you won't be responsible for any unauthorized charges. After that, the maximum liability for fraudulent credit card charges is $50.
For a stolen debit card, if you wait more than two business days to report the incident, you could be stuck with up to $500 in losses. After 60 calendar days, you might not be able to recover any stolen funds at all. (Stolen card numbers are handled a little differently – your liability will be zero if the fraud is reported within 60 days of the statement date where the fraud appears.)
If you discover that fraudulent transactions have already been made, report them immediately by phone or online. For these, the Federal Trade Commission recommends that you follow up in writing, by certified mail.
For checks, the bank can stop payment on a range of check numbers if you know them, or close the account altogether and issue a new account number.
Some gift cards will be forever lost, but others may be salvageable if attached to an account you can log into and manage. Starbucks balances, for example, can be quickly and easily transferred to another card via your online dashboard (if you've set up your account).
3.      Contact other agencies
Again, time is of the essence.
Social security card: Whether lost or stolen, you'll have to apply in person for a replacement. New social security numbers are rarely issued, and when they are can create a new set of challenges. The social security administration can discuss this in more detail.
Passport: File a report with the State Department
Military ID: Notify your supervisor of the incident and visit the nearest RAPIDS site to obtain a new card. You'll need to show supporting documentation, which may include a copy of the police report.
Green card: Fill out the I-90 form to apply for a replacement card
Driver's license: To replace a stolen driver's license, most states require an in-person visit to DMV. In some states a replacement for a lost license may be ordered online.
Employee ID: Contact the human resources or security department right away, especially if the ID can be used to gain entry to the building
4.      File a police report
Contact the police and file a report. This extra step will allow you to put an extended fraud alert or freeze on your credit free of charge with all three credit reporting agencies (extended fraud alerts are free but require a theft report; credit freezes incur a small fee that is usually waived for victims of identity theft who produce a police report). The police report number is also required when you file an Identity Theft Report with the FTC.
5.      Lock down your credit file
Place a fraud alert on your file. A fraud alert is free and lasts 90 days. When a fraud alert is in place, creditors must take extra steps to verify your identity before approving a new application for credit. You only need to contact one of the three major credit reporting agencies (Equifax, Experian or TransUnion); the agency you contact will notify the other two. A fraud alert can be extended to seven years after you file an identity theft report.
Freeze your credit. A freeze remains in place until you permanently or temporarily lift it. With a freeze in place, no new creditor can access your credit file. A credit freeze adds a strong layer of security to a consumer's credit file, but also a layer of inconvenience. For a legitimate application for credit to succeed, you must temporarily thaw or unfreeze the file prior to submitting the application. Credit freezes must be placed with each of the credit reporting agencies separately. In most cases, freezes are free for victims of identity theft. Also, while a credit freeze can prevent identity thieves from opening most new accounts, they do not prevent all types of identity theft and fraud.
Monitor your credit. Credit monitoring is smart for everyone, but critical for anyone whose personal information has been compromised. A thief might wait months or years before using your stolen information, so monitoring should continue long term.
6.      Report the theft to the FTC
If you discover that someone has fraudulently used your personal information, visit identitytheft.gov and follow the steps outlined there.
7.      File a complaint with the Internet Crime Complaint Center (IC3)
If any part of the theft of your information occurred online, or if the theft leads to online scams that target you, file a complaint with the IC3. The IC3 receives Internet-related complaints and forwards them to the appropriate law enforcement agency for investigation.
When it comes to your identity, your money and your credit, no amount of protection is too much.
Learn how it works