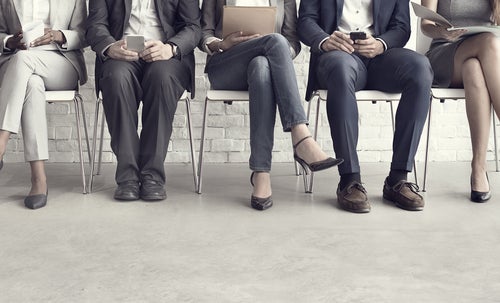 Financial education is important for individuals to establish good financial management skills and behaviors.  Last month was Financial Literacy Month, but that doesn't mean that now is the perfect time to increase your comprehension in areas that will help you make well-informed decisions with regards to your finances.
But financial literacy extends so far beyond the ability to balance a checkbook. There are many other areas that affect your financial well-being, including credit and employment. If you're currently applying to jobs or will be applying soon, you need to know how employer credit checks can influence your potential job candidacy.
In fact, your credit can affect your ability to land a job. Here's what you need to know when it comes to employers and credit checks.
Employers Can Check Your Credit
In most states, employers can check the credit of job candidates during the hiring process. If you've made it to the point where employers are running background checks, you are likely in the final pool of candidates or are being offered the position contingent upon a successful credit check. A successful credit check has a strong potential to clinch your hire. The bad news is, poor credit history could potentially lose you the position, especially if there are other strong candidates with better credit.
Federal law mandates that employers can only check your credit with your permission, but many employers — especially those in law enforcement, the financial industry, and other sensitive sectors — make this a requirement for hiring.
What Employers Check
When employers check your credit, they pull your credit report, but not the same version that a lender would see. For instance, employers can't see your date of birth or your credit score.
Generally, employers look at your credit report for red flags that may indicate a candidate is engaged in unethical, criminal, or irresponsible behavior — essentially, behavior that would make you a risky hire. These red flags could include delinquent accounts, large, unpaid debts, or other judgments against you.
What if My Credit Isn't Stellar?
If you have bad marks on your credit report, you shouldn't panic just yet. First, although we know it does happen, it's unclear how many employers actually use credit history as a major factor in hiring decisions. According to the Society for Human Resource Management, credit reports are on the decline as a favored tool for hiring decisions, and an increasing amount of states are enacting legislation that bans or limits hiring decisions based on credit checks.
If and when an employer does find information that may negatively impact the hiring decision, the company must share a copy of the report with you along with a written description of your rights as a consumer.
What You Can Do
First, you should check the regional laws of the area in which you're applying to jobs, because different regions have different legislation on the matter. For instance, New York City recently banned most employers from choosing job applicants based on credit history.
Next, you should pull your credit report, which you can get for free annually at www.annualcreditreport.com. Review your credit report and identify the information that could harm your standing in the eyes of an employer. This way, you can be prepared if your potential employer comes to you with questions about your credit. At the very least, you'll be able to anticipate any potential issues.
You should also put the negative items in your credit report into three columns — accurate, inaccurate, or unsure. The FTC estimates that one in five American consumers has errors on his or her credit report. If you do find items that are inaccurate — such as accounts you never opened — you can dispute these items with the credit bureaus and have them removed from your credit report.
If you find items that are accurate, you could still potentially negotiate their removal — such as by paying off an old debt. Items you're unsure about will need further research to determine the best approach.
Addressing the negative information on your credit report now will better prepare you for employer credit checks as you continue your job search. Beyond that, you'll want to practice good credit habits going forward to ensure that, as time goes on, your credit improves and will no longer be a point of worry when you're waiting to hear back about that dream job.
Learn how it works