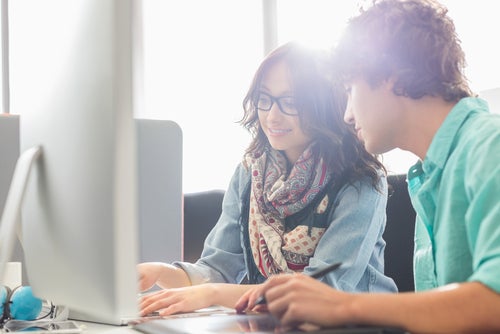 Credit Expert confession: I once bought a car on eBay. It was 2007 and the idea of virtual purchases was still relatively new. Friends and family were surprised at my decision and responded with overwhelming concern:
You're buying a car on the Internet? That's too risky!
While it may have been a bold choice in 2007, today, millions of people customize and purchase vehicles online without a second thought. In a similar fashion, home loans are becoming more web-friendly as well. Quicken Loans is a leader in the online lending market, closing over $220 billion in mortgages since 2013. Along with Lending Tree and other well-known companies, the trend of online home-buying is gaining traction and recognition.
Like any conscientious buyer, you probably have questions about securing an online mortgage. After all, is the Internet really a viable place to find a good mortgage? Is it safe? How will it affect your credit? These valid questions deserve concrete answers if you plan to step into the future of online home-buying. Review the benefits and concerns below. They will help you determine the best source of mortgage lending.
Benefits
Choosing an online mortgage company over a traditional brick-and-mortar lender has its benefits, including:
Time. The old standard of buying a home involved a few basic steps:

Meet with a realtor to shop for homes.
Find a desirable property.
Meet with a mortgage broker in his office to discuss loan terms.
Submit the appropriate paperwork and wait a couple days for a response.
Secure loan approval and submit an offer.
In a world that thrives on convenience, these steps are slow at best. Working with an online lender allows you to apply for a loan at your convenience. Mortgage approval is usually quick and you'll avoid face-to-face appointments that delay the process.
Access. The average home loan is handled by a broker who manages the paperwork and approval process. For borrowers who prefer more control, pursuing an online mortgage is appealing. Online lenders have a different communication approach, allowing customers to log in and view their loan status, approved mortgage value, submitted documents and more.
Nationwide availability. Working with a local bank is difficult when you are planning a move. For example, suppose your job is transferring you from Boston to San Francisco. You want to buy a home in your new city, but finding and meeting with a California broker isn't possible during a stressful move. Online lenders allow you to submit your loan application anytime, anywhere, removing the hassle of geographic limitations.
The Concerns
Although online mortgage lenders are gaining traction in the marketplace, there are still a few causes for concern:
Local knowledge. While online mortgage companies provide customer service, they aren't likely to supply knowledge of local real estate. Working with a mortgage broker in your city and profiting from her expertise and experience within the community, two advantages that aren't available when you work with an online lender.
Relationships. Real estate agents and mortgage brokers often work together to close home sales and benefit from helping customers as quickly and efficiently as possible. An online mortgage is impersonal, which means you won't benefit from the perks of long-term business relationships.
Negotiation potential. Online mortgage lenders are committed to helping customers with their home-buying goals, but a complicated escrow and closing could lead to the conversations you'd like to avoid. For example, suppose your home bid of $300,000 is accepted by the seller. Unfortunately, the house only appraises for $250,000, which means you'll need to find another way to finance the remaining $50,000 or convince the sellers to reduce the sale price. In this case, working with a local broker may be quicker than speaking with an online customer service representative.
Credit Impact
Whether you choose an online or locally-sourced mortgage lender, buying a home will have an undoubted effect on your credit score. Before buying, it's wise to discuss your plans with a professional who can help you understand how mortgage debt:
Factors into credit scoring
Affects other short and long-term goals
Improves credit with timely payments
Risks credit health when:
The bottom line: With every reward comes a few risks, but a dynamic credit score requires new accounts to advance and improve. Practice caution as you approach homeownership in 2016. The right strategy will help you find a trustworthy lender.
Related Articles:
Is Mortgage Debt Hurting My Credit?
1o Steps to a Speedier Mortgage Loan Approval
Can My Spouse's Credit Score Damage Our  Mortgage?
Learn how it works