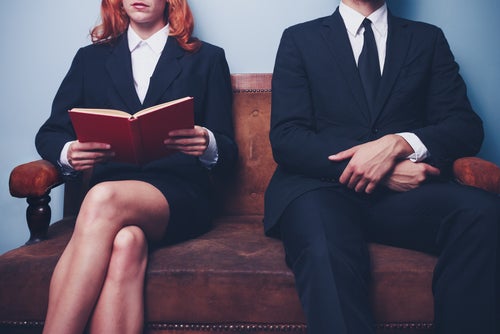 Have you ever wondered how men and women compare financially and credit-wise?  Men have traditionally been the breadwinners; women have traditionally made the spending decisions when it comes to household purchases, but not overall financial decisions.  While the pay gap still exists (women earn 77% of the pay of their male co-workers), 33% of American women are now the primary breadwinners in their households.  This number has quadrupled since 1960. How has the shift in earnings affected women's relationship with money and credit?
Investments
A study by realsimple.com found in general that women still tend to be insecure about the subject of money.  Investments come with a myriad of terms and acronyms, and informative investment articles are generally not geared towards women.  Men can savor the jargon and feel a sense of pride when they master it, but women seem to shut down when faced with the same information. In addition, women are still relying too heavily on others for financial know-how.  Few people now in their 40s or older had role model mothers who were the key financial decision-makers in their homes.  Even younger women have been raised with the idea that they would be secondary earners and their partners would be responsible for investment decisions. In addition to the tendency to be overwhelmed by investment information, women tend to be risk-adverse.  They are less likely to be caught up in get-rich schemes, but since all investment involves risk, they are less willing to invest money at all. Since women so often earn less than men, the biggest reason women save less and take fewer chances with investments could be that they don't have enough money to put away in the first place. Even among women who do invest, there is still a considerable gap in habits.  A 2012-2013 survey by Prudential involving 1400 women and 635 men found that women lag far behind men when it comes to investment habits and knowledge.
53% of women surveyed were primary earners.
Only 23% of women felt "well prepared" to make financial decisions compared with 45% of men.
Only 10% of female breadwinners felt very knowledgeable about financial products and services, and were only half as likely as their male counterparts to feel well prepared to make wise financial decisions than men.
Baby Boomer and younger women were "not prepared" for retirement, but women under 35 showed more interest in both financial empowerment and the value of financial advice.

The Pay Gap
A 2010 survey showed that median earnings for women in the U.S. were $36,931 vs. $47,715 for men.  Unfortunately, this pay gap (expressed as a percentage) has not decreased since 2009.  American Progress released a survey regarding gender and pay gap and found:
Women earned less than men in all racial and ethnic groups.  White women earned 78.1 percent of what than Caucasian men were paid.  African American women were paid 89.8 percent of what black men earned, Hispanic women earned 91.3 percent of their male counterparts, and Asian women earned 79.7 of what Asian men were paid.
Women are earning more college degrees than men, but fresh out of college on their first job, they still earn 5% less than their equally educated male counterparts.  Ten years later, they still earned 12% less than men with whom they've worked on an even par.
Women are more likely to work in low-wage jobs.    The top ten jobs held by women include secretaries, administrative assistants, teachers, salespeople, maids and housekeepers.
40% of the wage gap cannot be explained by occupation, work experience or race. While 25% of the wage gap is due to the different jobs that men and women hold, 10% is due to women leaving the workforce to care for family members.  Even if men and women have the same background, 41% of the pay gap is unexplainable except to due gender discrimination.
Money Management
FinancialFinesses.com conducts an annual gender gap surveys regarding money management.  Their July 2013 report found:
Only 65% of women reported having a handle on their cash flow and spending less than they make, compared to 83% of men.
Only 45% of women reported having an emergency fund in place to cover unexpected expenses, compared to 64% of men.
52% of women said they were comfortable with the amount of nonmortgage debt they had, vs. 71% of men.
The overwhelming majority of women—76%—regularly clip coupons, and 38% buy in bulk.
Credit Reports
One of the 3 major credit bureaus in the U.S., Experian, did an analysis based on gender-specific data and found the following points regarding the credit scores and credit histories of men vs. women:
Amount Owed: Men typically have more debt than women at $26,227 versus $25,095, respectively.
Accounts Opened: Women had more open credit accounts than men by a 5 to 4 margin.
Practically no difference was found with regard to the bureau-backed VantageScore: Women averaged 675, compared to 674 for men.
Men demonstrated a slightly higher — 2% — credit utilization ratio (debt owed divided by overall credit limits) than women.
Men have a higher incidence of late mortgage payments by 7 percent.

Credit Scores and Relationships
CNN reports that up to 30% of women and 20% of men say they would not marry a person who made poor financial decisions resulting in bad credit. 75% of women say they consider a potential date's credit score in dating decisions. Roughly half of the report's survey respondents have talked about their credit score with a romantic interest, with 39% discussing it during the first year of a relationship, 21% bringing it up before committing to a relationship and 19% comparing scores before moving in together. 1% discussed their scores on a first date.
Summary
Unfortunately, it's the uncommon American woman who invests financially in her future, even if she is the head of her household.  In addition to lack of investment, most women don't have enough savings to fall back on in times of hardships, though they do show a tendency towards bargain hunting.  Gender inequality still exists in the pay rates of American workers, which may be part of the reason for the low investment/saving rate.   However, despite the lack of saving and investments, women are better at managing their credit ratings, and consider their partner's credit when making decisions  regarding relationships.
Learn how it works