Disclosure regarding our editorial content standards.
It's time to say "Ho, ho, ho!" to the winter holidays without putting a "ho, ho, hole" in your wallet. With so many expenses bundled up at the end of the year, November and December can be a stressful time. If you're trying to spread joy without spreading your finances too thin, you may need to spend some time budgeting for the holidays.
Holiday budgeting isn't as hard as you might think, and sticking to your budget is a lot easier when you've laid out your plans clearly.
Follow our tips below to master your holiday budget—that way, you can give yourself the gift of stress-free finances to end the year right.
1. Look at last year's holiday spending
Get ready to sleigh your budget by looking at last year's financial successes and places for improvement. Pull up your bank and credit card statements—or any receipts you saved—from last holiday shopping season.
Ask yourself some of the following questions:
Where was I able to save money?
What did I buy that feels wasteful now?
What did I spend money on that was most valuable?
Ultimately, taking a look at your previous spending should help you decide on what you value most in the holiday season: family, travel, meals, gifts, traditions or something else entirely. Take these values forward into your budgeting so you know what to prioritize.
2. Set a realistic limit
You snow the drill: a budget only works if we put a cap on it. Everyone's circumstances are different, so you'll want to take a look at your income, savings and essential expenses to come up with a number that's right for you.
No matter what, make sure your limit is realistic. Writing down an absurdly low number may feel like progress, but you could be disappointed if you end up overspending. On the other hand, shooting too high may lead to missed opportunities for saving.
The average American household spends almost $1,500 on purchases related to the winter holidays, but your budget may be more or less depending on the size of your family and your financial situation.
Here's the best gut check for your limit: imagine the number you chose disappeared from your bank account right now. Would you still be on solid financial footing? If not, you may be cutting into expenses that are more essential than your holiday budget.
3. Start a conversation
Before you start to "treat yo elf," remember everyone else you need to include in your holiday plans. Whether you're single, married or have kids, a holiday budget usually involves expenses that extend beyond yourself.
When you're looking to spend less or spend wisely, it's best to talk with your friends and family to make sure you know what's important about the holidays for those you love. During those conversations, you'll also want to make sure you share your own hopes for the holidays.
Having conversations about money can be tough in any case, but even more so when the holidays are involved. We've got conversation starters to help you discuss holiday spending with your family, partner or kids.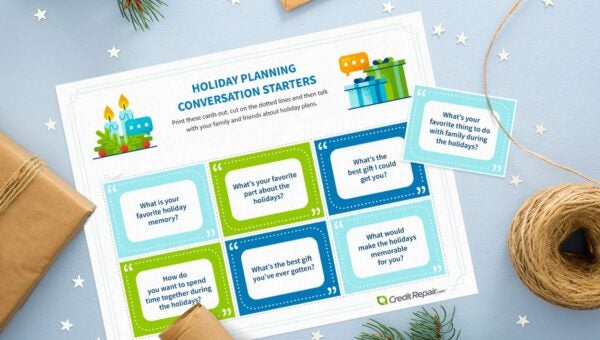 4. Lay out all of your expenses
When you think about your holiday spending, you may fir-get that it involves a lot more than just gifts. Finding memorable gifts for everyone in your life may occupy your holiday attention, but your budget needs a few more line items.
Consider some of these other expenses that may need to be accounted for:
Groceries and restaurants
Car or air travel
Decorations
Clothes
Cards or stamps
Wrapping paper or gift bags
Making sure that your budget encompasses all of your expenses is a great way to avoid overspending.

A good guideline for budgeting is the 50/30/20 rule: Aim to spend 50 percent of your income on needs, 30 percent of your income on wants and 20 percent of your income on savings or debt payments. Since holiday budgeting likely falls under the "wants" category, you'll want to calculate with 30 percent of your income—but be sure to factor in non-holiday wants as well.
5. Try out envelope budgeting
If you think envelopes are great for holiday cards, yule love hearing how they can make your budget even better. Envelope budgeting is the process of determining a dollar amount for each expense and setting that money aside so that you don't use it for anything else.
If you're using cash, you can use actual envelopes—but there are alternatives for online money management, too. For example, many banks enable you to create savings buckets, so you can split up your account into different categories. By creating a bucket for each holiday expense, you can get a sense of how much you still need to save, and you can keep track of your spending throughout the season.
6. Make a list and check it twice
If the holidays have you feeling Santa-mental, it may be time to plan which gifts to get—otherwise people might see you as a rebel without a Claus. Although it's tempting to get an expensive gift for everyone on your list, you'll want to prioritize spending on the most important people in your life.
Keeping your overall spending limit in mind, list out the people you want to buy gifts for, then write down their likes or wish list to come up with a spending target. If you need help keeping track, we've got a great resource for making a gift list.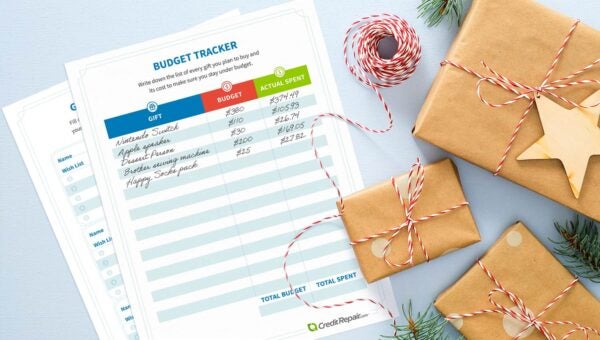 7. Give your time
While gifts often feel like the only way to celebrate the holidays, those closest to us often prefer our presence to our presents. During a busy time of the year, taking a moment to get together with friends or family is often the best gift of all.
Here are some ideas for gifting your time:
Set up a potluck
Host a board game or trivia party
Help out with decorating
Pitch in with winter chores
Take your nieces or nephews for a day trip
Schedule a family video chat
Whatever your family or friends enjoy doing together, make it a point to set aside time to make it happen—the memories will likely last longer than any gift.
8. Share some creative coupons
If expensive gifts are your go-to, you may need to act more like a Christmas tree and branch out. Personalized gift coupons are one of the oldest tricks in the book, but they've stuck around for a simple reason: they're actually amazing.
With one of your gift coupons, your partner can redeem a cup of hot chocolate with marshmallows on a chilly evening or your kids can cash in for a few extra minutes before bedtime. Of course, you may also have some great ideas of your own for how to fill out a super special holiday coupon.
Use one of our pre-made coupons or fill out your own to share with your friends, family or children.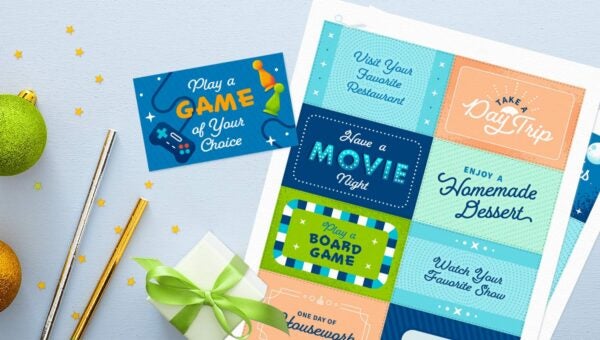 9. Start new traditions
If your holiday routine is in a rut, it may be time to spruce things up. The main point of your holiday season may currently be gift-giving, but it doesn't have to stay that way. Often the best parts of the holidays are the little traditions that don't cost much or anything at all.
If your holiday crew has decided to scale down the presents, try some of the following alternatives for low-cost and memorable traditions:
Caroling door to door
Visiting well-decorated neighborhoods
Baking cookies and other treats
Playing board games
Volunteering at a local charity
Sharing family stories
Creating holiday crafts
Watching classic holiday movies
Whatever you choose to do, do it with the people you love. Most of our lasting memories of the holidays revolve around people rather than presents, so starting a new tradition is a great way to keep your spending under budget while increasing your joy.
10. Create personalized gifts
It's simple Claus and effect: giving personalized gifts makes the recipient feel special. Taking a moment to think about what someone really needs shows care and consideration that outweighs any monetary value.
Some of the best gifts are inexpensive or free—but well-thought-out. Personalized gifts can be DIY or purchased. Maybe you provide cooking lessons for a family member you know has been hoping to improve their culinary skills. Perhaps you craft fabric ornaments for all your coworkers. Or you may simply write a thoughtful letter to a friend you know needs to hear from you.
11. Watch out for "buy now, pay later"
The sticker shock on popular holiday gifts often has us all muttering, "Say it ain't snow." In the past few years, many companies have tried to hide the true cost of larger purchases with "buy now, pay later" offers. Instead of seeing the full cost, you'll see a monthly payment and a term.
While the short-term cost may seem appealing, this long-term contract for holiday spending can throw a wrench in your budget. If you're going to end up paying $50 each month for two years to cover the cost of a present, for example, your budget may not actually stretch for the entire $1,200 cost.
A good motto to stick by during the holiday shopping season is this: if you can't afford it now, you can't afford it (yet). Your budget may change down the line, but it's best to stay within your current means when making holiday purchases.
12. Be mindful of credit card spending
Credit cards are wonderful financial resources, but they can get you in a fa-la-la-lot of trouble if you don't monitor your spending carefully. While it's tempting to spend up to your card's limit, a good approach is to set your own spending limit that matches your budget.
Paying off your full credit card balance every month is an excellent habit that can boost your credit score, and you don't want to make an exception for the holidays. Remember the budget you set for the holidays, and don't let your credit card interfere with your financial goals. If it helps you keep your seasonal spending in check, consider sticking with your debit card or cash during the holidays.
If you're using a credit card during the holidays or any time, you'll want to make sure to keep a close eye on your credit report. Errors and inaccuracies with your personal information, balances or payment history can happen, and unless you file a dispute, your score may drop unnecessarily as a result. If you're having trouble understanding the information on your credit report or need help fixing your score, a credit repair company could be the support you need.
With a solid plan in place for your holiday budget, you'll be able to stress less about finances and focus on what matters most this time of year: being with the people you love.
---
Note: The information provided on CreditRepair.com does not, and is not intended to, act as legal, financial or credit advice; instead, it is for general informational purposes only.
Learn how it works