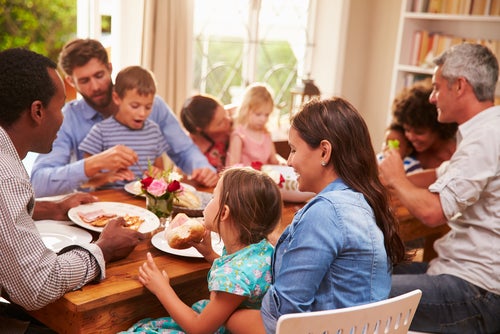 Are you wondering what that could possibly even be?
It's when your teenage child takes your credit or debit card and uses it with the PIN he or she has seen you key in a hundred times. It's when a grandchild takes a book of checks, fills them out, signs your name and heads over to the bank to cash them. It's when your sister takes your SNAP card and goes food shopping for her family. It's when your cousin desperately needs to see a doctor and uses your Medicaid card and Social Security number for a free visit or necessary procedure. When your college daughter uses your Netflix or Hulu Account and shares it with her friends, that's identity theft, too.
These are all examples of how a friend or a family member can use your identity to commit fraud and steal (or borrow) your money or your government benefits or even open accounts in your name and put your bank accounts, assets and credit at risk.
And it happens more than you think.
My nephew took checks from my father's apartment and stole $15,000 by cashing checks at the bank that way. My father found out when the bank contacted him about his unusually low balance.
Identity theft via family & friends is tricky to track
According to all the experts and reports, numbers of victims of "familiar fraud" are often low and that's because most victims do not report or prosecute the theft.
Even worse, according to the Fifth Annual Study on Medical Identity Theft from the Medical Identity Fraud Alliance (MIFA), while 24% say a member of the family used their credentials without their consent, another 25% of medical identity theft victims purposely allow a family member or friend use their personal identification to get medical services and products. And that's just for medical identity fraud.
Students are another group highly involved in "familiar fraud" and are four times more likely to be victims versus all other consumers, according to the Javelin 2015 Identity Fraud Study. Students often lose or lend their personal ID, computers and phones and open up their dorm rooms freely to others who may only be mere acquaintances. In addition, because they move around so much from class to class, to a job and out and about they are less likely to notice when their financial credentials have been stolen or are missing than other age groups.
Even so, the Identity Theft Supplement to the Bureau of Justice Statistics' National Crime Victimization Survey found 9 in 10 identity theft victims didn't know the thief. Overall, out of 64,287 responses, victims experiencing the opening of a new account and victims of multiple types of identity theft in a single incident were more likely to know something about the offender.
According to the BJS report, 92% of identity theft victims did not report the incident to police and offered a variety of reasons for not reporting it mainly that they would handle it themselves. Often, victims felt the incident was not important enough to contact police and many did not even know how to report the incident.
And, sometimes, you're the one who hands the card to your family member for emotional reasons. For example, the MIFA study found family members handing over their cards and accounts for medical use to family members mostly because their family member did not have their own medical insurance. Another reason is they could not afford to pay for treatments on their own or it was an emergency.
How to not get taken by friends & family
Keep credit and identity cards secured and in your sight at all times. Keep your purse and wallet by your side and don't leave it around for others to access when you are not looking.
Secure your smartphone with a PIN that only you know.
Change up passwords and PIN numbers to protect your online accounts from others who may have seen or heard them.
Don't lend government benefits or health insurance cards for medical and financial reasons because the other person's health information could get merged with yours with deadly results, should you need medical care based on that information (blood type, medication allergies, chronic conditions to name a few.)
If a large amount of money is stolen from your bank accounts, even by a cherished grandchild, you often have no recourse to recover the funds from the bank unless you report the crime, as much as you feel bad about it.
If you discover a card or benefit was taken from you and used by a friend or family member, recover that card and immediately cancel it, report it stolen and request a replacement with a completely different account number and PIN.
If your social security number was used by a friend or family member, put a credit freeze on your credit report to stop any access to your credit report top block new accounts from being opened and used in your name.
If you discover you are a victim of identity theft for any reason, including friends and family identity theft, visit the Federal Trade Commission's dedicated Identity theft website to guide you on your next steps and take action immediately.
Related Articles:
Identity Theft and Social Media: Five Things to Avoid
Staying Safe Out There — Best Practices for Preventing Identity Theft
How CreditRepair.com Can Help Fix Your Credit After Identity Theft
Learn how it works