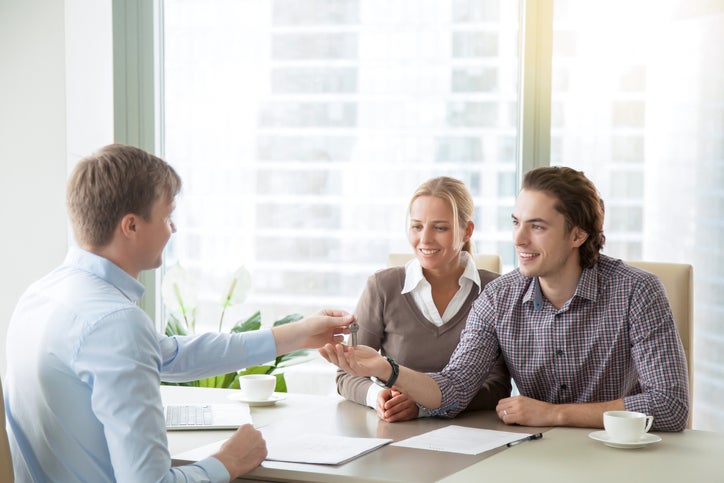 Whether you're working on your first or your fifth home purchase, putting together the down payment is the first step on your road to homeownership. The amount you're expected to pony up ranges from 3-20 percent of the total mortgage amount, and some loans require none at all. Common loans and required minimum upfront costs include:
Conventional: 5 percent minimum
FHA: 3.5 percent minimum
USDA: No down payment required
VA: No down payment required
Home Path: 3 percent minimum
A zero down payment can be very alluring, especially when you start adding up all of the fees associated with home buying, like closing costs, inspection, moving expenses, and more. But it also comes with drawbacks to consider. In addition to having a higher overall mortgage, zero down payment also means zero equity, so you'll need to pay out of pocket for things like repairs and upgrades rather than tapping into a home equity loan. And you may have to pay private mortgage insurance, which functions like other forms of mortgage insurance and protects the lender in the event that you miss a payment or otherwise default on the loan.
Keep in mind that paying more upfront lowers your total mortgage liability, including the interest owed to the bank. So it's to your benefit to provide some advance payment, even in smaller amounts.
When it comes to building the nest egg, look for multiple funding sources to maximize growth over time. Some areas to consider:
Family or friends
Funds can come in many forms, from a loan to living gift or inheritance. So if you're comfortable asking a loved one for financial assistance, even small contributions can be applied towards a down payment.
Current equity
If you're already a home owner, you can take profits from selling your current home and apply it to the new home.
State or local grants
Home-buying assistance varies by state, so check out the Housing and Urban Development's website

to see which offers apply to you. Other program assistance includes the

S. Department of Agriculture's Rural Housing Services

,

Veterans Administration

and

Indian Home Loan Guarantee

. These are starting points, so make sure to use the web to your advantage by searching for additional options.

Borrow from IRA or 401(k)

Most 401(k) accounts allow first-time home buyers to withdraw funds as a "loan" for their down payment, long as the amount is repaid. If you have an IRA and you're a first-time buyer, you can withdraw up to $10,000 without penalty for a down payment. If you're married, that amount doubles since each person can withdraw $10,000 from individual accounts. Check with your financial adviser to confirm associated fees and repayment requirements, including pay back triggered by changing jobs.

Small windfalls

This type includes money from tax refunds, bonuses, and cash rewards from credit cards and shopping sites. Bottling loose change and cashing it in may not cover all of your costs, but every little bit helps.

Lifestyle changes 

Look at ways you can economize within your budget. Rather than trading in your car for a new one, consider keeping your current vehicle if it's paid off, or forgo your annual vacation and put that money in savings.

Negotiate lower interest rates

if you have existing loans, whether with credit cards, student loans, etc, work with the providers to negotiate lower interests rates, so you can save the variance each month.
No matter which sources you select, you'll want to stash funds in a place that is low risk and stable, making savings accounts and certificates of deposit (CDs) your best options. Your bank can help set up the right account, just make sure to tell them you're saving for a down payment and the timeframe of when you'll need assets available. Above all else, remember that saving for anything means playing the long game, so patience mixed with diligence will net the best results.
Finally, your overall mortgage terms are dependent on the type of mortgage, down payment amount, and your credit health. The higher your credit score, the better. But in general, a credit score of more than 580 puts you in good position for optimal terms. You can use a credit score calculator to see where yours lands, and if it needs some improvement, consider working with a credit repair company.

Carry on the conversation on our social media platforms. Like and follow us on Facebook and leave us a tweet on Twitter.
Learn how it works