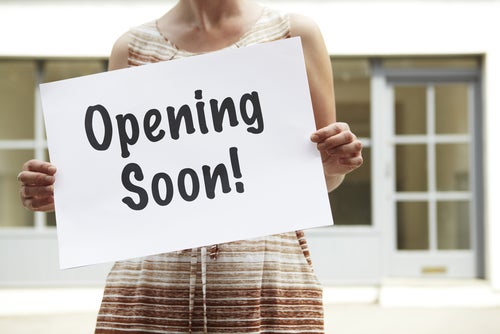 Thinking about starting your own business? According to the 2015 Kaufmann Index of Startup Activity, start-ups are once again on the rise, reversing a continuing downward trend from 2010. The rate of new entrepreneurs experienced the largest year-over-year increase in the past two decades, of about 10%.
If that's you, you probably have some questions about how you are going to get your business funded.
That's because, as a result of the Great Recession, it had been even harder to get business credit in the past few years, although steadily improving and back to pre-recession levels according to the National Federation of Independent Business's Small Business Economic Trends of December 2105. While 32% of businesses reported all their credit needs met, more than half (52 %) said they purposely did not want a loan, a trend that has grown since the Recession.
But, if you're considering starting a business, whether or not you want to borrow money right now, a major concern should be how starting a business is likely to affect your personal credit and whether or not you can establish business credit to meet any possible future needs.
Where does your personal credit stand and how is it likely to change?
Your first step is to check your personal credit score at any of the free credit score services and get a look at your credit reports (at annualcreditreport.com) to check for inaccuracies that need to be corrected.
If your credit is in the excellent category (781-850) you are on target for being able to establish business credit easier at the get-go. If your credit is not at least in the good category (660-780) then you have some work to do in improving your credit before starting your business.
Many business start-ups choose to simply request credit limit raises and use their personal credit cards to fund their business ventures, and this can work for businesses with small overhead. But this can also backfire for two big reasons.
Once you start your business, money might be tighter than usual and you may struggle to keep up with your current payments. When you miss payments, your personal credit score could dive up to 90 points for a 30-day late credit card payment and even more for a missed mortgage payment or car loan payment or if payments are late beyond 30 days, according to a VantageScore report on how different credit behaviors affect credit scores.
Also, business expenses are usually high on start-ups and amount to much more than you could pay back in one credit cycle of 30 days. That also causes your credit utilization to shoot way up and your personal credit score could drop up to 110 points for maxing out one card, depending how good your score was to begin with. (If you must charge, consider spreading out the charges on several cards, so none are maxed out, which affects your score less, according to the VantageScore report.)
A missed payment can take up to a year to recover and high credit utilization suffers as long as the balance is outstanding so think carefully about how and whether or not using your personal credit cards is the right way to access cash. Ditto for taking out home equity which puts your home on the line or taking out a personal loan which increases your total personal debt load.
Once your personal credit score is below Prime credit (661-780) you will also have a harder time getting business credit established.
Instead, start to establish a business credit report
Another reason to consider using business credit is that higher credit limits (if you need them) are typical on business credit cards, for example.
Experian has some good advice on their website for small business owners looking to establish business credit. They say the best way to establish a business credit profile is to start-up right by keeping your personal finances and your business finances separate:
Incorporate or form an LLC (Limited Liability Company)
Obtain a Federal Employer Identification Number
Open business bank accounts under the legal business name
Set up a dedicated business phone line in your business name and make sure it's listed
I would also add, from personal experience, that you establish a free Dun & Bradstreet business profile, which is a globally standard business identifier and an official producer of business credit reports. Once your business is credible in the above ways, then you can request credit under your business name.
An Experian business credit score ranges from 0 to 100 with the lower the score, the higher the credit risk. Scores are based on facts contained in your business credit report, similar to your personal credit report:
Number of trade experiences
Outstanding balances
Payment habits
Credit utilization
Trends over time
Public records
Demographic elements (from your Dunn & Bradstreet profile) such as years on file, Standard Industrial Classification codes and business size
Experian can generate a business credit score under your business name with at least one trade line (account) or one demographic. Dun & Bradstreet and Equifax also keep business credit reports on your business.
How to get business credit
So how do you get that one trade line to start? Instead of trying to get business credit in the form of loans from a bank, the hardest kind to get, request it from your vendors and suppliers first. This might be the company you lease your specialized equipment from, the supplier of your fabric or even the shipping company. That also includes all utilities and business rent as well as a business credit card from your business bank and a business charge card from American Express. Use these credit cards and supplier lines of credit very responsibility to build up your business credit. And, beware that some business credit card accounts also report to the consumer credit bureaus and that any mishaps could still hurt your personal credit score.
And, keep all of your business licenses and insurance policies current as well as your accounting to show you are running a legitimate business.
Once you've established some positive business credit history this way which is reported to your business credit report, then bank lenders and bigger suppliers will have reliable information about your business so you can obtain loans, increase your credit lines and get better rates and deals in the process as you grow your business.
Related Articles:
Everything You Need to Know About Business Credit Cards
How Can I Run a Business If I Can't Manage My Own Credit?
Best Credit Cards for the Self-Employed
Learn how it works