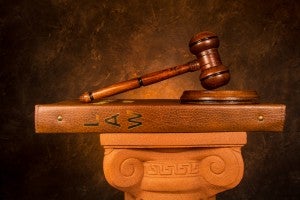 U.S. law does not regulate how credit scores are calculated. However, the data that the credit-scoring model uses to calculate your credit score, the information in your credit report, is heavily regulated. Credit bureaus are for-profit companies housing this consumer credit reporting data used to come up with your score. What they can and can't report and who can see your data is spelled out in the Fair Credit Reporting Act (FCRA). Ninety percent of lenders use the FICO credit scoring model, and FICO grabs its data from three main credit bureaus: Experian, Equifax and TransUnion.
Growth of Credit Bureaus Led to Federal Oversight
In order to understand how the FCRA came into effect, it helps to know the atmosphere of the credit reporting business in America in the 1960s.
The three main credit bureaus, (in whatever incarnation they existed in in the 1960s — all of them have undergone dramatic transformations since then), all actively collected consumer data: employment, character, credit paying histories, income, marital status, arrests and the like. The information was often unverifiable, and once a consumer's credit history was damaged, even if not through his or her own fault, it was uncorrectable. Most people were unaware of the data being collected on them by banks and the credit bureaus. When it was revealed to the public, there was an outcry regarding privacy and accuracy that led to the passage of the FCRA in 1970, which was enacted in 1971.
What the Fair Credit Reporting Act Regulates in Regards to Your Credit Score
The FCRA promotes the accuracy, fairness and privacy of information of consumers stored in credit bureau databases. Here is a list of your rights under the Act:
You must be told if your credit file has been used against you. The whole purpose of having a credit score and credit file is to be able to use it to obtain credit, employment and insurance. If you are denied any of these things due to credit, you must be informed who has reported your bad credit and the name of the agency providing the information. In this way, if you were unaware of problems in your credit report and therefore your credit score, you can correct this information.
You have the right to know what's in your file. There's no way to fix problems with your credit score if you don't know what the problems are in the first place. The FCRA allows consumers one free credit report per year from every credit bureau. In addition, if you are the victim of identity theft, if you are unemployed and intend to seek employment within the next sixty days, or if you receive government assistance, you are entitled to one more free credit report per incident. 
You have the right to ask for your credit score. Under the act, scores are not free, but the days are past when consumers were not allowed to see their scores.   You can purchase your credit score from the credit bureaus or myfico.com.
You have the right to dispute information on your credit report. Should information on your credit report be incorrect or due to identity theft, you have the right to correct the information by means of a credit dispute over the phone, via the mail or online.
Credit bureaus must correct or delete inaccurate, incomplete or unverifiable information. Information must be accurate on a credit report. If the credit bureau is notified that an item is incorrect, the agency must correct the listing. In this way, you have control in protecting your credit score from inaccuracies.
Creditors must ensure processes are in place to report only accurate information. Creditors are not obligated to report information to credit bureaus, but if they do report, it must be accurate. 
Consumer reporting agencies may not report outdated negative information.  The FCRA stipulates the time frame a negative item may be reported on your credit report. In general, negative items may stay on your report for up to 7 years, bankruptcies up to 10 years. In this way, one bad batch of negative items will not affect your score indefinitely.
You may seek damages from violators of the law. Should you have difficulty clearing up inaccurate credit listings on your credit report, forcing your score downward, you can legally seek recourse from the credit bureaus and creditors who refuse to clean up the mess. The FCRA specifically states that $1000 per violation may be awarded to consumers whose rights have been violated.
Major Changes to the FCRA
Like all laws, the FCRA is a living, breathing piece of legislature designed to change as the situational circumstances being legislated change or more knowledge is gained about them.
Consumer Credit Reporting Reform Act of 1996
An overhaul of the FCRA was passed to further protect the accuracy and reporting of data.
Disclose to employment applicants in advance that they will be pulling a credit report is required.
A "permissible purpose" to conduct credit checks is now required. Permissible purpose protects credit scores from possible identity theft which could happen when fraudulent access is granted.
Disclose the source of information if the employer decides not to hire based on the credit check.
Gave legal liability for knowingly reporting incorrect information. A consumer could sue to repair the damage to their credit reports if a creditor or credit bureau refused to correct wrong data.
Set the maximum time limit for investigations of disputed inaccurate or incomplete information (30 days).
The Fair and Accurate Credit Transactions Act (2003)
This act passed the most sweeping changes to the FCRA:
Help Identity Theft Victims: you can place a fraud alert on your credit report
Provide free credit reports to consumers once per year, along with certain extenuating circumstances.
Requires the truncation of credit card numbers and excludes the printing of expiration dates on consumer receipts. This protects you and credit score from identity theft.
Active Duty alerts: Under the law, you can place an alert on your report for 12 months if you are on active duty and will be out of the country, one more identity theft protection.
Collection agencies must supply you with documentation regarding accounts they have in your name if you tell them it is due to identity theft. This ensures you have the information you need to correct identity theft errors.
Credit scores are available to consumers.
Learn how it works